Last updated: 30 Sep, 2020
Kamla Tewari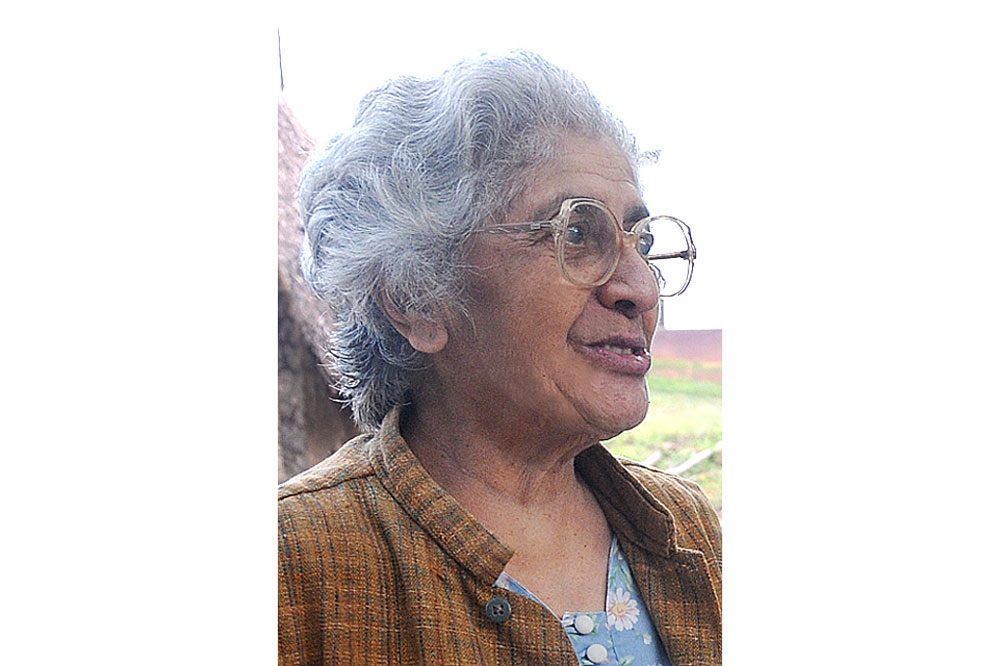 Dr. (Major) Kamla Tewari, MBBS, DGO, left her body peacefully on September 29, 2020 at 1830 hrs, surrounded by her loving family.
Kamla was born on 4th April 1927 in Jammu. From a young age, Kamla had made up her mind to study medicine, completing her MBBS degree at Lady Hardinge Medical College in Delhi in 1950. This was also the year she married a young army officer, Krishen Kumar Tewari (later Krishna).

The next few years found her raising three daughters and volunteering her medical expertise at free clinics and welfare centers. Following her father's guidance, she never charged private fees, in service to our young and developing nation. She and Krishna lived by this ethos all their lives.

Her life changed dramatically in November 1962, when Krishna was taken prisoner of war on the Himalayan heights during the short but brutal India-China war. With three children, and no income (Krishna's salary stopped the day he went missing in action) and determined to support herself and her daughters, she joined the Indian Army as a doctor. Her fourth daughter was born in 1965, and in the next many years she and Krishna juggled their military postings with their family life. They were both posted in Calcutta, in 1971, when India and Pakistan went to war over what became independent Bangladesh. This war awakened in both a deeper quest; a moment when they discovered Sri Aurobindo's world view. Visiting Pondicherry with their daughters, they were present on 21st February 1972 for the foundation of the Matrimandir and Mother's birthday. On the 22nd of February Krishna, Kamla and the girls were given a personal Darshan by Mother in her room. This moment had life altering consequences for all.

Upon retirement from the army in 1976, they moved first to Pondicherry, and then to Auromodel where Krishna started a farm while building their house. Kamla worked at the Sri Aurobindo Ashram dispensary in Pondicherry, and the rural Health Center in Aspiration, abutting Kuilapalayam, which The Mother had started. Her presence energised the Health Centre, and for years she ran an active maternity and birth control clinic, helping to deliver close to a thousand babies. She thought nothing of hopping upon the back of cycles or motorcycles in response to midnight calls to help deliveries, both at the Health Centre and at remote Auroville settlements, working sometimes with only the illumination of kerosene lamps.

While a qualified Allopath and gynaecologist, Kamla's preference was for homeopathy and her practice expanded to include what she called the Multipurpose Health Centre located in Certitude and later Bharat Nivas. Many Aurovilians and villagers lined up for her treatment, not least because her deeply intuitive therapeutic approach included a warm and sympathetic listening ear. In the early years, Aurovilians will recall a seemingly driverless peach coloured Jonga hurtling down the dirt tracks of Auroville, her diminutive figure wrestling the controls behind the wheel!

Kamla lived through many momentous events and broke many barriers. She did not let herself be limited by the opportunities available to women, qualifying as a doctor at a time when few women chose that route, and making her husband-to-be wait while she finished her medical studies. She was an accomplished sportswoman, horse rider, hiker, and swimmer, and won prizes for her prowess on the shooting range.

The house Krishna and Kamla built in Auromodel in 1980, Aurogriha, was where she chose to leave her body surrounded by her family, having dedicated nearly half her life to Auroville.

Kamla's beloved life partner of nearly 66 years, Krishna, departed in 2016, at the same age, 93, as she is now. She leaves four loving daughters: Uma, Deepti, Abha and Shubha, sons-in-law Yogesh, Arjun, Claude and Narayanan, and grandchildren: Rohan, Ruchir, Smiti, Achala and Kabir. Much of her family have dedicated their lives to Auroville in no small measure influenced by her deep ethos of service, her indomitable courage and can-do spirit that triumphed over every obstacle.

She leaves a legacy of many lives touched and changed forever by her love, patience, and ability to deal with anything that came her way with unflappable presence of mind.

Add your recollections
If you would feel like, you can send us your recollections or photographs, so they can be added to the page in order to commemorate years of dedication to Auroville and its ideals.
This page has been published in order to create a space of remembrance for all of those who lived, struggled and enjoyed in Auroville, making a conscious effort to manifest the Dream of Human Unity that is in the process of emerging.
Honouring Participation: