Last updated: 13 Nov, 2014
The Hall of Peace

A Home to Asia's Table of Peace
At the heart of Auroville's Hall of Peace, the second building of the Unity Pavilion complex in Auroville's International Zone, stands the Asian Peace Table. It is one of six magnificent tables created by master woodworker George Nakashima for placement in chosen sites on each of the continents of the world.
Creating the environment
This second building of Auroville's Unity Pavilion complex provides a permanent home for the Asian Peace Table, enabling Auroville and the world to make full use of it as a channel for focusing energy on World Peace and Human Unity.
Auroville's aim is to create in the Hall of Peace a simple and aesthetically pleasing environment that can generate an actual atmosphere of peace and harmony, an atmosphere conducive to inner awareness and a sense of oneness with all humanity.
The space is designed to be used for dialogues, meetings and presentations related to Peace, as well as for gatherings of the International Zone. It acts like a powerful catalytic chamber wherein people can find an ideal supportive atmosphere to create the sort of harmony that is essential for real mutual search and inter-cultural understanding.
The design of the Hall (like the other buildings of the Unity Pavilion complex) has been created by Aurovilian architects Piero and Gloria Cicionesi, who write: "We met architect Nakashima several times, and had with him a very deep connection, admiration and love. We feel this will be the appropriate place for the table he offered to humanity as a prayer for the peace of the world. Without peace there will never be a real Human Unity. The Peace Table is not only a very beautiful piece of art; it is also a beautiful symbol for the International Zone."
www.unitypavilionauroville.wordpress.com

Ph. +91 0413 2623576
E-mail: peaceandunity@auroville.org.in

www.youtube.com/embed/1MUXCwIWzo8?list=UUMNz_uBVh_9ZhcAC3FQFbSQ
Enter the video url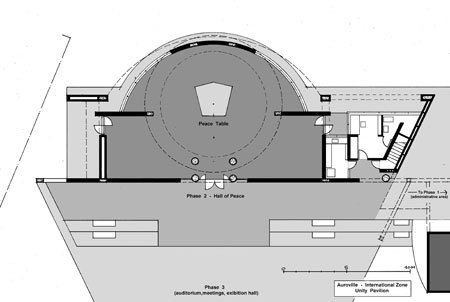 Plan of The Hall of Peace