Pavilion of Tibetan Culture
Expressing the Soul of Tibet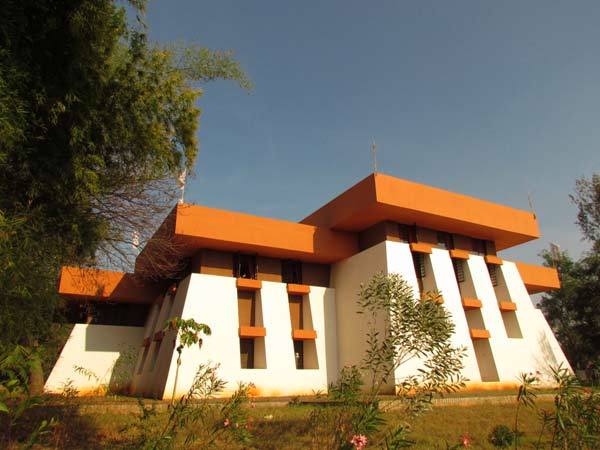 Located in the International Zone adjoining the Bharat Nivas complex, the Pavilion of Tibetan Culture was completed in January 2009. For 20 years, the Pavilion has been a major host of Auroville's activities, such as lectures, workshops, art exhibitions, cultural events, Tibetan festivals, student exchanges, vocational training and Tibetan medicine consultations, as well as an annual Light Mandala on New Year's Eve.
For more info or appointments with the Tibetan doctor, contact Kalsang Dolma, and Claude Arpi Coordinators of the Pavilion of Tibetan Culture.
His Holiness the Dalai Lama, the Patron of the Pavilion, who had laid the Foundation Stone in December 1993, came again to inaugurate the building on January 20, 2009. A short film "Dreaming for Humanity" was produced for the occasion.
History
In January 1973, His Holiness the Dalai Lama met the Mother in Pondicherry and visited Auroville. He came again over Christmas 1993 to lay the Foundation Stone of the Tibetan Pavilion.
In 1996, His Holiness blessed the Pavilion with a contribution of 100,000 Rs (approx. $3000) as seed money for raising the necessary funds to complete the project. His Holiness said that he was "very pleased about how the work is progressing and very appreciative of Auroville's dedication and determination for the Tibetan people."
Since then more than 1,00,000 $ have been collected this includes a participation from 3000$ each from each Department of the Central Tibetan Administration, Dharamsala.
The main purposes of the Pavilion are to have a cultural center of Tibet in the international zone of Auroville, and a training center for young Tibetans wanting to take advantage of Auroville 30 years of researches and experiments.
Auroville is daily visited by hundreds of Indian and foreign visitors, guests and friends of Auroville. Once completed the Pavilion will be a window on the ancient culture of Tibet.
For the past many years, Auroville has conducted a large number of workshops, seminars and training sessions to see how the alternative technologies developed in Auroville could be replicated in the different Tibetan settlements in India and in Tibet.
In a letter, Kalon Tashi Wangdi, the Minister for Religion and Culture of the Tibetan government-in-exile wrote: "There is a deep connection between Tibetans and Auroville since 1971. His Holiness was invited to Auroville twice. Many Tibetans have been trained in Auroville in different skills like appropriate building technology skills, afforestation and environmental protection, etc."
I feel that Tibetan culture with its unique heritage - has developed some kind of energy, which is useful, and very helpful, towards cultivating peace of mind and a joyful life. I feel that there is a potential for Tibet to help humanity, ...I feel very strongly that Tibetan culture will have a future role to play in humanity. So therefore, wherever there are spiritual centers like Auroville, if Tibet can participate it can be a way or a channel to communicate Tibetan culture to other people.
The Dalai Lama in Auroville, December 24th, 1993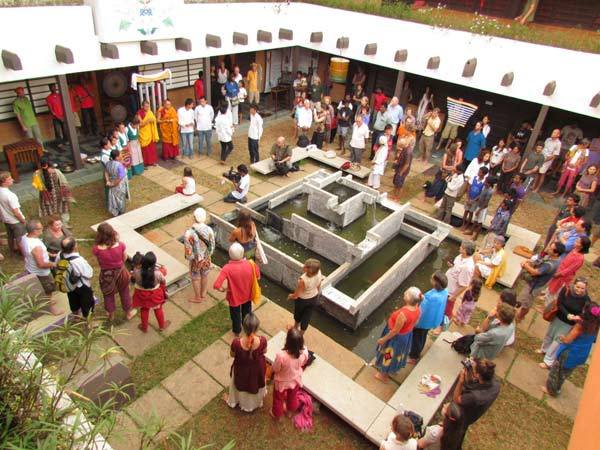 Message from His Holiness Dalai Lama
"We are deeply impressed by the spiritual aim behind the building of an international city called Auroville. The importance of the effort to achieve human unity and international co-operation by the creation of such a city cannot be over-emphasised; nor can we neglect the benefit to be acquired from it. We are therefore very keen to be the first country to build a Pavilion. We understand that this pavilion will be dedicated to the essence of Tibetan culture in an effort to show that out of the diversity of world cultures, these pavilions can help to create a new harmony towards world human unity."
https://youtu.be/tyyySGbjuY4
Enter the video url