Last updated: 17 Jun, 2019
Inauguration of the Peace Table for Europe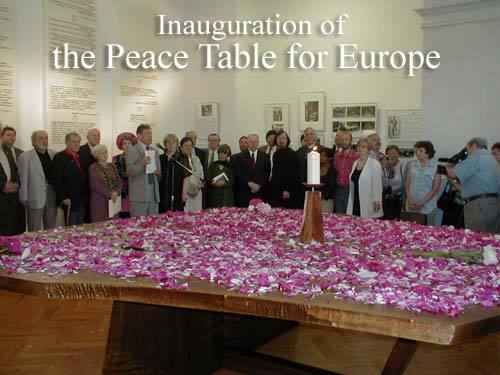 Russian Academy of Arts in Moscow
About two kilometres from the Kremlin, along Prechistenka, a street of old stately Moscow residences, is located the Gallery of Arts of Zurab Tsereteli (19 Prechistenka street). Inside, in pass-through room opposite to the painting of Zurab Tsereteli stands Peace Table, a sister to the ones already in place in Auroville and New York. Master woodworker George Nakashima had intended it for Russia since 1984, but finding a home for it had been nearly as epic a journey as the transformation of Russia itself. Visitors can see Peace Table in the opening hours of the gallery, after purchasing a ticket (around 5 Euros).
Joining hands on 26th June 2001
Finally on June 26th '01, about 150 people - Aurovilians, friends of Auroville, Russian artists and intellectuals, the US and Indian ambassadors, and representatives of four religious traditions - came together to join hands around the table and celebrate its consecration and the further breaking down of both literal and figurative walls.
A permanent monument to peace and human unity
Like its sisters, the table is huge, about four meters by four meters, and fills the centre of a corner room with no competing distractions. On long, narrow scrolls that hang from the walls are words of peace from the scriptures or holy men of various traditions - Lao Tzu, the Seraphim of Sarov, Swami Akhilananda, the Dhammapada, Guru Arjan, St.Matthew, Martin Luther King - together with a Navaho chant and a Celtic prayer, among others. A few photographs on the wall document the creation of the table at the Nakashima studios. The room, along a well-traveled route through the exhibition rooms of this respected academy and art gallery, will remain the way we saw it, a permanent monument to peace and human unity, tied through lines of force with Auroville and New York.
Speakers
The ceremony was simple, with a few words from several guests. The Academy's director, instrumental in finding a home for the Peace Table, expressed his gratitude and pleasure at hosting the table, which he said looked like a Bird of Peace (remarkably reminiscent of Mother's comment that her signature represented a Bird of Peace). George Nakashima's daughter, Mira, who runs the studio today, offered an intimate insight into her father's dream. Irene Goldman, an American dedicated to building relations with Russia in the fields of the arts and humanities, and who was instrumental in getting the table into Russia, offered a sigh of relief that her 10-year efforts had been realised. The US ambassador, a veteran diplomat, offered his hope "that our leaders and our people will take inspiration from these tables, and that we will live in a more peaceful world in the future."
Acquire the spirit of peace,

and thousands around you will be healed
The first Peace Table was installed at the Cathedral of St. John the Divine in New York City during a gala concert for peace on New Year's Eve 1986/87. The force behind that was Nakashima's good friend and Dean of the Cathedral, James Parks Morton, a man of famously eclectic spiritual inclinations who wears a bear's tooth given him by a Native American medicine man over his pastoral collar, and today serves as president of the dynamic Interfaith Centre of New York. "Here we are in the hall of peace, surrounding us are the words of peace, and in the centre is the table of peace," he told everyone before reading from those words hanging on the walls. His favourite: "Acquire the spirit of peace, and thousands around you will be healed."
Auroville's flame
Finally, two speakers from our Auroville family: Julian Lines,
representing both the Nakashima Foundation for Peace Board and the AVI Board, spoke about linking the three host countries in future programmes.
Then Bindu, ably translated into Russian by Sergei, spoke on behalf of Auroville. She was great: a solid presence and an excellent representative of Auroville's flame. She spoke of our dream of creating in Auroville a real human unity, related some of Auroville's international experience through Peace Trees, and invited all present to help build the International Zone of Auroville.
A concrete presence of conscious matter
Somehow, it was a perfect ending, a tangible act that touched people beyond those in our intimate Auroville family, who had already spent a week building and bonding together during the annual Auroville International meeting in St. Petersburg.
Most of all, the table seemed to represent a concrete presence of conscious matter in a land that had turned away from its real soul purpose, but now seems abundantly fertile, hungry for the transformational seeds of a new world.
Adapted from as message sent to an international, AV-related cyberforum by rtoll@mindspring.com