Last updated: 12 Aug, 2014
Arulvazi Education Centre for children aged 3 to 18 years of the neighboring village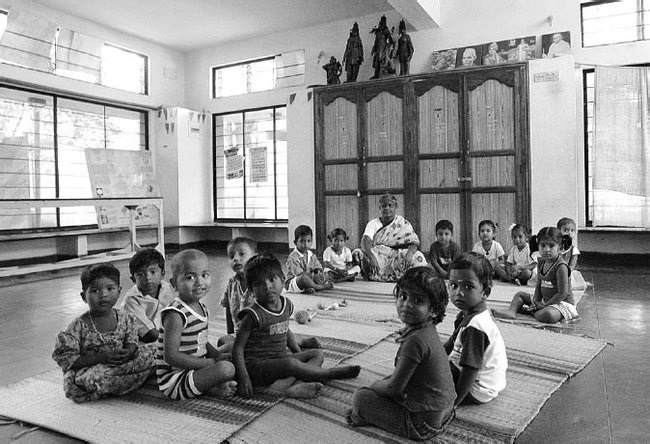 Arulvazhi
Arulvazhi in Tamil means "Way of Grace". This education centre, situated near Promesse community of Auroville, has been catering to the educational and cultural needs of children aged 3 to 18 years of the neighboring village, in the light of the teachings of the Mother and Sri Aurobindo. Over the years it has expanded its scope to include women's education and also serve as a platform for interaction with the delegates from different parts of Tamilnadu and Auroville. The aim is to provide value-based education in an atmosphere of simplicity, beauty, joy and harmony wherein the children can develop naturally.
Arulvazhi has five areas of activities:
Kindergarten group for 25 children aged 3 to 6 years

Primary stage children group for 50 children
Special yoga asana group for 45 children in the mornings from 6.00 to 7.30
Adolescent girls group (12to 17 yrs) of 22 children training in asanas, cultural expression, health education, social awareness particularly in relation to gender problems
Puduulagam group for about 15children who attend games and academic education from 5pm to 8pm.
Seminars and workshops are conducted in cooperation with the Tamil Heritage Centre on themes from Sri Aurobindonian literature, wherein delegates from Auroville, Puducherry and other parts of Tamilnadu participate for mutual improvement of knowledge.
Considering the proximity of the international community of Auroville, the village children get practical exposure to the actual human unity and unity in diversity. This educational centre works in close collaboration with existing government educational structures. Excursions to places of great cultural, educational and spiritual interest are arranged. The children are encouraged to practice and develop indigenous forms of art, folk songs, stage plays, etc. The self-improvement programmes for girls train them in various activities like child care, sports and crafts like tailoring, etc.
Future Goals
For the kindergarten, it is planned to take advantage of the research done within and outside Auroville to evolve suitable methods which can be replicated for the development of the rural children. Regarding other age groups, who spend a major part of the day outside the Auroville environment and who are available only in the evenings and on holidays, the centre wants to evolve suitable models and practices which will provide for their integral growth.
Due to the four-lane national highway project, the major part of the building in which the Centre was functioning was demolished. The Centre is now developing the activities in a new place and gradually trying to get adequate space as before for its multifarious activities.

Ph. 0413-2918591
E-mail: arulvazhi@auroville.org.in