Last updated: 19 Sep, 2018
Tamil Ulagam Evening Schools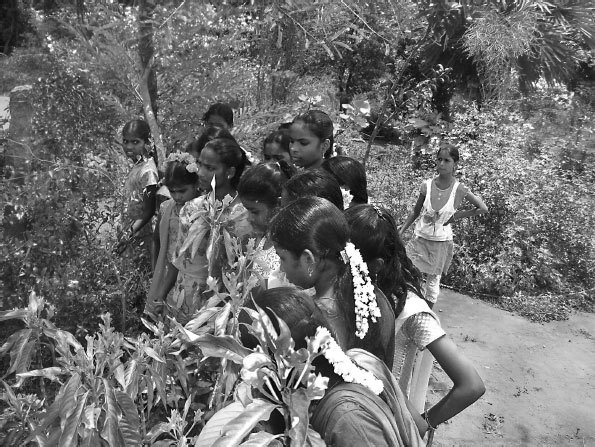 Tamil Ulagam
Tamil Ulagam, meaning 'Tamil World', is the umbrella name for a group running 11 night schools in villages around Auroville.
Introduction
Tamil Ulagam Evening Schools (after work schools) are joint ventures involving Secours Populaire from France (SPF) and the villages committed to educational activities.
There are eleven village night schools, which have been functioning since 1980. This initiative began initially with only 3 schools. At that time education of children among villagers was not considered a priority. Today parents are encouraging their children to receive educational inputs from different sources. Presently there are 765 students, mainly in the teenage group, who benefit from these evening schools in the vicinity of Auroville. About 38 teachers are involved in carrying out the educational activities offered by the Tami Ulagam Evening Schools.
The "Les Enfant de Pondy Patch" has been lending its support to run the night schools since 1996. Out of 765 students, 119 students are sponsored by "Les Enfant de Pondy Patch" for educational purposes.
Objectives/Activities
These night schools were mainly started to help disadvantaged children who didn't have the opportunity to attend regular school in the daytime. Originally they were meant for the drop-outs, stay-outs, pulled-outs and pushed-outs. The initial focus was on imparting basic knowledge to these children and to help them in getting a sense of their own identity and usefulness.
Artistic talent (such as music, dance, painting, theatre, writing, kolam drawing and hobbies) is encouraged, as well as and sporting activities. Special get-togethers are also organized with other night schools through work camps.
Training in organic farming is being provided on a weekly basis. Students get a knowledge of basic farming techniques by participating in soil preparation, planting, and other activities. At harvesting time, students take home a part of the produce which they have helped to grow.
Summer camps and student exchange programs are arranged wherever possible, to bring unity and understanding, and to enhance cultural appreciation among the rural children.
Between 6:00 and 8:30 pm, the evening schools conduct classes, organize cultural programs, weekly study tours, work camps and other such co-curricular activities. On the first Sunday of every month, all the teachers and volunteers of the night schools meet in Auroville and share their experiences and thoughts.
Teachers
Teachers of Tamil Ulagam night schools are all long-term associates of Auroville, most of them working in units throughout Auroville. Many are volunteers from the native village. They maintain the building and take care of the children in the evenings. While not qualified as teachers by profession, they get regular training to impart knowledge to their wards. They work together to prepare new educational materials and meet specialists and resource people to learn joyful new ways of teaching.
There are 6 rotation teachers for cultural activities, physical sports, art, counselling and yoga. By not having the same teachers for extended periods of time we have found that new innovative methods of teaching can evolve most successfully.
Future Plans
We plan on building a multi-purpose hall to house the computer room and other activities for the schools. The computer classes will be for those students who are above the high school level. Other activities for this hall include English class, semi­nars for furthering teachers' education methods and a meeting platform for other educational, interactive programs.
List of Tamil Ulagam Evening Schools
Ambetkar Nagar (Kottakarai)

Annai Nagar (Alankuppam)

Aravindapuram (Rayapudupakkam)

Bommayarpalayam

Ganthi Nagar (Bommayarpalayam)

Irumbai Chittur (Irumbai Village)

Kuilapalayam

Rayapettai

Thuruvai

Kottakarai Main Village

Rayapudupakkam Main Village

For more info contact Sundaram and Amudha,
Ph. 0413-2622535