Last updated: 7 Aug, 2014
Reach for the Stars - financing higher education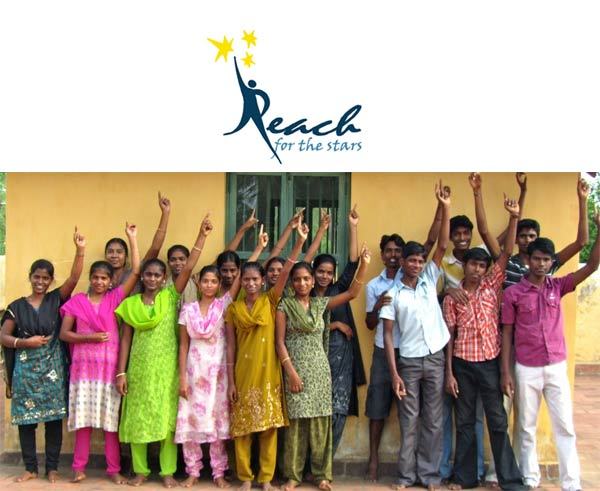 Reach For The Stars
Reach for the Stars is a project to finance the higher education of young people from the villages surrounding Auroville, Tamil Nadu, South India.
The support and funding we receive enables motivated and able young men and women from poor and difficult backgrounds to achieve their educational potential through college/university education. Using the experience of NGOs we impose very clear and firm conditions on those we support. Students must cooperate fully with our team members who observe and monitor their academic and other progress and on that basis advise them.
We require our students support one another and develop their sense of community, mutual respect and responsibility for one another, extending that to the communities they come from. The education our students receive often enhances their status and influence in their communities and with that their ability to help others. We encourage and help them to behave with integrity in all areas of their lives and to become confident, positive role models for their communities.
Students fully understand that if they break the conditions of their funding or fail a course we are likely to terminate our assistance to them. 
Those relatively advantaged in life have a duty, we believe, to help those less fortunate. Each student gives an undertaking that they will, on completion of studies and when earning, pay back 20% of what they received from us. Our longer term hope, however, is that each will do more and ultimately fund the education of at least one other student.
Mutuality of care and support is a central part of our approach. Funding and resources are always going to be limited, considering the potential scale of demand for what we offer, so we strive to use what we have with maximum efficiency for the benefit of our project.
E-mail: sb@reach-for-the-stars.org
Postal address
Germany: Förderverein Reach for the Stars, Stephanie Bussmann 60389 Frankfurt
India: Doris van Kalker Arati Auroville 605 101 Tamil Nadu, India +91 413 2623 481

For more information visit : http://www.reach-for-the-stars.org

www.youtube.com/embed/h6gC38KVgtA?rel=0
Enter the video url