Last updated: 27 Aug, 2020
Thamarai Community Learning Centres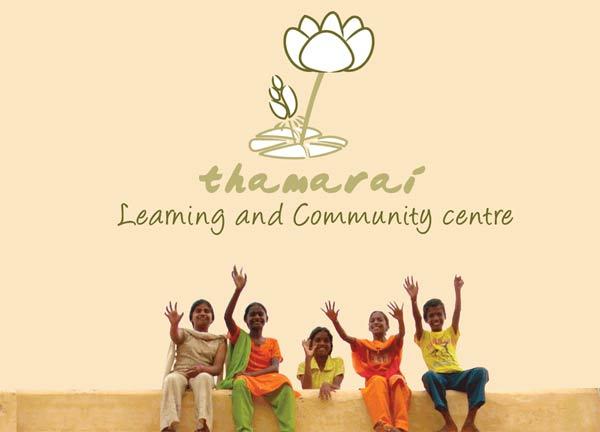 Thamarai
"One can never consent to creep when one feels an impulse to soar" – Helen Keller
Background and Context:
Thamarai (is the Tamil word for lotus flower) the project, stands for the values of fullest potential, well being and empowerment. We engage with the villages near the International township of Auroville since 2006, with a series of informal education projects including a daily playgroup for 30 children, and an after school service for 60 children, a natural health care education program, English, and environmental program with field trips and community leadership and capacity development.
In context to our 10 years of service towards fostering full potential within and among the children in the village of Edayanchavadi, Thamarai's work has been a counter support to a strong reliance on rote education in schools, a growing drain from local government to private schools and a considerable population of adults with inadequate literacy skills to support their children's after school educational needs. Thamarai continues to create an enabling environment for the children to be creative, expressive, responsible and productive along with supporting the children in improving their learning curve.
We currently plan to relocate to a new and spacious environment and scale our services to other villages reaching to more children and youth with an upgraded holistic pedagogy, we also plan to scale our leadership and capacity programs for children, youth and adults creating an enabling environment for community transformation and focus on career guidance. Thamarai operates its services in a transparent and accountable manner as it strongly believes everyone should have a quality and fulfilling education.
Purpose:
Co-create an enabling environment to foster the full potential and wellbeing of all, particularly children and youth.
Objectives:
● To foster the full potential within and among children, youth and communities.
● To create an enabling community environment for wellbeing.
● To address the gap in mainstream education system and transform the children to an active and responsible citizenry and stewards/leaders.
Our work and its Significance:
After school:
Thamarai is not run as a typical night school but works on the overall holistic development of children with various components of arts, crafts, science, technology, culture and leadership interwoven while also being a facility to support the children with their homework and coursework. These are the children who do not get enough support from their families or/and schools. The facilitators are local youth at their graduate level, many of whom were once children in Thamarai and with resource persons, they co-create the sessions along with the children. This program is further elaborated at weekends when children enjoy experiential learning at the Thamarai Saturday club and take part in educational field trips on Sundays.
Thamarai operates a drop-in, after school program from 5.30pm to 7.30pm each evening, open to all children of the village. Highlights of last year included weekend ecological excursion programs, well-being campaigns and cycle trips to other villages to raise awareness on issues such as water conservation.
Playgroup:
We have 31 children for whom we offer a 5 day - 9am -3pm activities based learning environment for 2.5 year to 3 year old Children. All these Children are assured a place for further education in Udavi School, an Auroville outreach school.
Health and Well Being:
Thamarai health and healing programs fosters wellbeing and empowerment through a health education, natural health care and yoga programs for adults and children. We have established a support service for alcohol addiction, a well-being shifting alcohol campaign and a focused one year health and healing program for the individual and the planet with special focus on water awareness and soil conservation delivered at the Edayanchavadi Government School. In 2017, our health co-ordinator will deliver a regular, 24 day, yoga and well being program in various villages surrounding Auroville that will train participants to deliver this program themselves thus creating a sustainable model for on-going yoga, health and well being at village level.
Leadership and Career Development:
A core element of Thamarai's work both for facilitator training and children/adult education is a space for leadership/stewardship development and practice. Children, youth and adults are fostered to discover their values based leadership skills and competencies and to see themselves as agents of change in their lives and communities. The stewardship curriculum has been imparted to us by Dr. Monica Sharma, the former Director of leadership and capacity development with the United Nations. Almost all of the current Thamarai team have trained directly with her. The significance of Thamarai can be seen in many of the alumni who are confident, engaged young people with English literacy competency, a social conscious with a belief that they are agents of change and multiple skills that help open doors to future careers and opportunities.
Become A Friend Of Thamarai
A friend can give support in many ways;
· You can wish us well and follow our progress through reading our newsletters and sharing your reflections
· Financial contributions are always welcome, please follow this link https://donations.auroville.com/?project=Thamarai
· Volunteers can help in countless ways from administration support to educational programs.
For further details: please contact Bridget

email: thamarai@auroville.org.in or phone 91-9442270640

Thamarai on web:
https:www.youtube.com/embed/b4NJ6iFH6t4?rel=0&controls=0
Enter the video url
www.youtube.com/embed/mPU8D5oT_lg?rel=0
Enter the video url