Last updated: 4 Sep, 2018
Financial Service / Auroville Maintenance Fund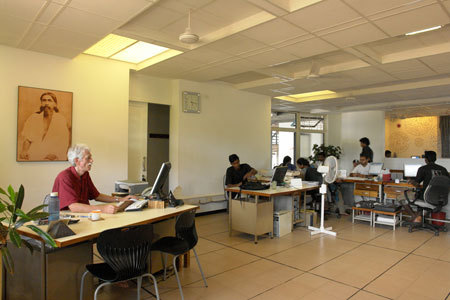 Financial Service
The Financial Service started in the eighties as an attempt to do away with "money circulation" in Auroville by keeping accounts of the cash holdings of Aurovilians. Since then, nearly all internal transactions between units and Aurovilians are done through electronic transfers using these accounts. The Financial Service is the shorthand name that Aurovilians use for the Auroville Maintenance Fund, but they are actually identical.
Auroville Maintenance Fund (AVMF), which incorporates the City Services, is Auroville's major fund concerned with internally generated and distributed money, as opposed to donations from outside (which are handled by Auroville Unity Fund). The administrative aim is to collect monthly contributions from Auroville businesses or commercial units, projects, guest houses and individuals, and process the distribution of these, mainly through the City Services, which disburses monthly payments according to budgetary needs of each service unit.

The Financial Service/AVMF can also buy and sell foreign currency, travellers' cheques, and cash personal cheques. All its activities are computerised and linked with the PT Purchasing Service outlets as well as a wide range of other Auroville units so that all financial transactions (such as payment for gas bottles, water, electricity and telephone charges as well as grocery and restaurant bills), are transparent and can be done without any internal exchange of cash. All transactions pertaining to guests' accommodation and other expenses are carried out in a similar way through the Aurocard service. These special "safe" cards are distributed by the various guesthouses and the Financial Service for registered guests of Auroville.
(See also Aurocards)
Located at the
Town Hall, Ph. 0413-2623648; branch office adjacent to the PT Purchasing Service facility in Aspiration,

Ph. 0413-2622171.

Both open Mon-Sat 9-12.30 & 3-4.30pm.
E-mail financialservice@auroville.org.in