Last updated: 7 Apr, 2018
Festivals and celebrations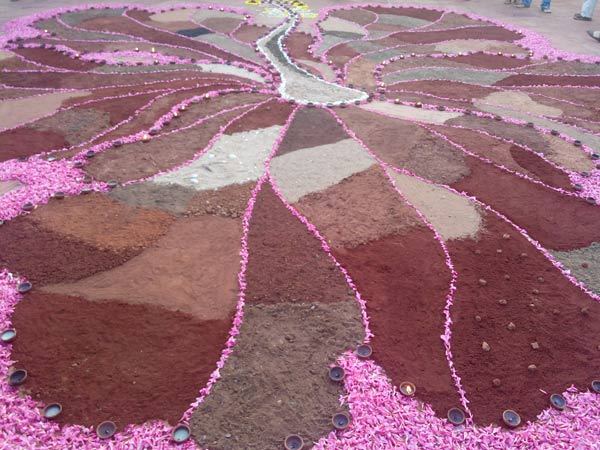 Design made of Auroville soil from various communities
Festivals and celebrations recognised in Auroville, often involving a holiday, are:

Auroville-related
Dawn fire on Feb 28 (Auroville's birthday) at the Amphitheatre.
Other gatherings at sunrise at the Amphitheatre
February 21: Mother's birthday
August 15: Sri Aurobindo's anniversary
Darshan days at Sri Aurobindo Ashram, Pondicherry:
Feb 21, Apr 24, Aug 15 and Nov 24.
Indian/Tamil cultural
Pongal (mid Jan), Masi Magam (Feb/Mar), Tamil New Year (Apr 14), Ganesh's birthday (Sept), Ayudha Puja (Sept/Oct) , Sangamam (February)
and Diwali (Oct/Nov).
Indian Government
Republic Day (Jan 26),
Independence Day (Aug 15),
Gandhi's birthday (Oct 2).
International
New Year's Day,
May Day (May 1)
and Christmas Day (Dec 25).