Last updated: 11 Apr, 2019
Auro-Sangamam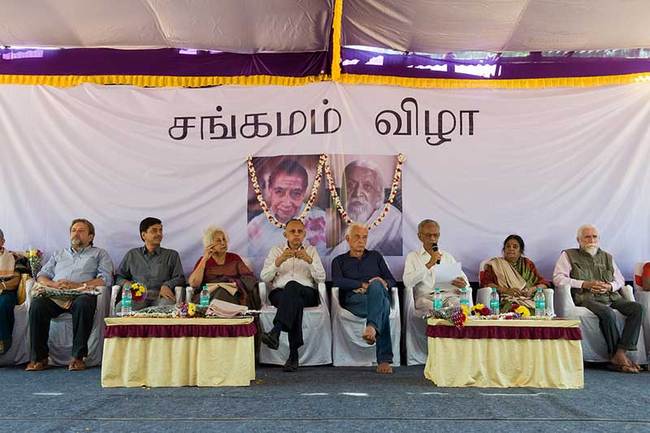 Vanakkam, Sangamam in Tamil means confluence
or
a group of people coming together
.
The Sangamam celebration was held as part of Auroville's 50th Anniversary events on the 4th of March 2018. This event was held in honor of all those who have come together in the spirit of community building over the last 50 years in Auroville. Many local and foreign pioneers have come to Auroville from the world to transform this landscape in a true spirit of human unity.
The event took place near the Visitor's Centre, as Auroville's 50th Anniversary's largest event, the gathering had moving participants of around 7500 people coming from Auroville, its beautiful bioregion, and welcoming many friends and guests from around the world.
The festival was inaugurated at 9:00 am, welcoming group with Nadhaswaram music, an invocation, and lighting of the lamp called the "Kuthu Vilakku" by the chief guest Thiru. Mohan Verghese Chunkath I.A.S (retd.), Secretary Auroville Foundation and Thiru. P.R. Srinivasmurty, Under Secretary Auroville Foundation. The stage was adorned by many Aurovilian pioneers who came to share their experiences with great enthusiasm. It was a journey that took many of us down memory lane and kindled a flame of aspiration amidst the spectators. The special guests and the elderly Aurovilians who were invited and participated in the event: G. Vardharajan, Shyamala, Andre T., Mary Babu, Frederick, Aster Patel, Sauro and R. Meenakshi. They later gathered to plant a sapling together, as a remarkable gesture in memory of the millions of trees that had been planted together over the last 50 years. The elders who spoke helped inspire the crowd and many young aspirants to work in service of a greater purpose.
The celebration included many types of different activities – everything from stage performances, exhibitions on Aims and Early Days of Auroville, Unending Education high lighting the present educational activities which include the neighborhood, Chronological Physical Development of Auroville, Kolam (Design) mass women participation, Further followed by art, music, Kids corner, games, and sports for all. Many children and youth groups had prepared impressive costumes and performances of theater, dance, song, Jazz, and yoga. The performers came from the Auroville community, Bioregion as well from elsewhere in Tamil Nadu and Pondicherry. The cultural event was an intercultural program which included East and West. Lunch and snacks were provided for all participants.
The event was organized to act as a platform for sharing information about Auroville and the educational activities that unite this region. Therefore, an exhibition was displayed on Auroville's ideals, development, and projects which were a highlight for many who attended. The exhibition was one of the first to be fully translated into Tamil, making the information accessible to many more. The festival also included many informative stalls, such as Auroville Institute of Applied Technology, Ilaignarkal, Ecofemme, STEMland, Aikiyam, LEC, Auroville Village Action, Terrasoul, and many more sharing their handicraft products and information about their work.
The program also held space for lively discussions with elders and youth about the early days, recent achievements, and future dreams for the Auroville bioregion. The theme of 'unending education' was highlighted through speakers from Pitchandikulam on watershed management, Dental Care on hygiene care, STEMland team on education, Youth Link for young adults, Life education Center on Women Education, AVAG on social work, Eco- Femme on sustainable menstruation, Auroville Water Board on water sharing, Outreach Team on Education and Yatra Arts & Media on association with Auroville. Each member elaborated their activities in brief to the audience in the language of their choice, at times being assisted with brief translations into Tamil or English for the benefit of the mixed audience.
Around mid-day, as a big part of Tamil culture, everyone gathered to share a meal together. Aurovilians and units had helped cover the costs, in order to provide a free meal for all workers, Aurovilians, friends, and guest gathered at the venue. Several thousands of people visited the event and many expressed their wish to have Sangamam happen more regularly. It was felt by many that communicating the Auroville dream was crucial to its manifestation. The event held a spirit of confluence and goodwill. Highlighting the courage and perseverance that it took to build Auroville so far brought a sense of humility and aspiration to all those wanting to take this dream forward.
Auro Sangamam Team
The Auro Sangamam team is quite a unique group, bringing together many Aurovilians. Sangamam events have been organized in Auroville over the last 30 years. However, this last event, the team has grown to include around fifty Tamil Aurovilians! It is quite symbolic to have such a large number gathering together, to dream and plan for gathering even more people through the spirit of celebrating the Auroville dream. The Auro Sangmamam team have been meeting regularly for the past 6 months. The current team has been focusing on bridging and connecting with the Auroville's neighborhood, to truly bring forward the Tamil culture's inherent nature of embracing and welcoming. Therefore, Sangamam events include a real effort to highlight the local / Tamil culture as well as being a platform to communicate what Auroville is about. As the Tamil population in Auroville is over one-third of our residents, this culture, in particular, would love to share its genius to enrich the life of Auroville. Therefore, those who are part of the Sangamam team welcome everyone who would like to learn and explore this culture more and find creative ways to help the bioregion better understand the many cultures coming in from other places of India and abroad.
This Sangamam Celebration has been organized in collaboration with many Auroville groups and individual volunteers who have stepped forward to offer their time and energy to co-create this beautiful event. Therefore the sense of gratitude resonates in many directions – to the Auroville Foundation, Bharath
Nivas
team, 50th Anniversary team, Auroville Board of Commerce (ABC), All Auroville Units, Services, Auroville Radio, Manohar,
Outreach Media, Auroville Radio, ABDA, Future School Student's Media Team, the many Photographers, and countless volunteers. A lot of gratitude also to the program venue neighbors - Aurodam community, Visitors Centre, and the African Pavilion. The basic amenities for the people like drinking water by Alok, AV Water Service, Pour Tous Water Service, Fire and Emergency Service, AV Security Service team, Auroville Electrical Service, Progress, Auroville Bakery, Deepam Candles, Omega, PTDC, Foodlink, Ferme Cheese, Matrimandir, Police department. Witnessing all those participating in such an event, where hard work and good will result in a sense of deep
fulfilment
and celebration, one has but a glimpse of what a true Human Unity manifests as.
Donations received: GOI General Expense Rs. 5,00,000., Capital Expense Rs. 2,36,900., Auroville City Service (BCC) Rs 60,000., Units, Services, Individuals, T-Shirt sale, Stalls, Organizing team gathering / workshop etc. Rs. 7,29,020. Total received is Rs.15,25,920.
Expenses: Chronological Development Of Auroville Rs. 82.010., Unending Education Rs.83.750., Organizing team gathering / workshop expense Rs. 13,500., Cultural Events Rs. 1,57,736, Kids Corner Rs. 45,415., Sports Rs. 9,214., Site Management Rs. 3,04,765., Stage Audio, Light Generator Rs. 75,712., Lunch and Snacks Rs. 2,83,703., Transport (Participants / Workers) Rs. 54,575., Stall Expense Rs. 6,974., Video Coverage Rs.70,000., Gift Expense Rs 10,569., Volunteer T-Shirt 20,000., Printing Rs. 5,459., General Expense Rs 26,541., Security and Fire Safety Rs. 8549., Administration Exp. Rs. 10,000., Total Expense Rs.12,68,472. Balance amount: Rs. 2, 57,472.
Cordially,
Auro Sangamam Team
D. Selvaraj, Thillai Ganapathi, E. Rathinam, A. Elumalai, G. Selvam, D. Auroprem, A. Sivaraj, P. Manimaran, P. Jayavel, K. Rajavel, S. Kathiravan, D. Segar, P. Kalia, R. Meera, S. Dawn, M. Davaselvam, D. Thambidurai, K. Sundar, K. Gajendran, E. Ganesh, N. Grace, P. Balu, M. Pomusamay, Aurobanu, V. Suguna, V. Velu, M. Sathiyavan, A. Raja, Iyyanar, Saravanan, Elongo, Anand, Iyyanar, Maniknadan, Boobalan, Mahesh, Sundar, E. Alamelu, Umavathi, E. Sarasu, Kumar, G. Elumalai, Periyasamy, K. Muthuraman. H. Suryagandhi, S. Kavitha Urvasie, A. Priyanka, R. Auropremi, R. Auropradeepa, E. Ashwin, J. Auroshe, T. Jayanthi, S. Malar, T. Kalai, R. Rajaveni, V. Sarasu, J. Arathi, J. Ashwini, J. Varsha, K. Sumathi, A. Gunasundari, K. Nandini, G. Sudha, V. Kalaivani, R. Anitha, M. Meena,
There were many more volunteers; we regret not mentioning their names and we would like to thank all for their support and help.
For further details email: aurosangamam@auroville.org.in
Website: www.aurosangamam.org
https://www.flickr.com/photos/128238309@N07/albums/72157688546034410/with/39959360044/
Videos:
Manohar
https:www.youtube.com/embed/4d2yxBYgCpU?rel=0
Enter the video url
https:www.youtube.com/embed/39WimByyDM8?rel=0
Enter the video url