Last updated: 19 May, 2020
Gratitude cakes - Auroville and Covid 19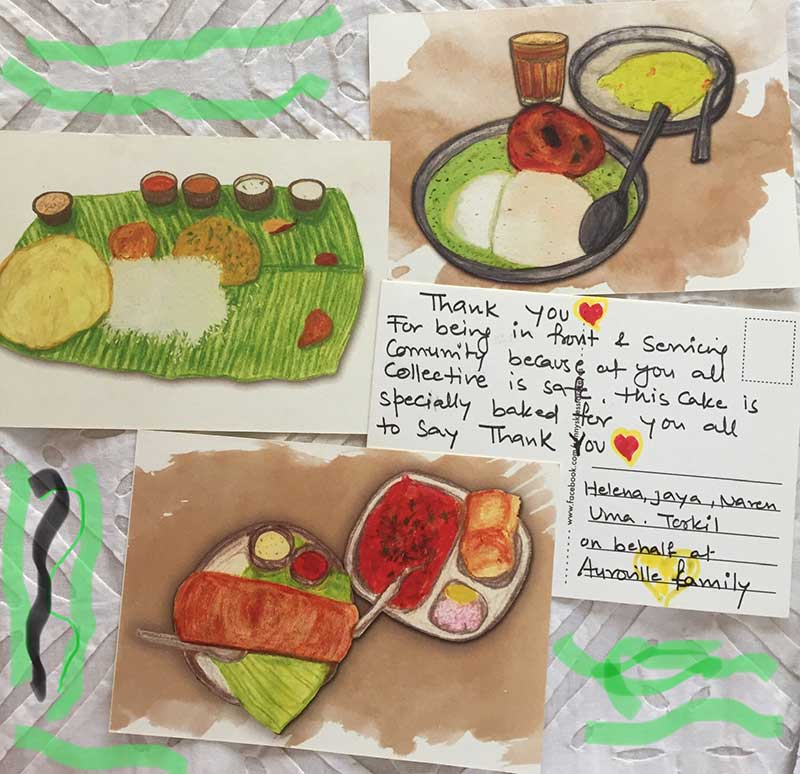 Gratitude Cake Project April 2020
"Because of you all, collective is safe."
The uniqueness of Auroville reflects also in small, touching initiatives like this one.
In these days of lockdown, while many have been forced to stay home, others have been needed to offer their essential services, sometime with extra charge of work, like in health services, security, emergency, food supply, essential services, etc…
Somebody has noticed that these persons under working stress didn't even have the comfort of hot drinks, snacks and cakes as usual… here is where this story starts:

Helena while working in Santé, dreamed: "I wish we could have cake for all the staff and government people". While contemplating how to make this a reality, she talked with Uma, who said: "I will take care of that".
Uma is not an experienced baker, so she asked Tamar to make and send a cake to Santé on Monday. Everyone was super happy, so the idea of giving cake to all those working to run Auroville functions during lockdown was born.
Uma called Jaya: 'Will you bake some cake for volunteers for saying: thank you?" Jaya immediately said yes.
Torkil agreed to pay for the ingredients.
Naren agreed to do the shopping – starting with 2.5 kg of butter and 48 eggs!
It sounded difficult in these lock down times, but Naren bought it all and delivered to Sunship community kitchen where master chef Jaya is baking.
First batch of 60 cakes appeared in one go on Earth Day 22nd April - distribution , logistics, packing, cards all got designed as we went along. - 60 cakes went to community services, administration.
We ran out of handwritten thank you cards as well. Friends and school were approached, and they willingly agreed to help.
Second batch of 90 cakes arrived in morning of 23rd of April. And also these were packed and sent out.
New sets of thank you cards from volunteers, and next set of ingredients to be planned.
We have already send out 400 cakes . All have gone with thank you notes on behalf of the community.
It has opened a flood of generosity and gratitude.
We hope this ripple continues to inspire others to carry on saying thank you in their own way.

"Thank you for being in front and serving the community.
Because of you all, collective is Safe. This cake is specially baked for you all,
to say Thank you !"

Helena, Jaya, Naren, Uma and Torkil