Last updated: 31 Mar, 2021
Mohanam - A cultural centre in Sanjeevinagar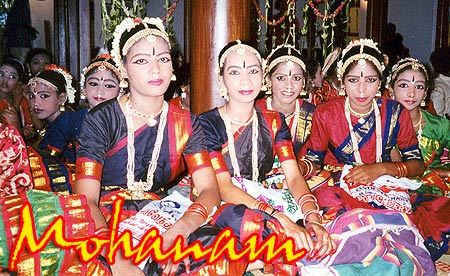 Purpose and Vision
Mohanam Cultural Centre began in 2001 under the Auroville Village Action Trust in a rural village, which is located in the Kaluveli/Auroville Bioregion in coastal Tamil Nadu, South India.
The aim of Mohanam is to provide the young generation of the villages with an opportunity for extracurricular activities, which help them to find identity and connection to their own original culture, which faces tremendous change in the globalization process.
The community centre, established in one of the last traditional houses of the village, is offering creative arts classes on the weekends for school going children. It also has a creche/kindergarten, evening tuition, and is actively uncovering remnants of original performing and craft skills in the local villages surrounding the International Community Project of Auroville. The purpose of these activities is to keep alive this intangible heritage through youthful interest, classes, studies and special programs.
Promotion of diversity
The centre has identified some of the last living exponents, elders and resource people of the communities in performing and martial arts, festival customs and crafts. The idea is to document their skills and techniques and expose selected youth to workshops and classes of the ancient practices of five chosen genres: Kummi, Kollattam, Tapattam, Silambam and Koothu.
This raises communal awareness and revitalizes the endangered, intangible heritage through offering the young generation opportunities to learn and get established in these hardly practised performing skills, which are still in high demand at traditional festivals and with international visitors.
The Tamil Heritage Festival will draw necessary government and international attention and provide a large-scale dissemination of the project work.
Mohanam's activities reflect the richness, diversity and legend of Tamil culture along with other contemporary cultures constantly evolving and offering new possibilities.
Dance and Music
The folk dances offered by Mohanam are Kummi, Karagaatam and Kolaattam.
Kummi is an ancient Tamil folk dance of the villages of Tamil Nadu.
Karagaattam is the most popular folk dance of Tamil Nadu. Traditionally, the villagers perform this folk dance in praise of the rain goddess "Mari Amman".
Kolaattam, which is danced by a team of ten or twelve participants, is a dance form in which two sticks are used for producing rhythmic sounds with movement and music. Each dancer sings songs, moves and beats the two sticks. The dance performances are conducted in open space. The participants wear clothes of uniform colours, mainly dhoties tied up, anklets on the feet and coloured ribbons around their heads.
Children and youth from the villages around Auroville benefit these programs. It is offered free for them.
Martial Arts
Silambam is a traditional stick martial art which has been in existence for over 5000 years, even before the arrival of the Indo-Aryans. Silambam is said to be the oldest in the world since the use of the stick was the first weapon used in pre-historic times. It received royal patronage from all the Tamil Kings beginning from the Sangam era.
Mohanam offers classes for the village youth in this martial art form in an attempt to revive it and pass it on to the next generations.
Theatre
Therukoothu, the Theatre art of Tamilnadu, is usually conducted during village festivals where three or four streets meet; in the open air, the place is lit by gas lights. Only men take part; the female roles also played by them. The performance consists of storytelling, dialogue-rendering, songs and dance, all performed by the artists.
The stories are taken from Hindu epics and also from local folklore. The play starts in the late evening and gets over only during the small hours of the nights. The performance is so captivating that the audience are spell-bound unaware of the longs hours. Therukoothu is more popular in the northern districts of Tamilnadu.
Interested youths have been trained in this original Tamil theatre practice and seasonally Mohanam conducts theatre classes inviting experts in Therukoothu.
Education
In February 2004 Mohanam started a Kinder garden project called Mohanam Creche with a strong emphasis on a creative and child-centred approach, taking the experience of modern child psychology and new pedagogical methods. Continuing to stay in touch with the best of the traditional ways of loving care inner guidance is what makes the difference in the Mohanam kinder garden in contrast to the government preschool places that are available.
The aim is to give the children a firm base to be able to develop the necessary faculties for an independent and progress-oriented life. The Kindergarten-project is in its fourth year with more than 45 children and 3 teachers. The project offers the children lots of opportunities to be creative and learn in a joyful way through handicrafts, dancing, singing, painting, clay works and sports.
Women Empowerment
Empowering women economically, making them self-dependent, fulfilling their needs without depending on the male breadwinners of their families is the main objective for the formation of Mohanam women's group. Known as Mohanam Malargal House, it was started on 13th February 2006 with 24 women from Sanjeevi Nagar and surrounding villages.
The women are trained in skills like tailoring, embroidery and fabric painting. Besides, they participate in workshops through which they learn leadership skills and self-defence. Kolam, the traditional art form of Tamil culture and landscape, with their orderly and often highly symmetrical designs has been brought to the fabrics by Mohanam through a project "Kolam Arts".
Today some of the village women who have been offered training in hand embroidery make beautiful Kolam patterns on fabrics which are made into bags, pouches, purses and belts. Kolam is a local art, performed daily by women decorating their doorsteps with chalk-drawn traditional geometric mazes. This project is now providing employment for a small group of village women and continues to grow.
Community Development
Mohanam has been involved in community welfare and development work in Sanjeevi Nagar and Alankuppam, villages near Auroville. Mohanam's youth and the youth from the villages join hands in the developmental works like environment safety, health and hygiene.
With the help of donors, a drinking water project worth Rs. 6 lakhs was inaugurated recently in Sanjeevi Nagar village.
Mohanam Performing Arts Youth Group
Mohanam firmly believes that young people play a significant role in addressing social issues and that space should be provided for self-expression among them. We see art and cultural expression as a key medium for promoting the positive impact youth have on the world.
We involve young people, provide them with a space where their energy and creativity can be channelled in a background that promotes the brotherhood and solidarity between them and at the same time, make them conscious of the problems that are a human responsibility, through inviting them to take part in an activity to discover our culture and traditions.
The group's programs
The group through their arts and culture activities not only preserves the original culture but also raises awareness about social issues like HIV/AIDS, health, labour and employment, indigenous rights, sustainable development and agriculture, peacebuilding, human rights, youth culture, empowerment and environment education.
Our performing youth group consists of young boys and girls from rural village backgrounds. Though they may be from underprivileged sections of the community and without much education, they possess knowledge and skill in their native arts and culture which makes them outstanding from other youths.
The group is led by a Tamil Aurovillian Balasundaram, who is a cultural activist and a youth leader. The boys' wing of the group performs original Tamil folk dances Kolattam and Thappattam. The group has been trained well in the Tamil Martial art Silambam. They also perform the traditional Tamil folk theatre art Therukoothu .
As some of them are working in Svaram Musical Research Center, they also get an exposure in musical improvisations with newly developed musical instruments.
The girls' wing performs the classical dance, Bharatnatyam and the folk dances Karagaattam and Kummi.
Seasonally, the group gives dance presentations in Auroville and other parts of the country. The group has also started participating and performing cultural and theatre festivals in other parts of the country.
Youth Learning Garden (Thoppu Veedu)
The Learning Centre is in Thoppu Veedu, a quiet coconut grove and a learning centre for the youngsters in Sanjeevi Nagar village near Auroville. Here they practice and rehearse various performing arts.
It has a Music House, a traditional hut which is a platform for the youngsters to play and learn various sound and percussion instruments. It is also a musical laboratory wherein they experiment with different sounds for their dance and theatre performances.
The learning garden offers the youth a deeper connection to nature and its cycles and helps to create environmental awareness and responsibility.
PIC
Cultural Festivals in the Village
Mohanam conducts cultural events and festivals throughout the year. The Centre organizes events to celebrate special occasions like Pongal, Republic day, Independence Day, Children's day, Teachers day, Women's day, Earth day, Christmas and Vijayadasami.
During Pongal, the special festival of the Tamil people, the Centre conducts cultural and traditional events for the villagers around Auroville. Traditional games like Kabaddi, Ilavatta Kal Thookuthal and Nondi aattam are conducted along with contemporary sports like slow bicycle race and slow motorbike race.
Village women get a chance to show their artistic talents through the traditional Tamil art "Kolam". Mohanam has been conducting Kolam festivals for the last four years in Sanjeevi Nagar village.
Mohanam hopes that these events will stimulate similar happenings in other surrounding villages and inspire the youth not to give up their traditional games. In future, Mohanam Cultural Centre will be introducing more traditional games and events with the collaboration of the villagers.
Night school activities
Mohanam Cultural Centre conducts a night school at its centre in Sanjeevi Nagar. It has students from 1st standard to 9th standard. These students come to the Centre and do their homework with the help of the Mohanam students, Manikandan, Gomath, Vijayabaskar, Anandbaskar and Rajesekar who are doing their graduation and secondary school at Puducherry. Manikandan is doing B.Sc III year in Chemistry, Gomath is also doing B.Sc III year in Chemistry, Vijayabaskar has completed his B.Com graduation at a private college in Puducherry, Anandhabaskar is doing his II year in Bio-Chemistry in Puducherry, and Rajesekar is doing 12th standard in Puducherry.
There are about 35 students who are receiving private tuition at this centre for the classes that are held between 6:00 and 8:15 pm.
Mohanam Cultural Centre

Puducherry - 605111
India
Website: http://www.mohanam.org
Facebook : https://www.facebook.com/MohanamOrganization/
Ph. 0413 - 2622667
E-Mail: mohanam@auroville.org.in
https:www.youtube.com/embed/mra_4YCWc20
Enter the video url
https:www.youtube.com/embed/WIUEtq1-jO8
Enter the video url