Last updated: 10 Aug, 2019
Aster Patel: "Inwardly, Auroville is blossoming"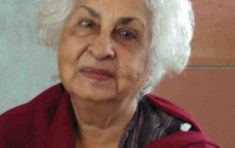 In November 2018, Aurovilian Dr. Mira Aster Patel, in recognition of "her invaluable contribution in developing Auroville", was awarded the Auro Ratna award from the Overman Foundation in a ceremony in the Hall of Harmony of the Sri Aurobindo International Centre of Education of the Sri Aurobindo Ashram. Auroville Today asked her about her journey.
Auroville Today: Can you tell us something of your youth?
I grew up in the Sri Aurobindo Ashram. In 1942, at the age of 10, I had come together with my parents and my brother. We were among the earliest children admitted to live in the Ashram. My father, Indra Sen, joined us a few years later. The sacred 'courtyard' of the Ashram was our home, our playground. We were there all day. We went to The Mother two or three times a day. These were the days of the Second World War, and sometimes She would call us, with our parents, as late as eleven at night, as She was busy with Her Work 'somewhere' we were told! Sri Aurobindo was 'up there' in His Room. We felt His Presence and had His Darshan four times in the year. When I was about 12 years old, I said to my father that I wanted to go alone for Darshan, to stand alone in front of Sri Aurobindo and The Mother. My father agreed. One Darshan day, while I was waiting at the gate of the Ashram, I saw Dilip Kumar Roy coming in, who Sri Aurobindo had called "a friend and a son". I slipped into the queue behind him. When he was in front of Sri Aurobindo, Sri Aurobindo's look changed. He always had that vast impersonal gaze, which did not focus on anyone, but when Dilip-da was in front of Him, His look focused on Dilip-da in a 'personal' manner. His look encompassed the personal and the impersonal at the same time. What transpired between them was so intense that even now, as I relive those moments, my whole being feels the vibration. Dilip-da was standing there for quite long, and I would peep around his robes to see Sri Aurobindo. I hold that precious memory deep within me. On all other Darshans, I used to wait at the gate for Dilip-da to come and would slip in after him in the queue! The last Darshan Sri Aurobindo gave, on November 24th 1950, was very special for me. Some message went through, which guided all my future steps.
And your contact with The Mother?
The Mother took the children in her embrace and held them in her Being! She would see us three or four times a day. She arranged for us to be with the senior disciples of the Ashram and study with them. Since a very young age, She would tell us frequently, "Find the psychic being. Be conscious." The first work She gave me was to pick up the yellow flowers that fell from the Service Tree in the courtyard of the Ashram, and count and arrange them in big brass platters. These would then be taken to Sri Aurobindo's Room. When there were about a dozen children, The Mother started a School on December 2, 1943. One day, Mother called another girl and me – we were all of sixteen years – to present in recitation/dramatic form a text from 'Savitri'! She gave us typed copies of "The Debate of Love and Death", as the book had not yet been published. She gave me the role of 'death'. This was rather 'overwhelming' at that age! I asked Her, "Why have You given me this role?" Mother drew Herself up and said, "Death is nothing to be afraid of. It is a great power that has to be conquered. Let's get to work." She said She would train us Herself, which She did, in the long room upstairs in front of the Darshan seat. She showed us how to pitch the voice, how to speak each part. Later, She brought out costumes and make-up from Her own treasure-chest and dressed us for the part. When this was done, She said to us, "Sri Aurobindo will hear us." To have His Darshan for the 'fifth' time in the year! We could hardly believe it – for nothing meant more than 'seeing' Him! He chose to sit in the room by the side, the narrow one, to hear us! This 'Divine Dispensation'…. I have never understood how this was given to us. Mother asked me, about the same time, to take kindergarten classes, along with my studies. I said to Her, "But, Mother, I don't know how to teach!" I was about seventeen! Everything began early – there was perhaps no time to waste. She replied, "It is good to be with the children. Give them freedom." They were 5-7 years old! I asked, "Freedom at such a young age?" She said, "It is never too young to give freedom. But one must create the right atmosphere." I took the whole class to Her each morning and sent up to Her a written account of what we had done during the day. She returned the same with Her remarks and blessings. Other work was given by Her from time to time, many- sided, to help me to grow, within and without. A major one was to work with my father and assist in all that he was doing. He was asked to present Sri Aurobindo's work to academia and in the scientific conferences in the country. This was done for the first time when the major works were being published. My father, Indra Sen, wrote to Sri Aurobindo around 1940 about a completely new structure/system of Psychology and Practice which he found on studying His works. The term used by him was 'Integral Psychology'. This was accepted by Sri Aurobindo, who asked that he write about it. Thus the writings of Indra Sen were first sent up to Him, and later to The Mother, before being published. Then came the years 1954 to 1957! A great sense of 'things happening' was in the air! The 'charge' was palpable and one was 'bathed' in it. In mid 1956, Mother asked me to move into Golconde, saying, "It is a place of great beauty. I want you to move in tomorrow." I was then studying in the Higher Course of the Centre of Education and living with my parents. One day, walking down a street in the town, I turned to a friend who was with me and said, "I would rather have lived at this moment of history than any other." The words rushed out from somewhere deep within – and they remain with me.
How did you decide to study at the Sorbonne in Paris?
I finished a five-year Higher Course at the Centre of Education of the Ashram in Philosophy and Psychology. Then I had a strong seeking to study Sri Aurobindo's works further in the context of European thought and culture. A kind of wholeness was my aspiration. I referred this to The Mother and She asked me where I wanted to go for this work. Very spontaneously, from somewhere deep within me, I replied, "Sorbonne." I didn't know much French at the time and I can't even say how this sprang from me! Mother was very happy that I had made this choice. My subject was, 'Comparative Study of Philosophies of Sri Aurobindo and Henri Bergson', for a Ph.D. thesis. This was the first time that a study on the work on Sri Aurobindo was accepted at a University in France. The experience of this time was very rich. So I was in Paris during most of the 1960s, in the heart of the changes that took place in May, 1968! I wrote to The Mother about the movement by the students and She replied that She found this very interesting and would like to know more about it. I wrote to Her regularly, telling Her what was happening. I was back home before the new year of 1969 to finish the writing of the thesis. On returning to Paris, I asked The Mother, "The thesis is nearing completion. What do I do after that?" She replied, "You will know when your work is finished. You will know when you are in France – but it won't be for France!" I defended my thesis on February 28, 1970 – Auroville's second birthday. It was the first time a work on Sri Aurobindo had been presented for a thesis defense at the Sorbonne.
What was that next step which Mother had indicated?
In June 1970, when I was still in Paris, I received a letter from André Morisset, Mother's son, who handled The Mother's correspondence. He wrote to me that the United Nations, to commemorate its 25th anniversary, was organizing a United Nations World Youth Assembly, that Mother had said that Auroville should be present and that She was thinking of me for that. But what was this Auroville, this new 'creation' of Mother? I hadn't been there for its inauguration in February 1968. I had been in Paris, walking up and down the boulevards, studying 'The Life Divine'! The conference, I learned, was in response to the demand of thousands of students who were asking for a 'new education, that would prepare them for the future'. About 750 official delegations of young university people from all over the world came together for three weeks to share their dreams of the future and to indicate the directions that world leaders could take to set their policies! I was elected to the 18 member Steering Committee of the Assembly. For three weeks we poured our hearts out about the 'future' that we wished for – in education, culture, economy and polity. We began at 12 noon and went on till 3 in the morning! It was a far cry from being in the silent libraries of the Sorbonne! That is where I had to start exploring "what Auroville is". Janet Fearn, visiting from Auroville, brought me some literature. The visions of Sri Aurobindo and The Mother were there to guide me. There was a surprisingly common focus in our deliberations. We looked for patterns of 'wholeness' in personal growth and a spirit of 'oneness' among nations and cultures. It was a rich experience of the world trying to create its future.
When did you join Auroville?
I came home by November, 1970. On my birthday in March, 1971, Mother gave me a long interview. She spoke of India, the country that, she said, "…is open to the deeper consciousness, to the new Forces that wish to manifest". She mentioned that India represents the life divine on earth, and that "it is that that one must show – in action, in life, in the manner of being." She spoke of the work that lay ahead and what my work was to be. Thus began my journey to Auroville. And in July of that year, She started the Bharat Nivas in the International Zone of Auroville, with which I have been intimately connected. But I did not come to live in Auroville immediately. As I had always been a student and, later, a teacher at the Ashram's Centre of Education, I returned to work in 'Knowledge' for four hours each morning. The students were young adults and the courses all centred around 'matter'. On Saturday mornings, I would go to Matrimandir and join the team carrying cement and pebbles in 'chetties'. But I noticed that was all I could do! Standing there with a spade in hand, beside the skeletal structure of the time, I found I could not relate to the 'matter' in front of me, I could not enter 'into' it! However glibly I could speak about it from Monday to Friday across a table, come Saturday morning I could not sense the reality of its 'existence'! This was a major turning-point for me, in consciousness. Here there was a 'matter' to explore, to be made a 'substance' of one's conscious experience. Roger Anger's experimental house in Auromodèle was given to me as a base for life in Auroville, but it was unfinished and there was no architect or a construction team. Roger told me to finish the construction as he was going back to Paris! Thus began this journey of exploration – into matter, space and consciousness, as it turned out to be! Other work followed: joining the work at Matrimandir, at Bharat Nivas, setting up a Centre for Research in Indian Culture, organizing study programmes and international conferences and participating in them in India and the U.S.A. Also, for almost twenty years, I was a member of the Governing Board of Auroville Foundation.
What are your views on Auroville today?
I recently heard that someone had said that The Mother and Sri Aurobindo "had passed on, but left Auroville". I replied that Their consciousness, Their force and Their evolutionary dynamism are more active and visible in the world today than ever before. Open your eyes and your inner sight and see the changes taking place in the world. For those who have a contact, Their help is constant. In my experience, Their presence is more active and stronger than ever before. Auroville cannot expect to be an ideal society distant from the problems of the world. When Mother was asked why she had created Auroville, she said that India has become the symbolic representation of all the difficulties of present-day humanity, that India will be the site of its resurrection, the resurrection to a higher and truer life and that FOR THAT she had created Auroville. In other words, the problems of the world will also be present in Auroville. When I look at Auroville today I see that, inwardly, Auroville is blossoming. I feel its dynamism and force expanding way beyond its physical boundaries. There are an increasing number of people in Auroville who are manifesting that inner growth: in art, in education, in so many fields. But with Auroville's inner growth, its limitations and its difficulties, which perhaps have been there all the time, are coming to the surface. I believe this is so that we can look at them more clearly and deal with them. It is because Auroville has the inner strength to deal with them that the problems are coming to the fore. In practical terms, a lot of change is necessary: in the area of our economy, of town planning and organisation, to mention a few. They do not seem to be commensurate with Auroville's inner growth. But the change will come – if we let Her force work through us.
In conversation with Carel

Courtesy of Auroville Today Issue No: 354, January 2019

https:www.youtube.com/embed/nXzEgOlXzFY
Enter the video url