Last updated: 8 Apr, 2017
Sri Lanka's SUNFO award for Auroville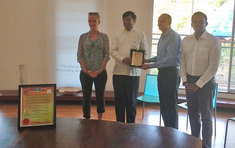 The Sri Lanka-United Nations Friendship Organisation (SUNFO), is a non-political, non-racial and non-sectarian organization working for peace, harmony and well-being of mankind according to the principles of United Nations.
SUNFO was inaugurated on 22 May, 1999 under the patronage of Hon. Speaker of the Parliament Sri Lanka Dr.K.B.Rathnayake and with the blessings of the United Nations Resident Coordinator Mr. Peter Witham. During the last 17 years over one million youth, children, and citizens have participated in SUNFO programmes, activities, mobilizations and campaigns. One of the main objectives of SUNFO is developing social, cultural, volunteerism, tourism cooperation between people of Sri Lanka and people in other diverse friendly nations.
With the blessings of SUNFO Patron Hon. Deshabandu Karu Jayasuriya (The Speaker of the Sri Lankan Parliament) SUNFO declared a Global Village Programme in year 2016. This programme recognizes special initiatives in the world to develop people's cooperation globally.
SUNFO decided to honour Auroville by awarding it the "SUNFO Global Village Award of Appreciation" on March 30th during a brief ceremony at the Unity Pavilion. The award, consisting of an award plaque and framed certificate, was given to Auroville Foundation Secretary Mr. M.V. Chunkath by Ambassador of Peace and SUNFO Director General Dr. W.A. Deshapriya S. Wijetungem and Chartered Architect Ranga Soysa-head of the SUNFO Global Village Programme.