Last updated: 30 Aug, 2022
Suhasini gets award at Glasgow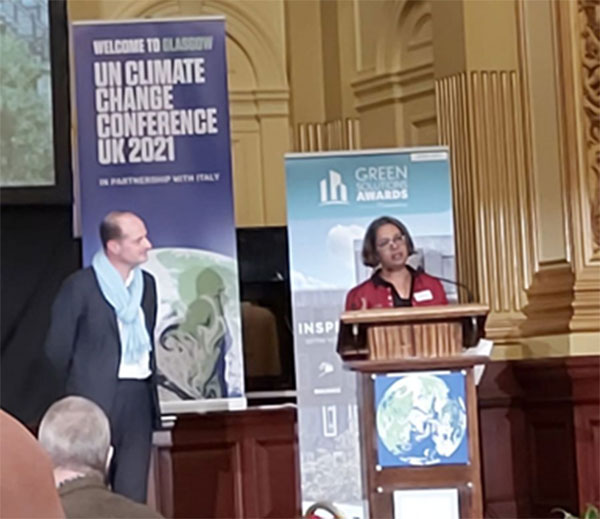 https://youtu.be/QhRzUxk6SU8?t=5294
Aurovilian awarded Green Solutions Awards
Funded by Ministry of Education
Inaugurated by Prime Minister Narendra Modi on 50th Anniversary of Auroville, 2018
Suhasini Ayer, a renowned architect from Auroville, received the Green Solutions awards during the COP26 summit in Glasgow on November 10th, 2021
The "HUMANSCAPES HABITAT" is an applied research and demonstration project of Sustainable and Integrated Urban Living for benchmarking in habitat as a course correction for a sustainable and harmonious mode of development, an imperative need in the present global crisis of energy and climate change. This mixed-use development of residences, community and workspaces besides being sustainable also wants to address the issues of skill development and capacity building of construction labor, who are mostly distressed migrants in India, to improve their economic condition and reduce construction waste in the habitat sector to meet India's commitment to IPCC.
This habitat project has integrated five goals as part of the sustainable human settlement program:
• Sustainable built environment with solar passive building design coupled with efficient functional space layout to reduce the built-up area and use of low embodied energy building materials with cradle-to-cradle cycle with construction techniques that are low tech with lowered operational energy.
• Integrated environmental planning of water, energy and waste cycle, with zero-discharge of water, reduction and recycling of solid waste, water-efficient landscaping using local endemic species, and urban agriculture as edible gardens.
• Reducing point to point travel by integrating work and living spaces, using integrated community and IT infrastructure (ICITI) for work at home with clean mobility options like e- vehicles for movement within the local area.
• Human ecology, using the principles of "Cohousing" concept of living, facilitates interaction among neighbours for inclusive socioeconomic development with increased environmental benefits. A functional fusion of the living, working, recreational and primary amenities allowing a multiplicity of space usage has allowed for over 15-20% in built up space reduction while the inhabitants can interact actively while working in the gardens and collective management of the food production and waste recycling.
• Establish a collaborative network of knowledge resources called 'SustaiNet' to facilitate further dissemination. This network will enable inter-institutional knowledge sharing and dissemination, a platform for academics, students and professionals to have an inclusive learning experience during and after completion of the project.
See more details about this project
https://www.archdaily.com/928779/humanscapes-habitat-urban-living-auroville-design-consultant
https://inhabitat.com/experimental-net-positive-energy-development-in-india-is-a-prototype-for-future-sustainable-housing/
https://www.aurovilledesign.com/humanscapes-1a/
https://archello.com/project/humanscapes-habitat
https://indianinstituteofarchitects.com/pdf/jiia/2020/Nov__2020.pdf

Photo credit
Photo credit: Akshay Arora, Auroville Design Consultants, The Drone Zone
Video credit: Fred Cebron, Hemant Lamba
By Mauna, 12 Nov 2021 on Auronet