Last updated: 31 Jul, 2014
His Holiness The Dalai Lama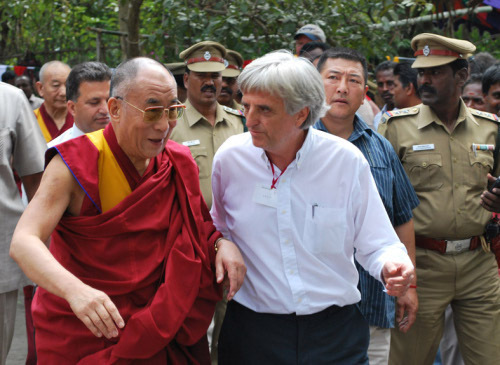 In Auroville
During his first visit to Auroville in January 1973:

"We are deeply impressed by the spiritual aim behind the building of an international city called Auroville. The importance of the effort to achieve human unity and international cooperation by the creation of such a city cannot be overemphasised; nor can we neglect the immense benefit to be acquired from it. We are therefore very keen to be the first country to build a pavilion. We understand that this pavilion will be dedicated to the essence of Tibetan culture in an effort to show that out of the diversity of world cultures, these pavilions can help to create a new harmony towards world human unity."

Twenty years later, on the morning of the 24th December 1993, after laying the foundation stone at the site of the Pavilion of Tibetan Culture in the International Zone of Auroville, His Holiness the Dalai Lama spoke in the Sri Aurobindo Auditorium at Bharat Nivas:
"Since my last visit (twenty years ago), I'm extremely happy to see that much progress and many developments have taken place. You have done many, many things. (...) This happened because of your dedication and your full involvement. You dedicated all your time and energy to certain principles, and also you worked as a team and with, I think, a very good sense of community. (...)
I also noticed that there is a very good harmony, a good relationship, with the local people, and many local Indians seem to fully participate and enjoy working with Westerners. This is very good. You have the spirit of community, irrespective of religion, culture, or race. That's really what we need."
During this second visit, in an interview with Auroville's monthly magazine, Auroville Today:
AV Today: Have you noticed any changes in Auroville since you were last here?
"One thing that has surprised me very much was that when I first came the land was barren. I remember the sun was out that day and I was wondering where the best place was to find some shade. Today you needn't worry about that! It's full of trees; it's almost like a jungle. (...)
"Today in many parts of the world we're very concerned about deforestation. This type of project of restoration is really marvelous. If the people involved in this work here could use whatever experience they have gained, and find the opportunity to extend their work to a high altitude place like Ladakh, if it works there we could adopt it in a future Tibet. (...) Your spirit of dedication, your vision and sense of community and your clear acceptance and realisation of the value of spiritual things are very important. You see, there are many projects that are very good for material development but are often lacking in spiritual value or realisation. In other cases, there is an emphasis on spiritual things but with a neglect of practical progress. Here I found a combination of the two."