Last updated: 5 May, 2018
Raman Construction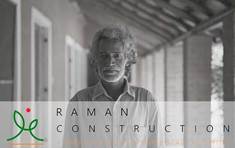 STUDIO WORKSHOP
​Our small workshop in the centre of Auroville is a multi-functional space with two levels approximately 70sqm in total area with an abundance of light, this office was restarted by Raman in 2015. Its enveloped from all sides in the thick plantation with greens flooding inside the office through almost transparent enclosures of the office space.
The ground floor functions as the office and we spend most of the time in this inspiring enclosure interacting, sketching, designing, discussing, meeting, progressing and learning. The upper floor is open from all sides and we are developing it as space for us to discover inner passions and put them into action. The open plan leaves us with all the options to play with.
DESIGN PHILOSOPHY
Sustainability is an inseparable part of the whole process of starting from sketching to implementing the work on site. Using resources judiciously and focusing on the importance of not exploiting nature creates a positive vibe throughout the progress and keeps the happiness intact and relations strong.
The main concern is to understand the needs of the client and develop a system which lets us minimize the waste of resources. Involvement of the client during the design process and implementation on site is highly appreciated. Our design process is progressive and is influenced by various factors like location of site, availability of resources, aspiration of the client, time etc.
We believe in learning from the history of India and trying to incorporate the traditional aspects in the design. For us borrowing from the traditions of our own is more practical and applicable than borrowing from a totally different, unrelated, divergent mindset and ideas from elsewhere.
The design process is simple and starts with programming, where we interact with the client to understand the aspiration they bring with them, which is then brought into the office for design development that includes ample discussion, brainstorming, sketching and positive debates. After finalizing the basic structure of the design, the construction documents are generated, finally implementing and building the project. The outcome are earthy, beautiful, functional, sustainable and innovative spaces that are strongly influenced by and inclusive of their surroundings
PROJECT TIMELINE
TRUST SCHOOL 1992
CATHERINE'S HOUSE 1992
VERITE MEDITATION HALL 1993-1994
AMMA HOUSE 1993
RABIA'S HOUSE 1993-1994
CLAIRE AND ERISSA'S HOUSE 1993-1994
AUROSARJAN 1994-1995
ANANDA MITCHKO HOUSE – FRATERNITY 1994
NEW COMERS HOUSE – VERITE 1994
NEW COMER HOUSE - DANA 1995
LARRY'S HOUSE 1994-1995
LA SCHOOL RESTORATION 2010
RC OFFICE 2010
LA BOUTIQUE INTERIORS 2010
MADURAI HOUSE 2013
BEACH HOUSE – SERENITY 2014- 2015
IRUMBAI MPH 2014-2015
LIJUN'S HOUSE RESTORATION 2015
ROBERT HOUSE 2015- 2016
SAIIER LANDSCAPING 2016
GREEN BELT EXTENSION 2017
DAYA'S HOUSE 2017
AVSRC TOILET 2018
ASPIRATION HUT RENOVATION ONGOING
AVSRC INDOOR STADIUM ONGOING
AUROVELLO FACILITY BLOCK ONGOING
UNITY PAVILLION DORM ONGOING
VOUNTEER HOUSE AVSRC ONGOING
UDAIPUR RESIDENCE ONGOING
SOLITUDE SEED BANK UNBUILT
MAHALINGAN TEMPLE UNBUILT
IRRUSSAN'S HOUSE UNBUILT
Website- https://www.rcauroville.com/
Facebook- https://www.facebook.com/rcauroville/
Instagram- https://www.instagram.com/rcauroville/
Youtube -https://www.youtube.com/channel/UC9o7Cgs0SvG2L3Bwrb_UT8g/featured
see also Raman Architect page
Verite hall
A multipurpose hall with a depth in structure and material shaping the design.
AREA - 300sqm
PROJECT YEAR - 1995-1996
LOCATION - Verite,Kottakarai,Auroville
PROJECT TYPE - Public

Aurosarjan
A garment factory turned to commercial complex.
AREA - 1500sqm
PROJECT YEAR - 1993-1995
LOCATION - Auroshilpam,Industrial zone,Auroville
PROJECT TYPE - Industrial

Irumbai Multipurpose hall
An organic construction blending with the earth.
AREA - 3000sqm
PROJECT YEAR - 2014-2015
LOCATION - Irumbai, Tamil Nadu
PROJECT TYPE - Public

Madurai house
A Roger Anger inspiration, an elegance of form
AREA - 665 sqm
PROJECT YEAR - 1995-1996
LOCATION - Madurai,Tamil Nadu
PROJECT TYPE - Residential

Larry's House
A blend of contemporary ideas and traditional spaces
AREA - 120sqm
PROJECT YEAR - 1994-1995
LOCATION - aurodam community,auroville
PROJECT TYPE - residential