Poppo Pingel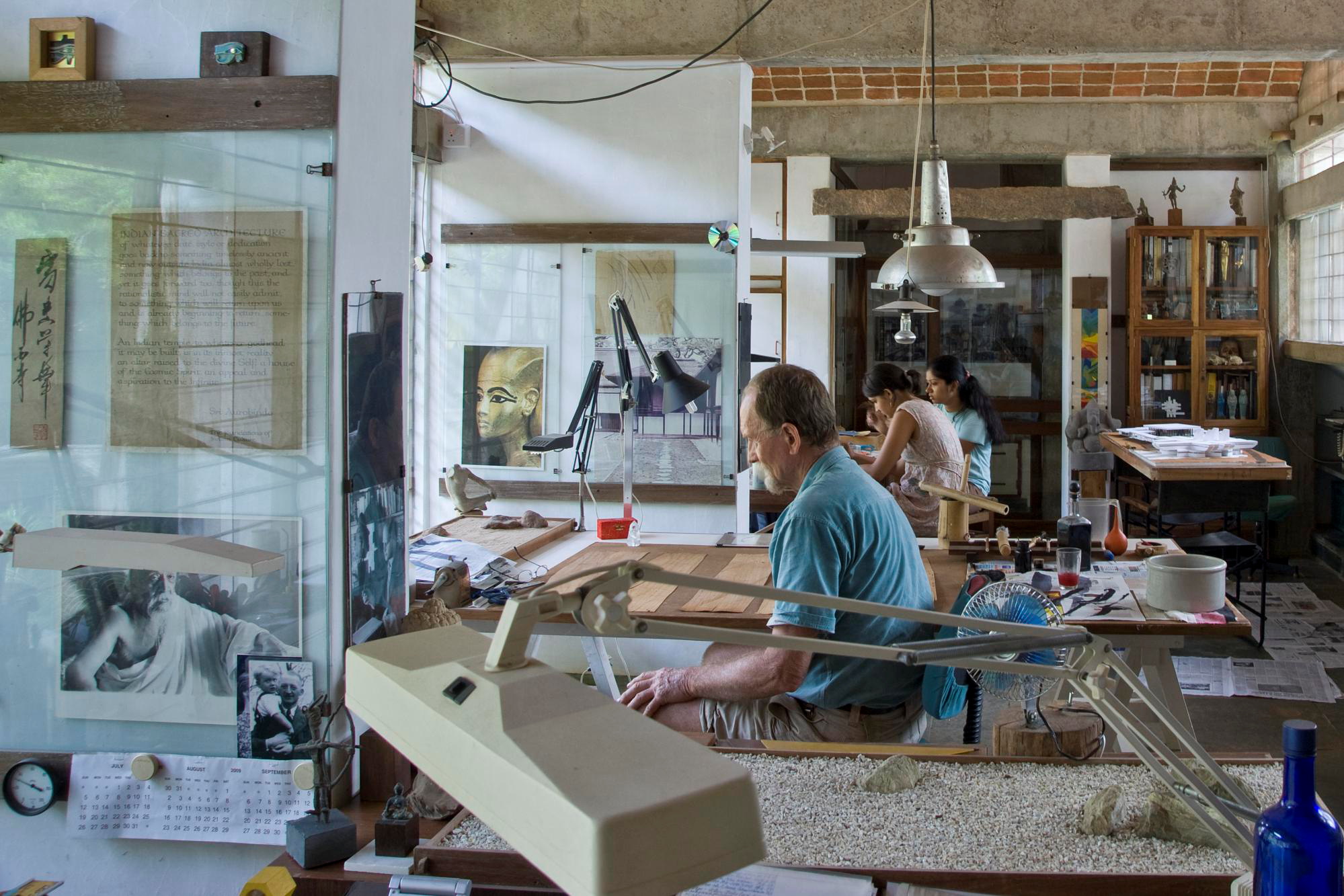 Born in 1942. Apprenticeship in carpentry, then studied architecture in Münster and Aachen, Germany. Since many, many years, has also been partially engaged in exploring "reverse architecture" – through archaeological rescue excavations, documentation and research in Auroville.
When did you come to Auroville?
In 1968, for the inauguration of Auroville, as the German delegate.
Nature of work in Auroville?
Experimental village houses with rammed earth 1970-1979; residences, workshops and guest houses in Auroville; Udavi School 1993; Natural Healing Centre at Quiet 1997; Afsanah Guest House, Kottakarai, 2003.
Please give some overview of the evolution of your work; some milestones on the way.
Coming to Auroville in 1970, the social aspects of architecture were predominant for me - village house experiments, mass village houses in rammed earth, individual low-cost houses, ample use of wood (tropical timber) and cement plus asbestos sheets, the latter without questioning at the time. Later I began to question the reason and essence of architecture due to cultural collisions of different architectural approaches in Auroville. In the late 1970s, due to cement shortage after the oil crisis (1973), I began looking into alternative, traditional building techniques and methods (mud, lime, vaults and domes). In the early 1990s, my work was strongly influenced by the growing environmental awareness, baubiological* and sensory issues plus physiological concerns in architecture. These included health hazards through industrial building materials, electro-smog, the blind use of industrial synthetic building products monotonously applied, and the waste and misuse of natural resources.
* Baubiology, or "Building Biology", refers to the relationship between buildings and life.
Through your work what are you trying to find or express?
Being brought up in traditional carpentry, I wish to see structural clarity in built form, simplicity in design and details, clear distinct visibility of building elements (all exposed, nothing hidden), and the harmonious composition of building materials in response to their nature. It is important to see the integration of multiple aspects of architecture in creating a more harmonious whole, involving the landscape (environment), buildings, biological factors (health and well-being), the social dimension (people and their habits), and traditional craftsmanship (ancient building wisdoms). My attempt is to go beyond the relativity of fashion-bound architecture through the subtlety of proportions, space formation, combinations of distinct building materials, their surfaces and textures, into something which is beyond style or fashion, something which does not cry for attention, which is timeless (always known but hidden) and universal, something of another dimension; a flowing of peace, serenity, play and beauty together, where the mundane and the sacred lose their distinct separateness. What I have briefly expressed above is not the exposition of an individual architectural philosophy, but rather a vision and the present result of an evolving contact with the ever-changing world of space and matter, its natural conditions and consequences, its relativities, and its ever time-bound demands for absoluteness. It is a search, an aspiration, and at the same time a dedication to the Infinite.
Which of your works best expresses your vision and approach?
Fraternity workshops, 1973; Franz' house and adjacent guest house, 1978; Certitude house, 1980; Jacques Verre's 'Shamiyana', 1984; Afsanah Guest House, 2002.