Last updated: 10 Oct, 2019
For All Pour Tous Foundation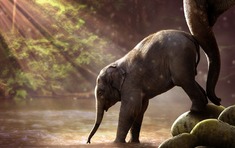 Mission Statement
FIRST: The name of the corporation is: FOR ALL/Pour Tous FOUNDATION
SECOND: The period of its duration Is perpetual.
THIRD: The purpose or purposes for which the corporation is organized are exclusively charitable, educational, literary and scientific as defined by Section 501(c) (3) of the Internal Revenue Code of 1954, as amended, (or the corresponding provisions of any future United States Internal Revenue Law), and which purposes include:
(a) To create a resource for providing the future nonprofit townships/cities, where everyone is a volunteer, help in their development and needs based on the World's first such International township in South India, Auroville;
(b) To collaborate with Aurovilian expertise in research matters of town planning, internal economic structure, education, services and self-supporting industries;
(c) To establish interactive research studies to advance knowledge and understanding for these types of futuristic township/cities.
(d) To solicit and receive funds and facilities in furtherance of any purpose of the corporation/foundation:
(e) To administer such funds and facilities as may be received.
Contact: foundationforallpourtous@gmail.com
History: https://auroville.org/contents/493