Last updated: 13 Aug, 2014
Kottakarai Organic Food Processing Unit - KOFPU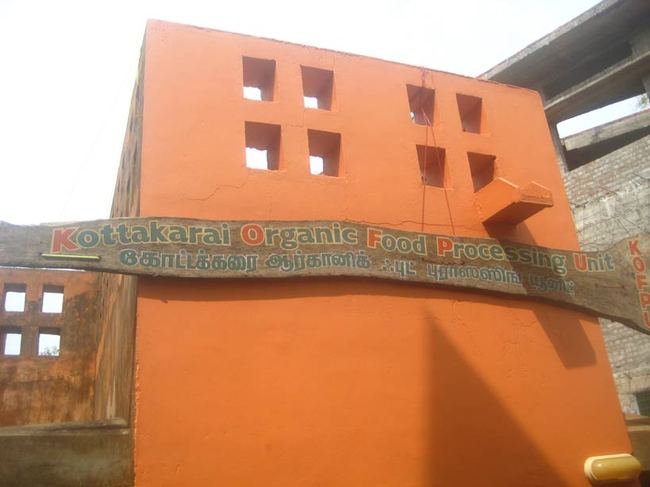 KOFPU
Background
Sharanam, a Spanish Aurovilian with 10 years of experience in the field of agro-chemistry and food technology in Spain, took the initiative to set up an organic food-processing unit in Auroville under the umbrella of Auroville Village Action. In 1995, Himalaya Trust, Italy, gave a grant to construct a building in the Auroville Kottakarai settlement (adjacent to the village of the same name) for the production and storage of organic products. However, due to unforeseen delays and increase of construction costs, the funding turned out to be insufficient to complete the building.
Meanwhile, Sharanam began working from her home in Dana. She invented a special recipe for making noodles with the addition of soya. Later on Anandi, an Indian Aurovilian with a background in nutrition and traditional food production, joined her and developed new recipes using local millets like ragi and kambu.
Organic food processing unit
Thanks to an additional grant from the Foundation for World Education, USA, and Stichting De Zaaier, The Netherlands, the building became operational in 1997. The Kottakarai Organic Food Processing Unit (KOFPU) was finally born!
Since then Anandi has been solely managing KOFPU, developing many more organic products, supporting Auroville and other organic farmers, finding markets, increasing production and employing more local village women.
Aim
creating a market for organic produce through the purchase of organically grown crops from local farmers;

researching healthy food and body care products, made from organic produce for the present-day market;

Providing employment to local people.
Our health products
Noodles: spirulina, ragi, kambu, wheat, all having a common base of whole wheat flour.

Flours: sprouted ragi flour, millets mix and ragi dosai flour.

Oils: organic sesame oil, coconut oil, skin care oil, hair oil, anti lice oil and ayurvedic massage oils.

Sauces and spreads: pesto sauce, pesto spread, tomato sauce, sesame butter peanut butter, cashew butter.

Energy food: sesame balls, almond balls and vitality bars, which contain organic jaggery as sweetener. All these food items are concentrated with nutrients and are handy for travelling and trekking. They are also ideal during pregnancy, lactation or convalescence. In general, they are an excellent energy booster for everybody at any time of the day.

Yogi tea and masala tea powders based on ayurvedic principles

Health drinks: Kombucha and kombucha with lemon grass

Neem leaf powder for internal and external use.
Where do you find our Auroville Health Products?
Our products are sold under the name of Auroville Health Products in:
'Pour Tous', Auroville's main food distribution centre in Aspiration

KOFPU's outlet called Sunlit Path near Ganesh bakery

The Food Dome in the Auroville Visitors' Centre

Grinde Sridaran shop in Puducherry

'Naturally Auroville' shop and Dhanyam Organic Super Store in Chennai.

Sri Ramana Super Market in Thiruvannamalai

many more new shops around and out of Auroville.