Your First Steps into Auroville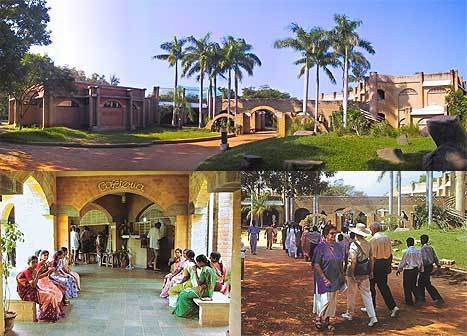 Auroville forms an interesting and complex experiment that takes place on more than 20 sq kms of scattered settlements in the midst of forested, semi-urban, and beach areas. For someone new it is difficult to pinpoint exactly where Auroville is. To avoid losing your way, here are some tips to make a first visit easier.
Generally we recommend visitors to start at the Visitor's Centre and spend, if possible, a few hours to a day. For those with more time, a week to ten days is advised for a first visit. One can participate in guest introduction tours or other programmes, eat at the community dining hall, and get a feel of the place. Auroville has so much more to offer than meets the eye at first glance; it is all about a different way of living and receiving the world.
First things first
Arranging accomodation: Once you have informed yourself about Auroville's whereabouts and how to get here, be it from within India itself or from anywhere in the world, you may also care to find a suitable place to stay that fits your need and budget. You can do this through our dedicated website guesthouses.auroville.org
Please know that during the months of December through February our guesthouses are usually fully booked well in advance as those are the months with cool, fresh, mostly dry and pleasant weather. Book early!
There is no entrance fee.
Access to Auroville and Matrimandir is free of charge for everybody.
If you have only a few hours
and want to just hop in and out, go directly to the Visitors' Centre, known to all cabs and rickshaws in the Pondicherry and Kalapet area. The VC offers you detailed exhibitions and video viewings on the city's aims and activities, a special section on Matrimandir, and an information centre well-stocked with numerous brochures and handouts on Auroville's educational and cultural activities. You will also have the opportunity to shop for unique products manufactured in Auroville at the boutiques. In addition VC offers visitors delicious multicultural cuisine at its popular restaurant, a cappuccino bar, cycle rental etc.
If you have only a day
Start at the Visitors' Centre to get a general idea. Get a token for a visit to the Matrimandir viewing point in the city's central Peace Area between 9 – 12pm or 2-4.30pm. A relaxed 15 minute shaded walk from the Visitors' Centre gets you there, or use a shuttle when needed. If you have time left and would opt for a wider guided tour, get in touch with Inside India (tel: +91 413 2622047, 2622555) and see if they can take you on.
If you have a week (or more)
You might want to orient yourself a bit anyway through a preliminary visit to the Visitors' Centre. Please also consider visiting the Auroville Guest Service, above the Solar Kitchen. They can welcome and guide you and offer suggestions regarding
- volunteer work (only for Indian citizens and Foreigners with Entry visa),- information on events, workshops, and cultural activities,
- and further information on Auroville and the Integral Yoga if desired.
As you have time, here are some other options for you to get to know the city during your stay:
To participate in the morning Matrimandir introduction tour that includes a short sitting in its Inner Chamber
Join a general Guest Introduction tour.
Join programmes that are focused on Auroville's more spiritual vision and call at Savitri Bhavan or Inside India.
Enjoy one of the many educational, health care and other activities that are open to visitors at Quiet Healing Centre, Pitanga, Verite' and Arka.
Sample a mix of local and international food in one of Auroville's many different eateries.
Sit and browse in one of our libraries.
Ask your guesthouse manager for Auroville's weekly News & Notes bulletin (or download it from the link http://www.auroville.org/contents/186), which publishes in great detail the many programmes, courses, performances, exhibitions, and other events available for residents and visitors that week.
You are, of course, more than welcome to actively participate in the work to be done in order to build a city! Go to our Guest Service, located on top of the Solar Kitchen, where you can receive suggestions regarding short-term volunteering opportunities.
Most of all, take your time to absorb Auroville's energy field, walk around, talk with residents, sit and relax, be here…
Group visit
If you are planning to visit Auroville in a group from your school/college or university, you must first establish contact with Aurovilians in your field of interest so you will not be disappointed, as professionals in Auroville tend to be very busy. Email contacts are available on the web.
Similarly, if you wish to stay overnight in Auroville with your group, kindly inquire with guestaccommodation@auroville.org.in to find out whether accommodation is available for your target dates. It is wise to book accommodation requests a few days in advance for the off season (March-November) and months ahead of schedule in the tourist season.
Please note that Auroville discourages motorised transport within the township and that buses will be refused entry unless prior arrangements have been approved.
Students can rent bicycles at the Visitors' Centre. There again, prior booking will be a must in ensuring your visit is a success.
Baffling to some
This intense and quite challenging venture can be baffling to some. Best to just be open, take your time and try not to get lost in quick conclusions, opinions and judgement based on your current mindset. The meaning of Auroville only becomes clear in the context of the vision of its founders, which has stimulated people from all over the world to join in this 'laboratory of evolution'.
What Auroville isn't
Visitors are sometimes disappointed to find no Ashram here. While the Sri Aurobindo Ashram (located in Pondicherry city) and Auroville (located in Tamil Nadu) are very much based on the same world vision and integral yoga of Sri Aurobindo and the Mother, they are two entirely different organisations developing in their own way.
On the other hand, some visitors expect to find more touristic features in the city. These will soon discover that Auroville does not devote as much time and energy to entertaining tourists as places specifically designed for that purpose. Its way of life can only be appreciated on a deeper, more sensitive level.
Internet access
At La Terrace (on top of Solar Kitchen) you can avail wifi only, at Arka (on the Crown Road) you can avail Internet services against a small contribution. WiFi codes can be provided at various places, just ask around. In the beginning, it may be difficult to find the right place for you to download your mail, but you will find that Aurovilians are most understanding when it comes to your need to connect. A partial list of places with Wi-Fi can be found here: Wi-Fi Internet Browsing.
The Aurocard & money exchange
Auroville aims towards no money circulation and uses an internal arrangement through which financial contributions and distributions are registered. This means that most places (apart from the VC) don't accept money. You can join the system through an Aurocard, which you get at your Guest House, and at the two branches of the Auroville Financial Service (at the Town Hall & at PourTous in Aspiration community). Bring proper identification and money to deposit. Both Auroville Financial Services encash foreign currencies and travellers' cheques, and also accept your credit card (bring suitable identification).
Banks and ATMs in Auroville area
"No circulation of cash money in Auroville" and so it mostly is.
But in the Auroville area, for the needs of short-time guests, some Bank and ATM services are available.
General cost
Just to give you an idea of general living costs, we here post some of the general expenditure you may expect when staying with us. Needless to say, these figures are subject to change.
Costs of meals at Solar Kitchen for visitors with Aurocards: lunch Monday through Saturday Rs 240; lunch on Sunday Rs 250. As all other eateries in Auroville have different styles and standards, prices greatly vary.
Cycle rental is around Rs 60 a day.
TVS and motorbike rental are around Rs 80 to 200 a day.
An Auroville bus (ACT - Auroville Community Transport) goes regularly to Pondicherry at different times of the day and returns after some 3 hours. A trip to/from Pondicherry comes to Rs 60.
Healthcare and fitness sessions (hatha yoga, aerobic dance, training courses and so on), massages, water treatments etc., normally require a contribution of ca Rs 100 to 2500 from guests, Aurocard required.
Your well being and safety
While the overall appearance and organisation of Auroville may strike one as rather western-oriented, a major part of the population has come from India and, moreover, the city is situated at the crossroads of several large Tamil villages whose roots date back to centuries, and whose local culture and customs now amazingly intermingle with the lifestyle of this new experimental town.
It is therefore important that visitors (and residents) from other countries remain aware of the difference in culture, lifestyle, spiritual understanding, social norms, traditional attitudes and so on. To give you only a very small but telling observation: when a Tamilian shakes the head in a left to right fashion, interpreted as a 'no' by foreigners, it actually means a 'yes'. A more free body language, dress code and behaviour can easily send (wrong) messages to the local population, and certainly single women are advised to be aware of this and not to walk or cycle alone anywhere after dark.
Your safety and well being mean a lot to us, so please read up on some daily-life tips. And to begin with: always make sure that your passport, tickets, credentials and other valuables are safely tucked away in your guesthouse safe so that you can at liberty enjoy your stay in the City of Dawn.
Welcome!