Last updated: 12 Aug, 2014
'The play of painting" at the Auroville Kindergarten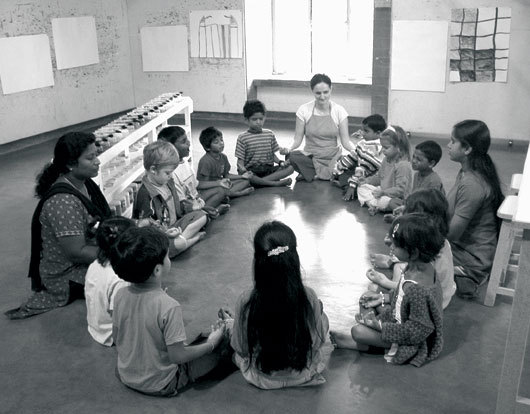 At Centerfield Kindergarten, a painting activity based on the concept of Arno Stern is offered. In that place, it has the particularity to be preceded by guided concentrations, as part of a research project. This project is described in a book : "Looking at chidren's paintings in a new light."
Children and adults are painting freely together in the a safe space enclosed in big vertical panels, that shelters the inner necessity of expression from influences and distractions, without any judgment, but with the stimulating presence of the "practitioner" who, as said by Sri Aurobindo in the first principle of education, "is not an instructor or task maker: he is a helper and a guide". In this way, people of diverse ages, culture and nationalities can express themselves from the deepest part of their beings and share this joy.
This activity is neither art nor therapy, but it prevents the need for therapy in that it stimulates the capacities that allow individuals to realize themselves. It develops those specifics abilities that have been stifled by culture and that make each individual a more accomplished person", and "it develops the need for self-affirmation and relationships with others in a perfect equilibrium that avoid all competition". Arno Stern
In brief, this activity of free expression through painting is truly meaningful in helping Auroville to become "a place where human relationships are relationships of emulation in doing well, of collaboration and real brotherhood", as said by the Mother in" The Dream''.