Where is Auroville?
How does one reach there?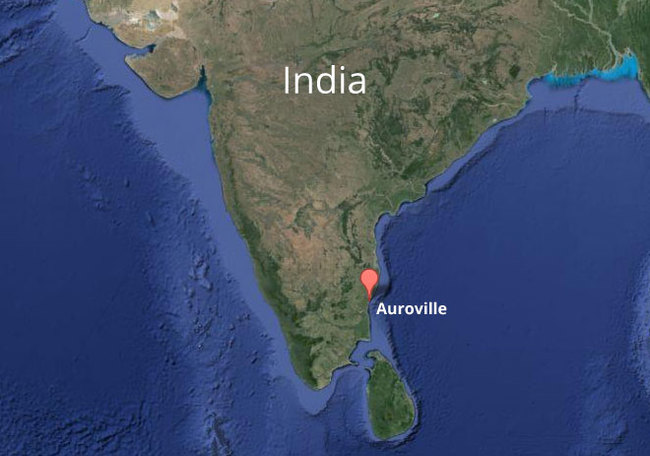 Auroville, an international township with residents from more than 60 countries in the world, is situated on a plateau along the scenic Coromandel Coast of southern India. It lies 150 km south of Chennai (formerly known as Madras), in Villupuram district, and approximately 10-15 km north of Pondicherry town, capital of Puducherry Union Territory.
Before you come
Obtaining a visa: If you are coming from abroad for a first visit, a regular 3-month tourist visa will do; one gets this at the Indian embassy/consulate in one's home country.
Recently a new tourist e-visa has been introduced for visitors from some foreign countries to India: it can be booked online and obtained directly at the airport, it only lasts one month and is not renewable. It is mostly for transit tourists, and at the moment it is limited to certain countries that can be found here: https://indianvisaonline.gov.in/visa/tvoa.html
Please read the instructions carefully, as there are some online requirements and an ETA (Electronic Travel Authorisation) document to be obtained before flying.
It is still advisable to obtain the traditional visa from the Embassy, for visiting Auroville.
Arranging accommodation: Once you have informed yourself about Auroville's whereabouts and how to get here, be it from within India itself or from anywhere in the world, you may also care to find a suitable place to stay that fits your need and budget. You can do this through our dedicated website guesthouses.auroville.org
Please note that during the months of December through February our guest houses are usually fully booked well in advance as those are the months with cool, fresh, mostly dry and pleasant weather. The monsoon period usually lasts from mid-October to the end of November. In any case, book early to avoid disappointment!
How to get there
The nearest international and domestic airport is Chennai International Airport. If you are already in India and would prefer travelling leisurely by rail, Chennai Central Railway Station connects to all the major cities in India with its reliable express trains such as Tamil Nadu Express and Rajdhani Express (fully air-conditioned).
There are a number of ways to get to Auroville to suit different budgets. One can opt for public transport which is affordable and environmentally sound.
From Pondicherry
From the East Coast Road (ECR) junction
Take an Auto or call an Auroville Taxi (see details below)
Puducherry Bus Station
Buses run from the Pondicherry bus stand to the Auroville Visitors Centre at 7:30 am, 1:30 pm and 4:30 pm.
Buses return to Pondy at 8:15 am, 2:15 pm and 5:15 pm.
Alternatively you can take an Auto or call STS for an Auroville Taxi (see details below)
Puducherry Railway Station
Take an Auto or call STS for an Auroville Taxi (see details below)
From Chennai
Chennai Central Railway Station
Take a local train from Park Town Station which is walking distance from Central Station for Guindi. Get down at Guindi Station and take a bus for Pondicherry from across the road. Ask the driver to drop you at the Auroville junction on the ECR Road.
Chennai Koyambedu Bus Station
Take a By-Pass bus for Pondicherry from across the road. This bus takes less time than an ordinary bus. Ask the driver to drop you at the Auroville junction on the ECR Road.
From the ECR road, you could hitch-hike, take an auto or contact STS in advance to arrange for a pickup.
Chennai Airport
Call STS for an Auroville Taxi (see details below)
Or
Take a local train from outside the airport heading into Chennai. Get down at Guindi Station and take a bus for Pondicherry from across the road. Ask the driver to drop you at the Auroville junction on the ECR Road.
At the Auroville bus stop, a cluster of motorised rickshaws are stationed, eager to carry you up the 30 metres above-sea-level plateau which hosts Auroville. These vehicles are not organised by Auroville and so you will need to bargain the fare price.
Taxi
Book taxi before you reach: The journey from Chennai to Auroville takes about three hours by taxi. For the international traveller, this is the safest, most convenient mode of transport. You can get a taxi at the airport but for the best low-stress experience, pre-book an Auroville Taxi to meet you at the airport as Auroville drivers are cognizant of Chennai roads and highways as well as the inside maps of Auroville. A Chennai-airport taxi driver may not know how to find your destination in Auroville especially if you arrive at night. Your guesthouse can also organise the Auroville Taxi booking for you.
Auroville Taxi Services
Auroville has created a not-for-profit Integrated Transport Service (ITS) to
- Reduce cost
- Reduce carbon emissions
- Reduce traffic
You can contact ITS to book your transport to Auroville from Pondicherry, Chennai or Bangalore: according to your indications and preferences, they will organise your transportation in the most convenient way for you and for the environment.
They will also guide you on how to use public transport that could be cheaper and environment-friendly.


You can reach ITS on
Other Auroville Taxi Services
We strongly advise you to use Auroville taxi companies:
Most of Auroville's well-trained drivers speak some English, have considerable experience with people from other cultures, and can point out where it's safe for you to enjoy a cup of coffee or meal at roadside restaurants along the way. Note that when you stop for a drink, it is polite to pay for the driver as well. You could also request the driver to buy bottled water or juice from a reliable vendor if you prefer to remain seated in the taxi.
All tolls and parking tickets are included in the fare. Auroville taxis charge you at a rate fixed by Auroville, the receipt supplied on the spot.
An International community in country-side ambience
Auroville has a country-side ambience and consists of some 190 different settlements/communities spread out over 20 sq km. Distances between the outlying settlements can be several kilometres. Within the Auroville area, there are several villages, local shops, and still a lot of village-owned land.
Tropical climate: humid with year-end monsoon
The climate in Auroville is tropical. From December to March the day-time temperature range is 24 to 30°C (74 - 85ºF) . From April onwards, the temperature rises and can reach a peak of about 40°C (105°F) in May-June; occasional rainfall from July starts to bring the temperature down. The main monsoon period usually starts around mid-October and continues to mid-December. Nights are generally about 5°C cooler than the days.
A forest zone in the sub-humid tropics
longitude 79°E 48' 38.18", latitude 12°N 0' 25.20"
included in the sub-humid tropics, situated on a plateau region with its maximum elevation of 32 m above sea level located in the Matrimandir area.
annual rainfall average 1.200 mm mainly from the SW monsoon (June to Sept.) and NE monsoon (Nov to Dec) with a dry period of approx 6 months.
average maximum temperature is 37.2° C (89.96°F), average minimum 20° C (68 °F).
https://youtu.be/Pk8BHtOJHCs
Enter the video url