Volunteering on Auroville Farms
A Chance to Explore Organic Farming Practices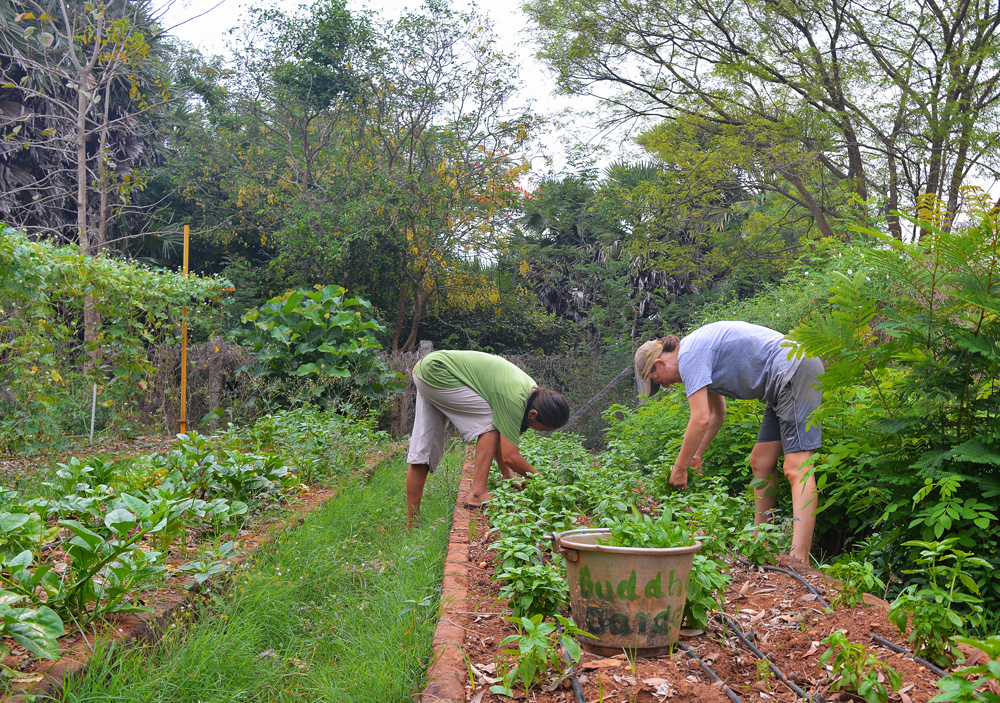 Many farms, forests and eco-projects welcome short- and long-term volunteers. Today Auroville has 19 farms, varying in size and work opportunities. Sadhana Forest, Buddha Garden, Auro-Orchard, Discipline Farm and Solitude are open to volunteers all year around.
Currently, only an estimated 15% of Auroville's food production is produced by its farms. Auroville could become self-sufficient in its vegetable production, for instance, with appropriate planning and a shift to local food consumption. Orchards occupy 40% of the available land, with 20 kinds of fruits being grown in Auroville.
A number of farms accept volunteers in Auroville. Conditions relating to hours and possibilities for accommodation vary widely and also vary according to the time of year. Everywhere tends to get quite full and busy during the guest season — December to March — and it will be best to book ahead if you want to come during this time.
Work involved: Work on each farm varies according to the farm's main activity, whether it is the production of grain, horticulture (fruits and vegetables), dairy etc. Hours of work also vary as many farms like to start early in the morning when it is cooler and more comfortable to work.
Commitment expected: Only some farms can offer accommodation to volunteers. If you want to stay on a farm there is likely to be a commitment for a minimum period of two weeks or more. It is also possible to stay somewhere else in Auroville and volunteer on a farm. In this case, there is usually no time commitment necessary.
Possibilities for work exchange No farms in Auroville are able to offer a work exchange without a trial period (as per "woofing"). The few farms that offer a work exchange will expect you to stay for at least a month before making a decision and will expect a long-term commitment of a few months. Farmers try to keep the costs as low as possible for volunteers but the reality is that the money needed to pay for the upkeep of the accommodation that volunteers use can rarely be recovered from the sale of farm produce.
Contacting farmers for volunteering opportunities:
Given the diversity of Auroville farms and their management, we ask you to read the profiles of the different farms to help you decide where you would like to volunteer. You can then contact that particular farm directly (the contact info will be in the profile).
OR
You can write to farmgroup@auroville.org.in with a copy to Savi Volunteering Service (study@auroville.org.in).
Please include a short paragraph giving some background information about yourself, your interest/experience with farming and the details of your stay (proposed dates and hours you can commit and duration of stay).
For general information and to find subsidized accommodation for volunteers and interns, please check out volunteering in Auroville.
A Volunteer Shares Her Experience
"At the beautiful Shamballa garden (part of Buddha garden), I work every morning (except on Sundays) from 6 :30 to 9h00. My tasks are varied: seeding (recently we have planted cucumbers, pumpkins, rucola, basil, chilly), transplanting, watering, mulching, preparing the various sachets that will then be delivered to our customers.
We also grow fenugreek and mustard microgreens.
Shamballa garden has different fruit trees: papaya trees, banana trees, mango trees, kumquat trees, palmyra trees, lemon trees, etc., and also beautiful flowers like hibiscus, champak, bougainvillaea and many others whose names I don't know yet.
At 9h00, Shanti, the cook of the garden, brings us our daily breakfast: idlis, varagu porridge… so delicious!
We end the session with meditation".