Last updated: 9 Aug, 2014
Towards a sustainable water resource management for the bio-region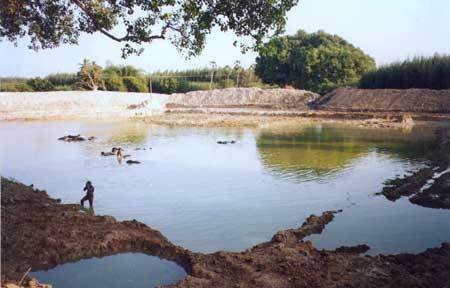 November 2004
- by Carel
Highlights from a conference
Last month, the Auroville Centre for Scientific Research (CSR) together with Auroville's unit Water Harvest organized a three-day seminar on sustainable water resource management. The seminar, held in the Pavilion of Tibetan Culture, was not only endorsed by UNESCO under its HELP (Hydrology for Environment, Life and Policy) programme, but also received an inspiring message from the President of India who referred to Auroville as 'one of India's spiritual gifts to the whole world' and expressed his confidence that Auroville, in cooperation with other organizations, will be able to find a lasting solution to the water problems of the region. This region, often egocentrically referred to as 'the Auroville bio-region', had been defined by the organizers as ranging from the city of Villupuram west of Pondicherry to the Coromandel coast and from the city of Cuddalore south of Pondicherry to the Kaluvelly tank, a brackish water body of 72 square kilometers near the village of Marakannam north of Pondicherry. Government representatives, stakeholders, scientists, technical and legal experts from India, France, Germany, The Netherlands and Israel came together to share experiences and proposals about how to remedy, develop and sustain water management practices with a common vision and approach. Over three days, a total of 27 scientific papers were presented. The seminar concluded with an attempt to find a common ground for future cooperation between the stakeholders of the area.
Depletion of groundwater
Groundwater levels all over India are fast declining and aquifers in coastal regions are turning saline. Mr. R.Chakrapaani, Regional Director Central Ground Water Board, Tamil Nadu, sketched the dire state of affairs in Tamil Nadu. The available surface water resources have almost completely been harvested. Ground water is now the major source for domestic, industrial and irrigation requirements. As shallow wells have become defunct in many areas due to declining water levels and low yields, tube wells that reach into the deep aquifers have become the most common means of water extraction. However, water tables are dropping at such an alarming pace that the status of the ground water resources in Tamil Nadu's 385 administrative blocks has become a cause of concern. Eight blocks have turned saline, more than 100 blocks are over-exploited, around 200 blocks are listed as critical or semi-critical and less than 70 blocks are considered safe. As for the main causes for the present state affairs, Chakrapaani mentioned the population explosion and the consequent environmental impacts; industrial, urban and agricultural pollution; destruction of traditional water harvesting systems like tanks and ponds; and the free power which is being supplied for agricultural purposes. Water scarcity has led to loss of livelihood, irreversible socio-economic changes and population migration to urban areas. Tamil Nadu is now taking measures on all levels – government, industry, NGO's and self-help groups – to stem the tide. Amongst the most affected cities is the Chennai metropolis, home to more than 6 million people. It now imports water from the groundwater rich Neyveli basin, an area of approximately 3000 sq.kms located 200 kilometres south of Chennai in the Cuddalore district. Chennai is also planning a big desalination plant.
The status of the groundwater situation in Pondicherry is not better than in Tamil Nadu. Mr. V. Radhakrishnan of Pondicherry 's Department of Agriculture explained that this small Union Territory has an estimated 35 million cubic metres (MCM) of surface water and 150 MCM of groundwater. However, the requirement exceeds the availability by more than 20%. Pondicherry 's observation wells have shown that the groundwater level has dropped in coastal areas up to 12 metres, inland up to 55 metres. Radhakrishnan listed lack of surface water irrigation, mismanagement of surface water bodies and neglect of runoff as the main causes for this state of affairs. " Pondicherry has become almost completely dependent on groundwater and this is being over-extracted. Intrusion of seawater into the groundwater has been observed up to 4 kilometres inland in the southern parts of the state, 2 kilometres inland in the city and 1 kilometre in the northern side."
Groundwater pollution
The depletion of groundwater resources and the state of disrepair of surface water bodies are not the only concerns of the Tamil Nadu and Pondicherry water boards. Pollution of groundwater resources comes a close third. While some of these pollutants have a natural origin, such as salinity in some aquifers and the presence of fluoride and iron in others, other pollutants are man-made. They come from industrial effluents, such as from tanneries and chemical industries, from bad solid waste management which contaminates groundwater both chemically and microbially, and from agricultural activities through the large usage of fertilizers and pesticides.
Mr. Gurunadha Rao of National Geophysical Research Institute, Hyderabad , presented a study on the impact of industrial effluents in Pondicherry 's groundwater. The chemical, metal and paper industries of the Mettupalayam Industrial Estate, established during 1979 on the fringe of Pondicherry , have generated effluents that have found their way into the groundwater. These effluents came from badly constructed drains, from waste dumps and, in a few outrageous cases, were deliberately injected by the industry into the ground. This polluted groundwater is now, at an average velocity of about 30 metres a year, migrating to the Mutta-rapalayam well field which houses the main wells for Pondicherry 's drinking water supply. To deal with the issue, water quality monitoring is now continuous and proposals have been made to drill a few wells for extraction and treatment of the contaminated groundwater.
Auroville's problems
Auroville is renowned for its successful reforestation work, for rainwater harvesting, for the construction of check-dams, and for programmes of tank rehabilitation in the Auroville bio-region. Is Auroville, as a consequence, better off with its water resources? Gilles Boulicot, the Executive of Water Harvest was quick to dispel that idea. "The efforts conducted so far have not altered the trend of groundwater degradation. Auroville depends on the bioregion for its water management and a large part of this area is under immediate risk of a major environmental crisis. Around Auroville, most of the runoff still flows into the sea, the area is subject to rampant pollution and the general environmental degradation is heavy. The response of the local population is lacklustre, and there is no appropriate legal structure or regional body to dam the tide." Boulicot particularly stressed the dangers of increasing groundwater salinity by seawater intrusion due to indiscriminate over-extraction. "The possibilities of further seawater intrusion are very likely and if left unattended could endanger the entire southern part of the Kaluvelly watershed, including the Auroville area. The consequences of such intrusion would be difficult to imagine, as water for irrigation and drinking purposes would become scarce."
In partnership with Harvest, the hydro-geological situation of the Kaluvelly area is being studied by Dr. Sophie Violette and a team of French scientists of the University of Paris under the HELP programme of UNESCO. "The study has shown that the main exploitable aquifer of the area is being over-extracted by about 20 times the recharge per year. In this context, it came as no surprise that the aquifer is increasingly turning saline, not from seawater intrusion but from underground salt transfer. We expect that seawater intrusion may happen anytime in the near future," said Dr. Violette.
Other studies in the area are being made by the Foundation for Ecological Research Advocacy and Learning FERAL who gave a presentation on their ongoing study of the physico-chemical characteristics of ground water from 65 hamlets in the Kaluvelly watershed.
But Auroville is not only facing problems related to the bioregional management. It must also ensure a coherent, progressive, sustainable and integrated water management for the emerging city. Is it possible to develop a city which will not affect negatively the water resources, and even improve it? And does the future Matrimandir Lake have a role to fulfil in Auroville's water supply system? Two of the speakers, geo-ecologist J. Köhler and geologist C. Schillinger from the German institute LGA, Nürnberg spoke about aspects of the lake's management and possible storage systems to supply the lake with water during the dry season, but did not integrate the lake into a wider water supply system of Auroville.
Remedial solutions
Measures to remedy the groundwater depletion and battle groundwater salinity were offered by a number of speakers. To remedy over-extraction Pondicherry has issued executive orders regulating the construction of tube wells and the extraction of ground water; banned construction of tube wells within 6 kilometres from the sea coast; and now issues ground water clearances only to non water based industries. Farmers are encouraged, by means of subsidies, to switch to drip-irrigation techniques and renovate unused shallow wells for harvesting rainwater. Also the construction of roof top rainwater harvesting structures in private and industrial buildings is eligible for subsidy.
In contrast, the treatment and recycling of waste water for re-use in agriculture and industry has not yet taken off, notwithstanding its tremendous potential.
Also Tamil Nadu has made rainwater harvesting mandatory for all government buildings. In various locations in Tamil Nadu experiments are being done with forceful injection of rainwater through injection wells. But by far the most interesting of the remedial measurements is the renovation of the water storage tanks and their feeder channels in Tamil Nadu and Pondicherry . Most of these tanks were constructed by the Pallava Kings during 500-900 CE. For example, the Bahour Lake , the second largest tank in Pondicherry , was in existence before the Chola Period. (850-1150 CE), and the Usteri lake, the largest lake, was built by the Vijayanagar rulers around 1110 CE.
Auroville's involvement in tank renovation programmes in the bio-region is extensive. Funded by national and international organisations, Auroville's units Palmyra and Water Harvest have renovated many irrigation tanks.
Mr. Anandane, Project Director, gave a presentation on Pondicherry 's Tank Rehabilitation Project. He explained how the system of surface water management, which depended on irrigation tanks and their feeder canals from rivers, became obsolete when borewell technology became available, together with a government subsidy on electricity and the Green Revolution which stimulated ground water exploitation. "While in 1930 an area of 8,500 ha was under irrigation by tanks, it had been reduced to 6,500 ha in 1962 and became almost negligible in 1988."
In 1999, the Government of India concluded a bilateral agreement with the European Commission to rehabilitate all the 84 remaining tanks and feeder systems in the Pondicherry area. The main objective of the 38.5 crore (US $ 8,3 million) project – for 80% funded by the EC – was to diminish the reliance on groundwater resources. A secondary aim was to empower communities to own and manage their tank system and stimulate surface water usage. This social mobilisation is done by several NGOs who have experienced that women's participation has proven to be essential. Anandane considered the project a success, though a few villages continue to expect the government to solve their problems.
Innovative concepts
The seminar also discussed a few more far-reaching solutions to stem the tide. Boulicot suggested that a feasibility study be made of turning part of the 72 sq. km swamp of Kaluvelly north of Auroville into a major fresh water resource area. Closing the swamp's outlet to the sea would affect the interests of part of the local population, such as those involved in salt extraction or shrimp farming. "But a large freshwater body would benefit all people in the area," says Boulicot. "With the involvement of the major stakeholders, the rejuvenation of the irrigations tanks and related drains and a concerted and long-term planned water management, this region could be transformed into a model sustainable area."
Another solution offered is seawater desalination. Messrs. Gopalaswami and Kumaravel, connected to the Suryal desalination system designed in the UK , made a passionate plea for Auroville to enter into this area of research. As desalination is highly energy-intensive, they advocated that Auroville use alternative energy sources, preferably a combination of solar and biomass. "Then Auroville could truly be a global model for environmentally friendly living and a bridge between the past of global water depletion and the future of perennial supply of sweet water from the ocean using renewable energy." It is however understood that desalinisation of seawater cannot at present be considered an option for agricultural activities, but only for drinking water supply.
But as the main problems of the bio-region are over-extraction and lack of regulation, the need for an integrated water resource management for Auroville and the bioregion became the focal point of the seminar's conclusions. The Dutch engineer Jeen Koostra has developed such a management system for the Ambaji-Danta Region in Gujarat , a 600 km2 area with a population of 140,000 people living in 193 villages together with tribal communities. "Though there are certainly limits to such a management system, it has proven to work and there is no reason why it could not work for the Auroville bio-region," said Kootstra. His ideas were supported by senior hydrologist Dr. Israel Gev of the Water Authority of Israel, who proposed that a Master Plan for Water Resources be developed for the entire Auroville bioregion with active participation of the governments of Tamil Nadu and Pondicherry . By evaluating accurately the water demand and the various water resources, including recycled sources (wastewater, desalinised sea water) and the future trends, it should be possible to develop a scalable development plan that includes the socio-economic factors.
Given the encouragement of the President of India such a plan may not be a distant dream.
A scientific monograph on the conference will become available from CSR, Auroshilpam, Auroville. Email csr@auroville.org.in .