Last updated: 29 Jul, 2023
T'ai Chi Chuan in the Chi Hall, Sharnga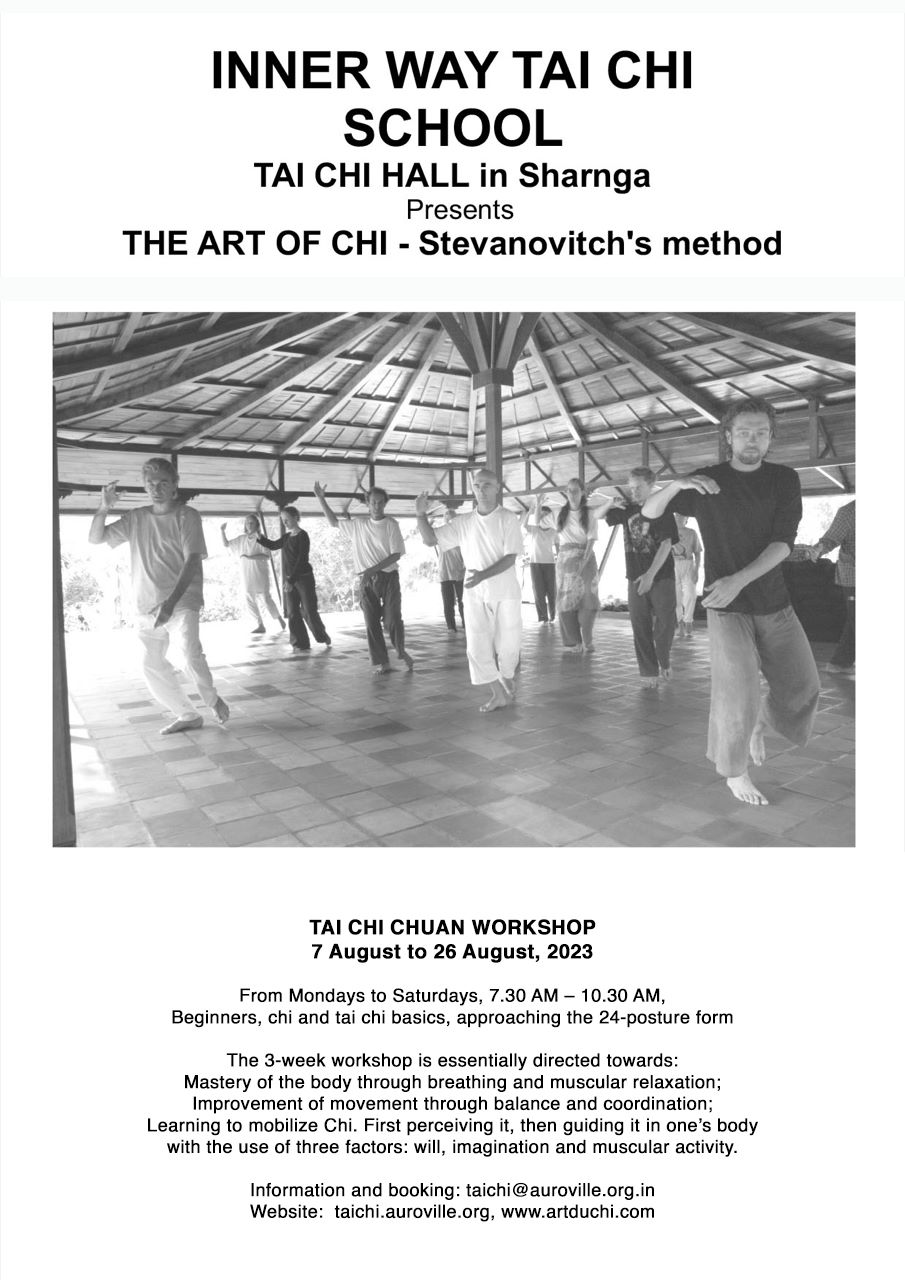 The

T'ai Chi Inner Way School of Auroville teaches a combination of the 'external' practice of T'ai Chi with the intensive 'internal' research on the Chi, its origin, working and flow in the body, so as to learn to consciously direct it.

We have daily classes as well as one-week and three-week beginners' workshops.

"The Inner Way T'ai Chi Chuan is the work of Chan (Zen in Japanese language) masters who basically rejected all the writings, all ideologies. Their message wasn't a verbal one. They encoded their knowledge in a different language, the body language. The postures, the positions, the movements they left us contain the genetic code of their knowledge."

V. Stevanovitch

Inner listening
In this class you will learn energetic techniques such as Nei Chia (Inner Way).
The main aim is to develop Inner Listening.
In order to trust our feelings, we are trying to get rid of our 'certitudes', our 'knowledge', our rules and our theories and, eventually, be free of all these external models that are misleading and dimming our perceptions.

This is a very practical work. The body, the muscles are involved. This work doesn't make, however, any division between the physical and mental planes of our being. They are interwoven.
Outer, inner oneness
Similarly, the research of Chi manipulation techniques as practiced in the School of the Inner Way is interwoven with the search for the right movement, free from imposed and habitual patterns. It is as groundless to practice the 'outer' form of T'ai Chi Chuan without the supporting awareness of the flow of Chi, as to practice these 'inner' Chi techniques without realising and implementing them through the 'outer' T'ai Chi Chuan movements.

The work is pleasant and should become easier with regular practice.
Body logic
When we listen to our bodies, we never go beyond our limits. This has nothing to do with martial competitiveness but with body logic.


The Inner Way T'ai Chi Chuan is a remarkable tool to achieve body logic. Its
martial arts originated postures that enhance the body's logic, resulting in easy natural movements. While their martial arts effectiveness may have lost its interest for us, their energetic efficiency remains a genuine treasure which allows us to free the body from its restraints and re-find its true spontaneity.
Such is our quest, going along with life. Resulting health and joy are reflecting that. Do we need to say that this quest into our inner world is endless?
The smile..
"Let's keep our feet on the ground. Don't get carried away. And don't take it too seriously! The Inner Way T'ai Chi Chuan's secret weapon, its most effective technique is the smile.."

V. Stevanovitch
Tai Chi Hall in Sharnga
In the Tai Chi Hall of the 'School of the Inner Way' located in Auroville's Sharnga settlement, we share this yang style technique, both its short and long forms.

Workshops
Workshops in Tai Chi Hall are organized usually in January, February, August and September with 1 week of intensive workshops in each of the other months.
Please watch for announcements and posters regarding Tai Chi workshops.
TAI CHI CHUAN Workshops
Taught by Marco, the workshops are directed towards:
Mastery of the body through breathing and muscular relaxation.
Improvement of movement through balance and coordination.
Learning to mobilize Chi. First perceiving it, then guiding it in one's body with the use of three factors: will, imagination and muscular activity.
The website of the main school in France, Ecole de la Voie Interieure, is www.artduchi.com

Regular classes:

Every day except Thursdays and Sundays: 7.30-9am.
Half an hour of chi followed by an hour of tai chi chuan practice.
We alternate between the 24-form and the 108-form.
For Aurovilians, Newcomers, Guests working in Auroville, and Ashramites, the courses are free of cost.
All the workshops are conducted at the Tai Chi Hall in Sharnga.
For boarding and lodging arrangements please contact: guesthouses.auroville.org
Our courses are presented in English but we take care of French and Italian speaking participants as well, nevertheless a basic English understanding is needed.

We do not have a fee for our regular weekly practice classes though we do appreciate contributions.

Registration and Tariff
Information and booking: Krishna Ph. +91 (0) 413 2623187
E-mail: taichi@auroville.org.in