Last updated: 26 May, 2020
Capoeira Ginga Saroba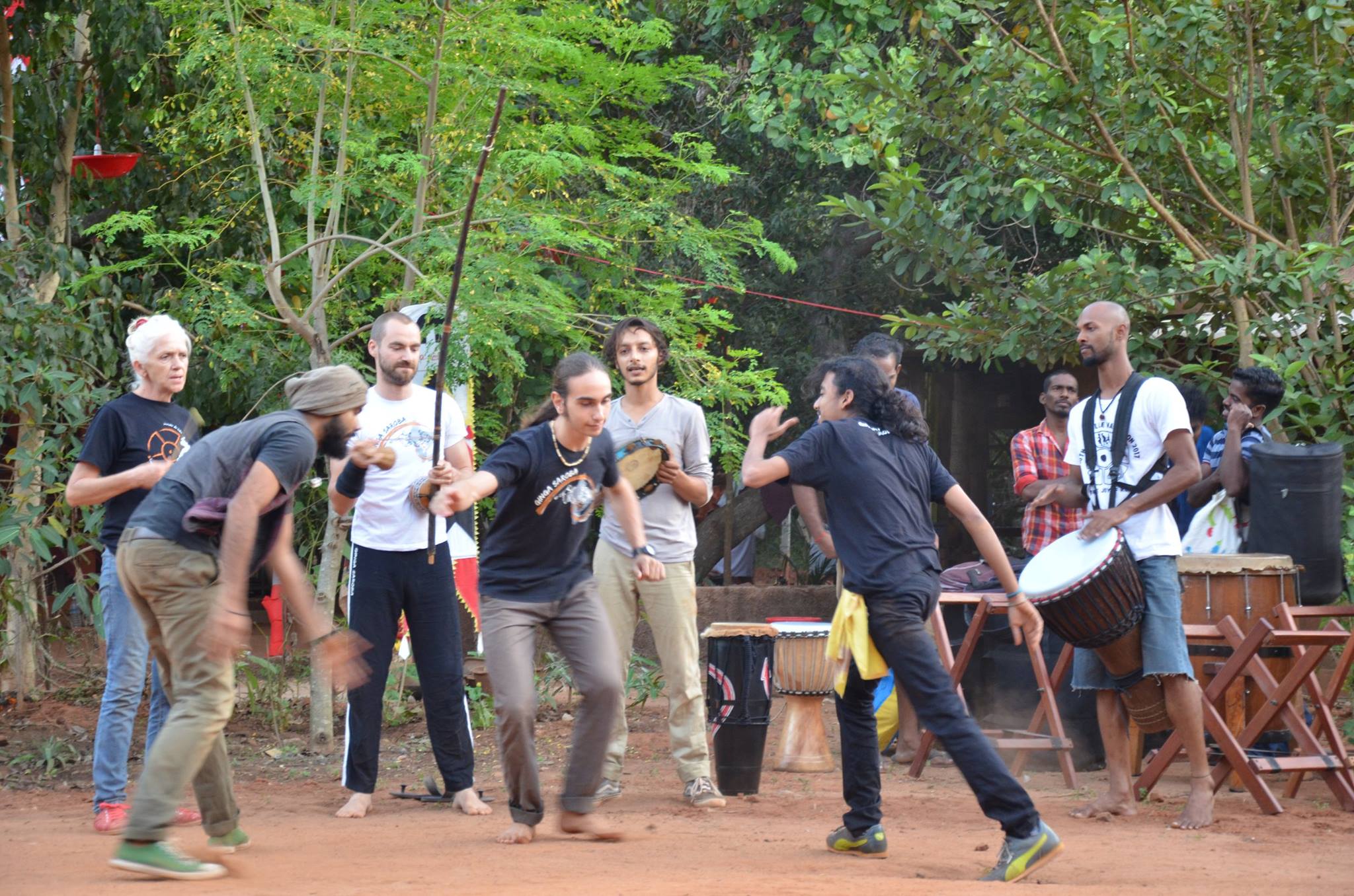 "...art, game, fight, philosophy, dance, tradition, music, theater, resistance, acrobatics..."
Initiative of Prof. Samuka da Índia & his students, Ginga Saroba is the oldest Capoeira group based in South India and a branch of the Ginga Nagô group led by Mestre Branco.
The group works on developing the Capoeira form inherent to each individual in the respect of the tradition and in the understanding of the actual evolution of Capoeira but also shares and develops locally Brazilian culture.
Prof. Samuka da Índia started learning Capoeira in 2000 with Mestre Branco. He is sharing his knowledge of capoeira movement, history, tradition, music & culture with Auroville community continuously since 2006.

Projects
The group works on several projects in order to promote Brazilian culture & Capoeira:
• Auroville Capoeira: aims to unite Capoeira in Auroville, facilitate the exchange of information between the groups, organize common events,... Website of the project: https://capoeira.auroville.org
• Capoeira nas aldeais: aims to offer Capoeira classes to youth of the surrounding villages and exchange with similar projects in India & Brazil.
• O Livro de Letras: a book containing lyrics of the songs widely used in Capoeira and by the group.
• O barracão da cultura brazileira: a place to share Brazilian dance, art, food,...

Musical Instruments
Most capoeira groups buy their Capoeira instruments directly from Brazil which is a half earth away from India. As a result, those instruments become more expensive than anywhere else in the world while India is far to be the richest country.
To change that, Ginga Saroba started designing and producing brazilian music instruments (atabaque, pandeiro, berimbau, reco-reco & agogô) locally in collaboration with Svaram (http://www.svaram.com).
Handmade with high quality material, they can be ordered directly at Svaram's shop, Auroville.com & the group's website (http://ginga-saroba.com/).

Classes & Workshops
Prof. Samuka da Índia & his students lead regular Capoeira classes in Auroville, Puducherry (Pondicherry) & Madras (Chennai).
Open to all levels, they focus on individual skill, creativity, music & Capoeira tradition. To know the schedules check the website: http://ginga-saroba.com/
They also offer workshops on demand (minimum of 10 participants). Contact the group for further information.

Contact
Phone: +91 988 32 8435
email: info@ginga-saroba.com
Website: ginga-saroba.com
Facebook: facebook.com/GingaSaroba

https:www.youtube.com/embed/XHFTSjXddi0?rel=0
Enter the video url