Last updated: 14 Feb, 2017
Young Farms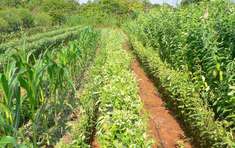 These are some farms that were started only a few years ago. It will take a few more years before they fully establish themselves and maximize their productivity.
Alipsa
A 6-acre farm managed by Prakash. It is a mixed farm that currently produces some pulses, fruit, and also has a small dairy and poultry. Its main aim is to expand its poultry.
Auro-Mushroom
As the name suggests, this small farm of 0.7 acres specializes in growing mushrooms. It is managed by Anbu.
Bumadevi
Bumadevi is a small dairy farm comprising a small herd of cows. It is managed by Anjalakshmi and Manikandan.
Infinity
Infinity is a 6-acre farm stewarded by Gopal and Madda that grows local fruits and vegetables.
Moonlight
Moonlight is a small farm of 2.5 acres that grows a variety of local fruits and vegetables. It is managed by Kumar.
Service Farm
Service Farm was a thriving fruit orchard. Service Farm will be re-established in another location under the stewardship of Gowri.
Terrasoul
Terrasoul comprises 5.5 acres. Juan is the steward and the other resident farmers. It produces a variety of local fruits and vegetables using permaculture methods. It shares some infrastructure with Windarra.