Support Auroville Land Purchase
Lands For Auroville Unified (LFAU)
One of the major challenges Auroville is facing today is to secure the integrity of her material foundation. The rapid and often unregulated development of nearby areas and the expansion of Pondicherry city endangers the harmonious development of Auroville.
The planned township consists of two major areas:
The City Area (the four zones of the urban hub surrounding the Matrimandir and its gardens consisting of the Residential, Cultural, Industrial and International zones as defined by The Mother)
The Greenbelt (Auroville's natural resource base, a green buffer surrounding the urban hub, and a showcase and training centre for sustainable practices for the bio-region and local green partnerships).
Current Situation & Support Needed
To date, Auroville has secured half of the lands. For the City Area, Auroville still needs to purchase 10% of the land required. In the Green Belt, the situation is less advanced with nearly 65% of land missing and yet to be secured.
Considerable financial support is needed to consolidate remaining plots of lands that are vital for actualizing Auroville's vision – to lay infrastructure, to create a coherent environment, to develop models of a "fairer, brighter and nobler" life that could show the way to a new India and new World.
Would you like to contribute? Would you like to help Auroville meet this essential challenge? Our main campaign for raising needed resources, Acres for Auroville (A4A), is a dynamic and successful way to help.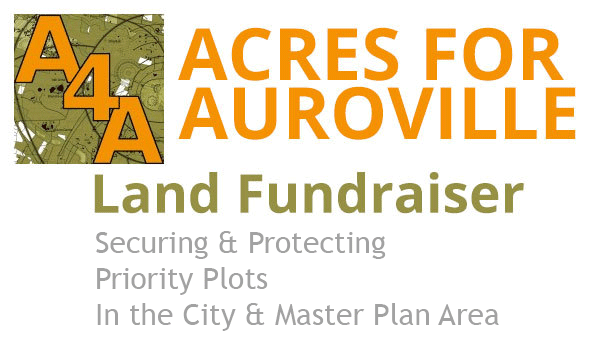 Acres for Auroville (A4A)
The ACRES FOR AUROVILLE campaign raises funds for the purchase of still-missing priority plots of land anywhere in Auroville's Master Plan area. Launched on Sri Aurobindo's birthday, 15 August 2014, it is a collaboration between Auroville's Lands for Auroville Unified (LFAU) and the worldwide centres of Auroville International (AVI).
A4A is a unity action, bringing together the solidarity and enthusiasm of Auroville's friends and well-wishers everywhere. A4A donations have become indispensable for the Auroville Land Board's vital work, providing urgently-needed funds to use when and where needed – in the Matrimandir Circle, in the 4 zones of the City, and in the Greenbelt. https://land.auroville.org/campaigns/acres/
We invite you to visit our dedicated website which shares information and videos about Auroville's land https://land.auroville.org/
Our quarterly newsletter shares the latest land news, inspiring articles on the work of Auroville's pioneers and new joiners, and reports of solidarity actions around the world https://land.auroville.org/news/. Please contact lfau@auroville.org.in if you'd like to receive it and our annual New Year's card directly.
Join us for securing Auroville's land, the physical base for the unique vision of the City of Dawn! The need is urgent and the time is now!
Contact: +91 413 2622657
Website: https://land.auroville.org/
Two Other Ways to Support Auroville Land Purchase
Purchase a donated artwork through Art for Land, an action of Acres for Auroville for the complete Master Plan area, via AFL's online gallery of art contributed by Auroville and friend artists.Visit the AFL dedicated website - https://artforland.in/
You can donate to the GreenAcres campaign to earmark your land donation exclusively for Auroville's Greenbelt's ecological actions; https://land.auroville.org/campaigns/green-acres/
Here are some photos of land purchased thanks to donor generosity: