Last updated: 25 Sep, 2017
Stewardship for New Emergence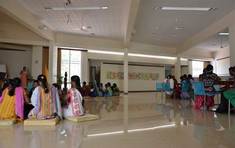 Stewardship for New Emergence is a leadership workshop designed to empower individuals and transform organizations through a holistic methodology and integrated design principles. It offers opportunities to established or budding leaders from the public, private, and non-profit organizations to build alliances and create paradigmatic shifts.
This the 6th year of the stage 1 program in English, this year's dates are: session I : 22-24 September 2017,
session II : 27-29 October 2017,
session III: 1-3 December 2017,
More recently, the program has been offered fully in Tamil in the Amma Appa program to the workers of Auroville units and projects. The response has been very positive so the organising team are committed to continuing the program during our quieter summer months in-order to build capacity, leadership, confidence and full potential in the Auroville workers from the surrounding villages.
This next stage one program is an ideal opportunity for unit-holders to deepen the learning at an organisational level and for individual Aurovilians to develop their leadership and capacity. The program consists of a series of 3 workshops, spaced apart by one month each. New capacities are introduced in workshops and in interim weekly sessions and we practice these capacities in action. We work alongside others from a variety of disciplines to build common language and practices so that we can work in synergy.