Last updated: 25 Feb, 2020
Rod Hemsell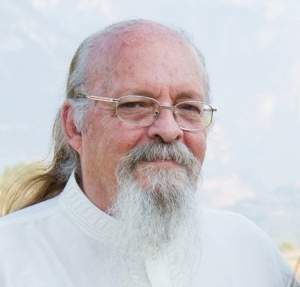 Rod Hemsell
Educator and author Rod Hemsell lived in Auroville and the Sri Aurobindo Ashram from 1968-1983. He travelled extensively and spoke at centres and universities in India on Auroville and Sri Aurobindo's yoga philosophy, publishing a feature article on Auroville in the New Delhi Youth Times in 1974. He also published articles and essays in Mother India, World Union, and Auroville Review from 1970-1983.
In 1978, Rod presented Auroville along with Findhorn by Peter Caddy at the Festival for Mind, Body, and Spirit in London. Four years later, he gave a presentation on Savitri at Vishwabharati University in Santiniketan on the birthday of Rabindranath Tagore.
Rod was a guest speaker on Auroville at AUM in Boulder in 1988, and in 1990 delivered lectures on Sri Aurobindo's yoga philosophy and Auroville at the California Institute for Integral Studies in San Francisco.
He founded the GAIA Learning Center in Crestone, Colorado in 1991. In 1993, he gave a lecture and presentation on Savitri and participated in a panel on Auroville at the Parliament of World Religions in Chicago.
Rod has conducted annual Savitri Immersion workshops at the Sri Aurobindo Learning Center in Crestone, Colorado, since 1994. He founded the GLOBE Charter School in Colorado Springs, Colorado in 1995. In 2003, Rod published Sri Aurobindo and the Logic of the Infinite: Essays for the new Millennium. Other publications include The Poetry of Sri Aurobindo – Mantra, Metrics and Meaning (2009), and The Philosophy of Evolution – Darwin and Sri Aurobindo (2011).
From 2005 to 2013 Rod has lectured on philosophy and poetry at the University of Human Unity in Auroville, where he was also Principal of New Era Secondary School. During May-August 2013 he has presented a series of workshops on the Kena Upanishad and Savitri in the USA. Texts and audio recordings of these and other presentations are available at: http://universityofhumanunity.org/
Rod Hemsell Books: