Last updated: 28 Sep, 2023
News & Notes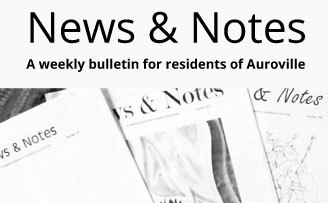 News & Notes, formerly Auroville News, is the community's internal weekly news-sheet. Its pages contain announcements, reports of meetings, home-spun philosophies and sermons, poems, advertisements and quotes from The Mother and Sri Aurobindo. It is meant for community members and need not necessarily make much sense to those who are not familiar with Auroville's community life. For those who are aspiring to join the community, News & Notes can give some sense of everyday life in the community.
Ph: 0413-2622098
Receive the News & Notes by Email Weekly!
Subscribe at newsandnotes-list+subscribe@auroville.org.in
or directly join the email group on this link.
(Note: Subscription by this link is available only for those with an Auroville.org email address)
To see public events that guests can participate please visit also: https://events.auroville.org.in
Download Latest Issue
Download
Nouvelles 28 septembre 2023 r.pdf