Auroville Guest Service
Offering Guidance for New Guests and Volunteers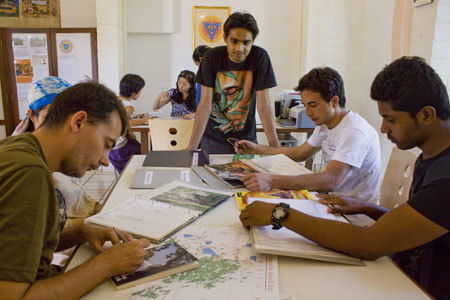 Located on the terrace above the Solar Kitchen, the Auroville Guest Service is open to the public and provides information and guidance to guests and volunteers who have begun their stay in Auroville.
Assisting Your Journey
The AV Guest Service will assist you in finding information about workshops, therapies and programmes, in meeting Aurovilians, and integrating into the life of Auroville.
Visit http://guestservice.auroville.org/ to apply before coming or visit during office hours for more information.
The following services are also provided:
A range of informative and interesting publications on Auroville for browsing;
Advice and referrals on various aspects of staying in Auroville (for example, safety and security features);
Space for receiving and handling feedback from guests on their experience in Auroville;
Notice-board with current events, classes, workshops & cultural activities open to guests;
Information on getting around Auroville and neighbouring areas;