Last updated: 16 May, 2022
Visitors Centre: your discovery of Auroville begins here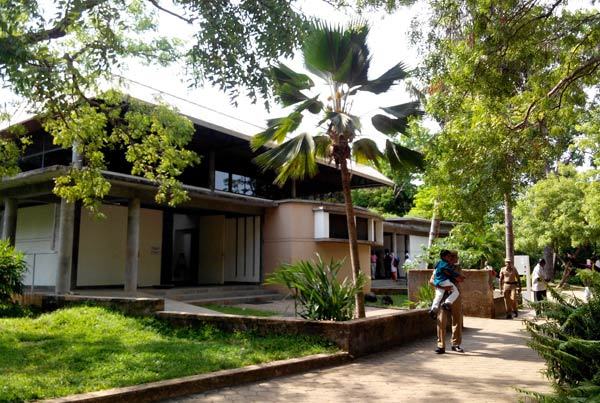 The Visitors Centre
The Auroville Visitors Centre is now open.

It will be possible for day visitors to visit the Matrimandir Viewing Point to see the Matrimandir from outside.
Kindly book your arrival time slot on visit.auroville.org since entries per hour will be limited to avoid overcrowding. For direct contact with this service and eventual reimbursements or complaints, please contact talamsupport@auroville.org.in.
Please note that booking for concentration in the Matrimandir Inner Chamber remains discontinued until further notice - access is available to the Matrimandir Viewing Point only and passes are absolutely free..
All necessary precautions are to be taken following the applicable SOPs and visitors are requested to observe social distancing, hand sanitization, and wearing of face masks.


The Auroville Visitors Centre is a place where day visitors and guests can begin to discover and learn about Auroville, its ideals, history and present-day manifestation, housed in a complex of buildings that include exhibitions, information and guest reception, boutiques for Auroville products and handicrafts, a bookshop, cafes and a food court.



Facilities
Information Service
Open daily from 9 am to 1 pm and 1:30 to 5:00 pm
Sundays from 9 am to 1 pm, afternoons closed
Ph. 0413-2622239
provides first-hand, personalized information on Auroville. Reception staff are equipped to answer queries in English and other Indian and European languages.

stocks brochures, leaflets, books and videos on Auroville in different languages.

gives a visual tour of the different aspects of Auroville life, community and its work through its Photo Exhibition space.

provides video shows -- regular 'Introduction to Auroville' and 'Introduction to Matrimandir' videos in English or Tamil, with the possibility of other languages in sub-titled form.

features the original rosewood model of the Matrimandir and the Gardens, in its

Matrimandir Reception and Exhibition Space.
Issues passes to Matrimandir Viewing Point.

From the VC a shaded 10-12 minutes' walk leads to the Viewing Point in the Matrimandir area. For those who need motorised transport, shuttles are available.
Guest Accommodation Service
Open daily from 9:30am - 12:30pm and 2 - 5pm
Ph: 0413-2622704
Offers guidance and help with guest accommodation in Auroville.
https://guesthouses.auroville.org/

Please note that on arrival to stay in Auroville accommodation all guests, volunteers, and family members will be expected to follow the rules as applicable from the state government guidelines about quarantine and safety regulations.
Boutiques

Open daily from 9:30 am - 6 pm
Display and sell a wide range of Auroville handicrafts such as incense, clothing, tableware, jewellery, furnishings, aromatherapy etc. They also stock a variety of organic herbal syrups, dried fruits, and cereal products made in Auroville.

La Boutique d'Auroville: Ph. 0413-2622150
Mirra Boutique: Ph. 0413-2623389
Kalki Boutique: Ph. 0413-2623450
Cafés


Right Path Café: open for food and refreshments from 8 am - 9 pm daily, On Mondays, it closes early at 5 pm. Ph: 0413-2622248
Dreamers' Café: open for food and refreshments from 8 am - 8:30 pm every day during the high season (closes early on Mondays at 6 pm)
Ph: 0413-2623034

Korean food served Wednesdays, Fridays, Sundays at


the Right Path Cafe from 6.00 pm to 8.30 pm. Closed on Mondays.
Dosa Corner, situated above the Right Path Cafe. Serves organic dosas and parottas in an informal setting at an affordable cost.
Open daily from 6.30 pm to 8.30 pm. Closed on Mondays.

Seagull Bookshop:
Hosts publications on Integral yoga, Indian culture and different aspects of Auroville from design to wildlife, as well as literary and other compilations by a range of Aurovilian authors.
Open daily from 9:30am - 5:30pm.
Ph: 0413-2622302
Kiosk: Sells small handicrafts items and refreshments, a social space and cost-price eatery with sitting-out and picnic area. Open 9:30am - 5pm daily.


Serves dosas in the evening from 6:30 -

10 pm

Closed on Wednesday evenings.

Ph: 0413-2623034.
Bicycles for hire: available from the kiosk. Ph: 0413-2623034

New School Crafts: situated next to the Kiosk, selling small handicraft items such as incense, soap, oils, etc...Open from 9am - 5pm. Ph: 0413-2623833
Open Air Boutique: Kamalam, a retail outlet of SEDAB (Sustainable Enterprises Development in the Auroville Bioregion) promotes ethical and eco-friendly products made by rural entrepreneurs. SEDAB is part of a wider Integral Rural Development vision for the bioregion. Its goal is to provide livelihood options for women in villages in and around Auroville.
Garden Shop (Fleurs d'Auroville) situated next to the main visitors' parking. The Auroville Botanical Gardens have been established in response to the disappearing Tropical Dry Evergreen Forest (TDEF) and to the global need for the conservation of genetic diversity in the plant kingdom in a wide range of climatic conditions. With preservation projects throughout India, a growing, diversifying nursery, and localized educational programs, the Auroville Botanical Gardens acts on several fronts in order to simultaneously save and recreate the unique forest ecosystem that stretched along the coast until one century ago.
City transport: Pick up and Drop Shuttle Service, per passenger fares.
Daily 9:30am - 6.00pm.
Ph 0413-2622611

Aquadyn dynamised water
is available at Right Path Café and at the main parking lot. Visitors Centre provides free
Aquadyn (a product of Auroville)
dynamised drinking water for visitors, villagers and Aurovilians.
Special events
For entertainment evenings (theatre, music/dance performances) and other special events happening at VC, see the notice board at the Centre and at other locations around Auroville, or the weekly
News & Notes
.
Contact Visitors Centre: 0413-2622611 or 9487650951
Open-air exhibitions
International Zone: An open-air exhibition on the International Zone of Auroville. It conveys the international dimension of Auroville, presents the facilities, activities, and institutions of the International Zone and the work being done by the National Pavilions.
Environmental Exhibitions: For more information on Auroville's work in the fields of alternative energy, water, transport, farming, soil and water conservation...
Daily walking tours starting from Visitors Center.
Guided tours are momentarily stopped. The Information Office can provide you with a self-guided map of places to visit on foot in the International Zone, on your way back from the Matrimandir Viewing Point.
www.youtube.com/embed/PqAq6wO6CiQ?rel=0
Enter the video url