Transportation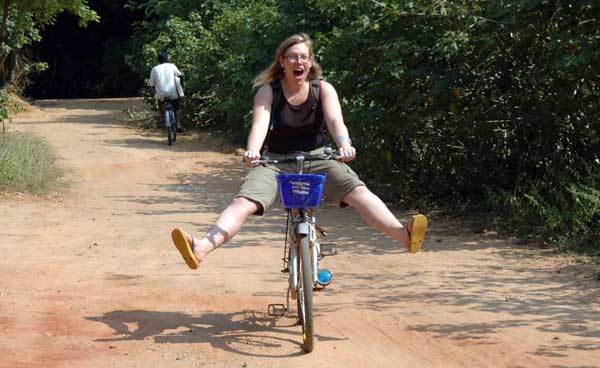 Auroville aspires towards a safe and pollution-free transport system. While much remains to be done to reach that goal, efforts are made to keep the central area as free as possible of heavy vehicles.


Please avoid bringing cars, vans, etc. as much as possible.


Bicycles or motorised 2-wheelers (and some electric 2-wheelers) can be rented within and around Auroville. Apart from the information below, the Auroville GuestService can assist with updated info & addresses.
Sustainable Mobility for Auroville
Auroville has a not-for-profit transport service for Aurovilians, newcomers, volunteers, visitors and guests: Integrated Transport Service (ITS).
ITS's goal is to strive towards a pollution-free, safe transportation system by collaborating with community members to manifest the vision for mobility in Auroville.
For more details, please check: https://www.auroville.org/contents/4202
Bus
For the shuttle bus from Auroville to Pondicherry, see:
__________________________________________________________________________
Public buses
The Government Bus - 7 days a week
Daily the morning bus will leave from Pondy New Bus Stand at 7:30am
Arrive at Visitors Parking at 8:00am and depart immediately for Pondy.
Similarly the afternoon bus will leave from Pondy New Bus Stand at 3:30pm. Arrive at Visitors Parking at 4pm and depart immediately for Pondy.
------------------------------------------------------------------------------------------------------------
For participating in evaluating electrical bicycles, contact Quiet Transport at SaraCon: Ph. 2622973; email qutee@auroville.org.in
--------------------------------------------------------------------------------------------------------------
Bicycle hire & repair
Cycles can be hired from Visitors Centre Kiosk, 7 days a week, 9.00-5.30:
130 cycles available including: singlespeed lightweight Decathlon mountainbikes, 7 or 21 speed geared Decathlon, sturdy Hercules mountainbikes (with mudguards and back carriers), Ladybird ladies cycles – from Rs.50-60/day or Rs.280-330/week according to model - check for availability by phoning 0413-262-3034
A number of guest houses provide/rent cycles to their guests (e.g Centre Guest House, Verite', and others); cycle rental is also available at Segar Mechanical Works (opposite AV Health Centre); and from many places in Pondicherry.
For repairs, punctures go to
Cycle Kiosk at Solar Kitchen,
to the Puncture Service in the Service Area,
or try Segar Mechanical Works and other village repair facilities.
Aurovelo, Cycle and Coffee Shop, located in Reve, sells and services imported cycle brands available in India. It also operates a buy-back scheme for long term guests. Ph. 0413-2622380
Moped / Scooter hire, maintenance & repair
Hiring is possible from Nagappan at Fraternity Youth Camp Ph.0413-2622954 or 94434-51016. Also, except during peak visitor/guest season, a moped can usually be hired from Kumar at the entrance to New Creation Ph. 9047376402 or 94434-97450. Otherwise, try in Pondicherry.
For repairs or overhaul, Abri Workshop is open to Aurovilians Mon-Sat 8am-4.30pm. Otherwise try Segar Mechanical Works (near AV Health Centre), Mani/Ravi's Workshop on the beach road (100m to left on joining beach road, behind the frontal building), or places in the Kuilapalayam area.
Puncture Repairs: Two-wheeler puncture repairs are possible locally at Puncture Repair Service (located in Service Area opposite Telephone Exchange); Mon to Sat 9 am to 4.30 pm; Ph. 2622741 or 94428-9135. Also at Segar Mechanical Works (near Health Centre); Kumar's Workshop (outside New Creation); another Kumar's Workshop (by Fraternity entry road); and a few other places in the nearby villages
Other Taxi services (non-Auroville):
Autorikshaws
Autorikshaws for ECR road, beach and Pondy, are available in the parking area at the Visitors Centre.
Current rates are:
To ECR-beach : Rs. 120
To Pondy : Rs. 230
Inside Auroville; less than Rs. 120