Last updated: 4 Feb, 2021
Town Hall Complex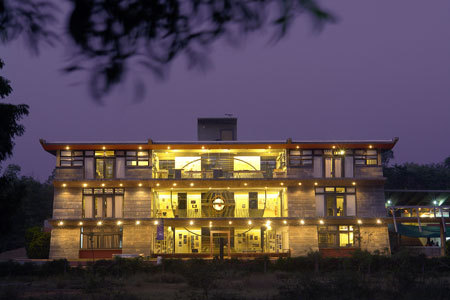 Town Hall at night
Located in Auroville's Administrative Area in the centre of the city, the Town Hall complex consists of the Town Hall and the Multimedia Centre. The Town Hall building offers administrative and meeting facilities for a number of Auroville working groups and services.
Largely built with funding from the European Commission (EC) and Stichting De Zaaier, the Centre for Urban Research (ACUR)

is Auroville's first step towards the construction of a full-fledged Town Hall complex dedicated to innovative urban management and research.
While during Auroville's first thirty-plus years the residents performed their various administrative tasks in a wide variety of make-shift places throughout the area, the township presently prides itself on having a large, spacey and efficacious set-up, known as the Town Hall complex, aptly placed in Auroville's administrative area in the centre of the city, just north of the Matrimandir.

A larger Town Hall is foreseen at a much later stage, of which this first phase would be the forerunner.

The present Town Hall complex consists of two robust, separate but interconnected structures: the Town Hall, which has been functioning since 2003, and the Multi Media Centre, which reached completion in December 2005.

In between the two, one finds the City Centre Café, comprised of a wide open dining patio at ground level and a cafeteria at first floor, overlooking the Matrimandir and its gradually emerging gardens.

The complex has a solid, modern, urban feel. Collection & re-usage of rooftop rainwater has been provided for and an elaborate wastewater treatment is fully functional.

Town Hall
The Town Hall came into being through generous funding by the European Commission, as part of the "Asia Urbs Programme", undertaken by Auroville's Future at the beginning of the century.

The original design expanded through support from Dutch Stichting de Zaaier and various Auroville resources, which enabled other than town planning facilities to take place in the building.

The building has a covered surface of 1300 sqm plus 350 sqm of verandas distributed over 3 floors.
It presently houses: Auroville's Future & its 'City Networking' coordination & various planning, engineering, mapping, architecture and graphic services, Auroville's Financial Service, Auroville Fund, Land Service & Abundance, Project Coordination group, offices of Working Committee and Auroville Council, FAMC office, APDC office, Housing Service office, and the recently started Auroville Radio lab. It also houses a meeting room for 20 people and a conference hall with advanced audiovisual facilities for 100 people.
Media Centre
Construction of the Multi Media Centre adjacent to the Town Hall was enabled through a large donation from Gateway Group some 4 years ago, specified for activities pertaining to communication. Since its recent completion, various services have left their temporary work spaces elsewhere in the township and moved into their new abodes which find themselves spread out over two floors with a surface of 224 and 227 sqm plus verandas.

These are: studios of the Auroville Web Services, editors & printers of Auroville's weekly News & Notes bulletin, AVTraductions' translating services, Outreach Media press office, video library, music library, as well as offices of the Entry group, Residence Service and Economy group.

Last but not least, the MMC includes a 154 sqm multi-purpose auditorium cum viewing theatre with large screen for up to 120 seats.
Architect
Architect of the two buildings is Aurovilian Anupama Kundoo, who based her designs on earlier sketches of Auroville's chief architect, Roger Anger.
The project is a milestone for Auroville's development, is well functioning and appreciated by all.

Ph. 0413-2622250
E-mail acur@auroville.org.in