Last updated: 20 Sep, 2023
The Auroville Library on the Crown Road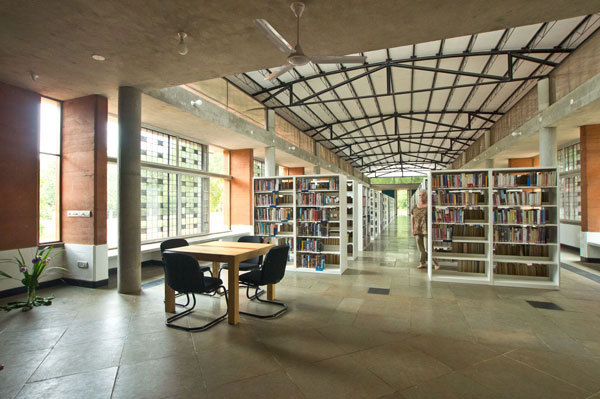 The Auroville Library
The Auroville Library, located on the crown road near the Solar Kitchen, has been at its current location for more than ten years now, housing and lending out a wide selection of books. Today it contains approx. 55,000 volumes in ten languages – English, Tamil, French, Italian, Spanish, German, Dutch, Korean, Hebrew and Russian. All the books are organized by subject using the Dewey Decimal System. There is also a children's library with books available in all ten languages.
The library is used regularly by many members of the community, plus a number of guests, volunteers and workers. There are tables for studying and a number of comfortable spots to sit and read on the premises. The library receives a daily newspaper in both English and Tamil as well as the Auroville news publications.
There is also a regular story time session for children on Saturday mornings between 10 to 11 a.m.
Anyone is welcome to sit, study, or read books at the library but to borrow books, a lending account must be created.
To create a lending account you must:
1. Be a registered guest or volunteer in Auroville and be staying for at least 2 weeks
2. Make a refundable deposit of RS. 1000 using your Aurocard or by making a transfer at the Financial Service.
With a lending account, up to three books may be borrowed at a time, for up to thirty days. The deposit is refundable once all books have been returned in good condition and the account is ready to be closed.:
Open hours:
Mornings: Monday – Saturday: 9 am – 12.30 pm
Afternoons: Mon, Wed, Thurs, Fri & Sat: 2 pm – 4.30 pm
Tuesday afternoon: 4 pm – 6.30 pm
Address:
Auroville Library
2 Crown Road, Near Solar Kitchen
605101 Auroville, Tamil Nadu
Phone: 0413 2622894
Email: avlib@auroville.org.in
Website: library.auroville.org.in
Auroville Library Location