Serendipity
Farm Community & Guesthouse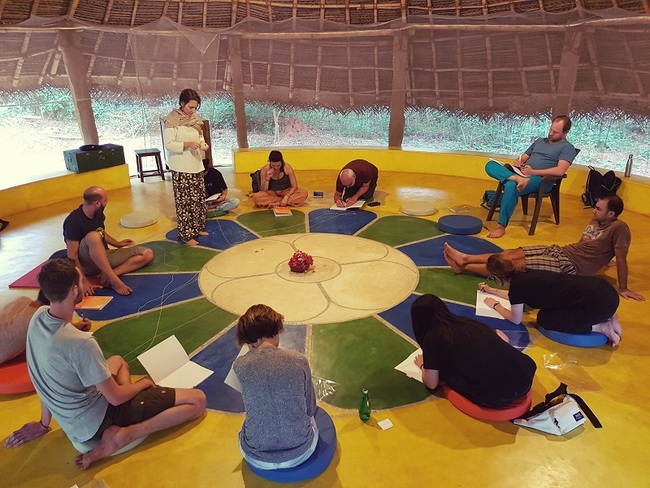 The Serendipity project originates from the will of Giovanni and Stefania to manifest a synergic community defined by the power of Kindness, Sincerity and Generosity.
We intend to be an experiential learning sangha of proactive and spontaneous people who are eager and ready to dedicate their lives for the manifestation and spreading of Mother's Dream on Auroville and Sri Aurobindo's teachings on Integral Yoga.
Therefore, we commit to joyfully work and progress together in synchronicity with the Divine work of Mother Earth while giving freedom of expression to each one's unique needs, vocation, truth and soul purpose.
Location
We have a peculiar farm community atmosphere and we are immersed in nature, which here is characterized by the tropical dry evergreen forest and the most colourful birds. At the same time, we are located in the very centre of Auroville, only a few hundred meters from the Matrimandir, the Visitor's Center, the Town Hall and the Solar Kitchen.
Activities
Our place is perfect for a diverse stay as you can relax in a hammock in the garden or be active and do any practise in our beautiful yoga hall or help in our organic vegetable garden.
For those who are interested and stay long enough, we are also happy to share our experience here and some of the history and complexities of the "City of Dawn".
Among a number of therapies, activities and courses, we even organize a 2-month Auroville Volunteer Experience program and a 4-days intensive Auroville Introduction Program for people who wish to discover some very interesting projects and deepen their understanding of Auroville: an intentional community in the making, aspiring for unity in diversity, yet far from the dream in the current reality.
For general information about the upcoming programs, please check the fliers below. For reservations, inquiries, or detailed information about volunteering, accommodation, classes, and treatments, please contact us.