Savitri Bhavan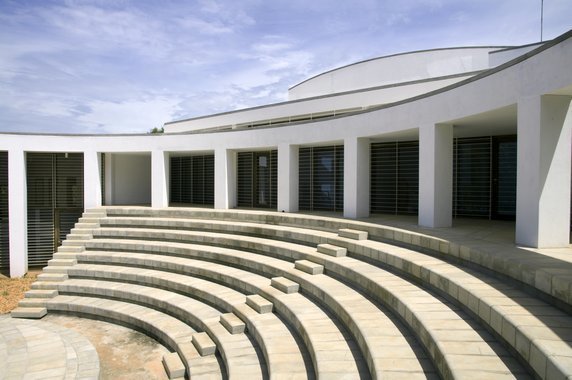 Exhibitions
Meditations on Savitri
The series of 472 paintings created by the Mother with Huta
from 1961-67 is now on display in the picture gallery
Glimpses of the Mother: Photographs and texts
In the Square Hall
A new Bilingual Exhibition on 'Sri Aurobindo: A life sketch in photographs'
with texts both in English and Tamil is displayed in the upper corridor
Films
Mondays at 4pm in the Sangam Hall
June 19: Journey to the Life Divine, Part 1 - This feature-film covers the lives of Sri Aurobindo and the Mother from childhood onwards until November 1926. It shows the spiritual development and work of Sri Aurobindo and the Mother and the work they did for the new evolutionary step towards a Life-Divine for mankind and earth. Duration: 100min.
June 26: Journey to the Life Divine, Part 2 - To create a new world for a spiritual life was the Mother's dream even when she was in France. The second part of the feature-film is about how the Mother and Sri Aurobindo worked this out in the Ashram. Duration: 90min.
Full Moon Gathering
Saturday, June 3, 7.15-8.15pm in front of Sri Aurobindo's statue
Dream Divine Series
The new project 'The Dream Divine Series' started in the month of March 2023 is to make newcomers understand the Aims and Ideals of Auroville and learn about the Life and Works of Sri Aurobindo and The Mother and Integral Yoga.
There is a weekly session every Wednesday 4.30-5.30pm.
The series will include Presentations, films, talks, etc., followed by a Q&A session.
Regular Activities
Sundays 10.30–12 noon: Savitri Study Circle
Tuesdays, Fridays, Saturdays 4-5pm: L'Agenda de Mère: listening to recordings with Gangalakshmi
Tuesdays 4.30pm: Mudra-chi led by Anandi
Thursdays 4-5pm: Videos of The English of Savitri led by Shraddhavan
Saturdays 4.30-6pm: Satsang, led by Ashesh Joshi
Exhibitions, Main Building and Office are open
Monday to Saturday 9-5
Library and Digital Library is open Monday to Friday 9-5
Everyone is welcome
https://youtu.be/rLL6Tqt2jEE
Enter the video url
https://youtu.be/ECsm5U4W4jg
Enter the video url