Savitri Bhavan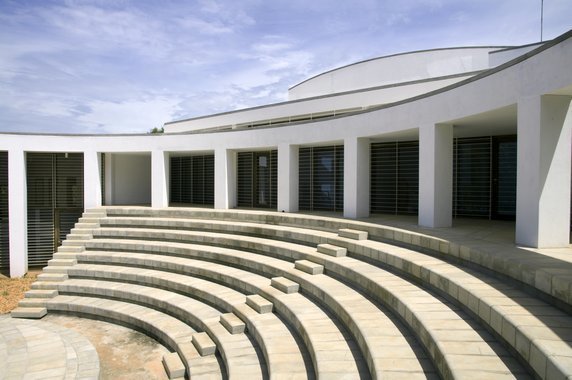 Exhibitions
Meditations on Savitri
The series of 472 paintings created by the Mother with Huta from 1961-67 is now on display in the picture gallery
Glimpses of the Mother: Photographs and texts
In the Square Hall till 15th Jan.2023
A new Bilingual Exhibition on 'Sri Aurobindo: A life sketch in photographs'
with texts both in English and Tamil is displayed in the upper corridor
Films
Mondays at 4pm
Feb.6: Building Matrimandir – Labour of Love 1971-2008
The Matrimandir is the soul of Auroville; the documentary shows the dedicated work and construction.
Duration: 52min.
Feb.20: The One Whom We Adore as The Mother
An audio-visual presentation by the Sri Aurobindo Ashram Archives on The Mother's life from childhood onwards, her trainings, her meeting with Sri Aurobindo and the creation of the Ashram and Auroville.
Duration: 63min.
Feb.27: The Teachings of Flowers – The Life and Work of the Mother of the Sri Aurobindo Ashram
by Loretta Shartsis. The Mother used flowers and their true essence for teaching Integral Yoga and
for the manifestation of new consciousness.
Duration: 121min.
Talks
The Second talk in the new series on
'Fundametals of Sri Aurobind's Philosophy in Savitri' by Larry Seidlitz will be on
'The Involution and Evolution of the Spirit'
Tuesday February 7, 2023 4-5pm in the Sangam Hall
Full Moon Gathering
Sunday, February 5, 7.15-8.15pm in front of Sri Aurobindo's statue
Regular Activities
Sundays 10.30–12 noon: Savitri Study Circle led by Larry Seidlitz
Mondays 3-4pm: Self-Surrender in Works – The Way of Gita led by Dr. Jai Singh
Tuesdays 3-4pm: Readings of the words of The Mother on Aims and Ideals of Auroville led by Dr. Jai Singh
Tuesdays, Fridays, Saturdays 4-5pm: L'Agenda de Mère: listening to recordings with Gangalakshmi
Tuesdays 5.30-7.00pm: OM Choir led by Narad
Thursdays 4-5pm: Videos of The English of Savitri led by Shraddhavan
Thursdays 5.15-6.30pm: Hymns to the Mystic Fire by Sri Aurobindo led by Nishtha
Fridays 3-4pm: Readings and exploration of 'The Entry into The Inner Countries' of Savitri led by Dr. Jai Singh
Saturdays 4.30-6pm: Satsang, led by Ashesh Joshi
Saturdays 4.30pm: Mudra-chi led by Anandi
Exhibitions, Main Building and Office open Monday to Saturday 9-5.
Library is open Monday to Friday 9-5
The Digital Library can be accessed on request Monday to Friday 9-4
Everyone is welcome
https://youtu.be/rLL6Tqt2jEE
Enter the video url
https://youtu.be/ECsm5U4W4jg
Enter the video url