Solar Kitchen and Prosperity Area
A Hub of Community Services for Residents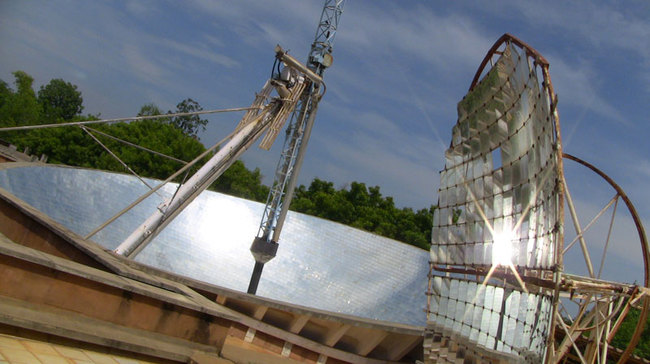 The Solar Kitchen and Prosperity area began with the construction of the Solar Kitchen and its spacious dining room in the late 90s, which served as the main hub for the community members to gather for lunch. You can judge the scope of this community dining hall by knowing that it was serving close to 1500 lunches per day, including food for Auroville school children during the pre-pandemic days.
On the huge terrace of the Solar Kitchen, also known as SK, a cafeteria known as "La Terrace", began serving multi-cuisine snacks and meals. This self-service restaurant has steadily gained popularity over the years. Alongside this food outlet, the Auroville Guest Service was created where guests could use wifi to browse or gain more information about Auroville. Both Solar Kitchen and La Terrace do not accept cash payments. Payment is accepted only through a Financial Service account.
Cooperative Solutions For Food, Clothing and Mobility
In the same complex other important cashless community services came into being on the ground floor. These became a meeting point for Aurovilians, Newcomers and Guests (only registered guests with aurocard). The following services are part of Prosperity, the name given by Mother to cover the essentials needed by Aurovilians to survive:
PTDC – Pour Tous Distribution Centre : the co-operative food service run by Aurovilians, Newcomers and Volunteers. It provides groceries and lunch to members.
Free Store : Where everything is free and on donation basis: clothes, books, DVDs, toys, shoes, etc. Any resident can give away clean, reusable items in good condition.
Nandini : Coordinates distribution of new clothing, as well as tailoring requirements for the use of Aurovilians and Newcomers. Nandini Tailoring is situated at a different location.
Prosperity Office and Service Link : that manage logistic support for these activities to run smoothly.
Food Link : collects produce from the farms and distributes to main outlets (SK, PTDC, PTPS) as well as individuals.
ITS: Integrated Transport Service provides transport solutions for eco-mobility within the city area.
LOT: The Library of Things shares miscellaneous items including home appliances, tools, camping gear, etc.
Bicycle Repair Kiosk – provides handy and quick repairs for bicycles of residents.
Recycling area: provides barrels for recycling glass jars, tetra packs, etc., as Auroville aspires to become a zero-waste township.
Parking and a battery recharge point for e-vehicles.
https://youtu.be/5Rlxdmu-gzc
Enter the video url
A Space for Informal Events - Farmers Market, Theatre Seat Reservation and Polls
More and more, this area is becoming an informal meeting point, where Aurovilians converge for lunch, dinner, getting supplies from PTDC and FoodLink, visiting the Free Store and Nandini, repairing their cycles or just hanging out with fellow residents. Sometimes ticket counters for community wide events are put up here as residents frequent this complex much more often than other areas. An easier diffusion of information is possible also through the notice boards that put up posters of current events such as exhibitions, theatre shows, concerts among other happenings.
An occasional street market happens in the open space in front of the area, which is also chosen by the Residents Assembly Service for collecting polls, opinions, feedback from the community about organisational and social issues.
If Matrimandir is the "Soul" of Auroville, and Town hall the "Head", this area is most probably the "Body" of Auroville!
Visitors require permission to access this complex.