Last updated: 9 Apr, 2019
Kalabhumi Art Project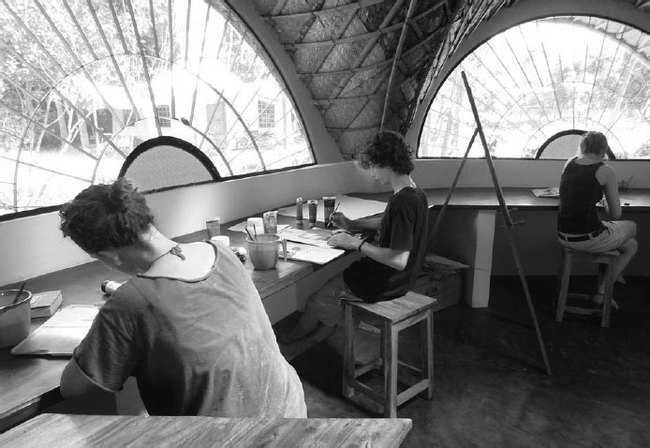 Art studio in Kalabhumi
Four years ago I (Nele) created an open studio space/time in my art studio in Kalabhumi. Being situated in the cultural zone, close to the Auroville schools, it can be easily reached walking or by cycle, for students of Future School. My art class is offered as an elective subject there. 1 to 2 afternoons are available for high school aged students; three other afternoons are available for adult students. My art studio is well equipped with tools and high quality art material, so all the various techniques can be explored. The ordered atmosphere of the studio makes it possible to create an environment of concentration and focus to make a more meaningful work possible. The course is divided in guided classes through the various techniques, art history classes, and free expression classes.
The overall idea of this workshop is to deepen the understanding of art; to gain confidence in self expression through art; to be more aware of what is around us and to perceive the beauty, harmony and order in and around us. The groups are small enough to allow working individually while at the same time participate in group work. The various techniques are explained and tried out separately; a lot of importance is also given to possibilities of composition in the art work. It has been a very interesting experience for both me and the students. In Art, intuitive creativity and the organizing mind work together to create and express in a direct manner. The idea of what is beauty becomes an inner research, and its creation is constantly a new experiment, which helps to clarify one's sense of harmony and order.
The interactive group work helps to evaluate and to try out different possibilities, to see how themes can be worked out differently. The fact that the creative process is always a mirror of inner work and at the same time linked to the world one lives in, can be very well worked out in our small group, which gives feedback to the individual work, but is at the same time protected enough to allow for freedom of expression. It is an interesting way to come to know one another, and is at the same time an interactive learning process with support.