Horse To Human
What Can We Learn Being with Horses?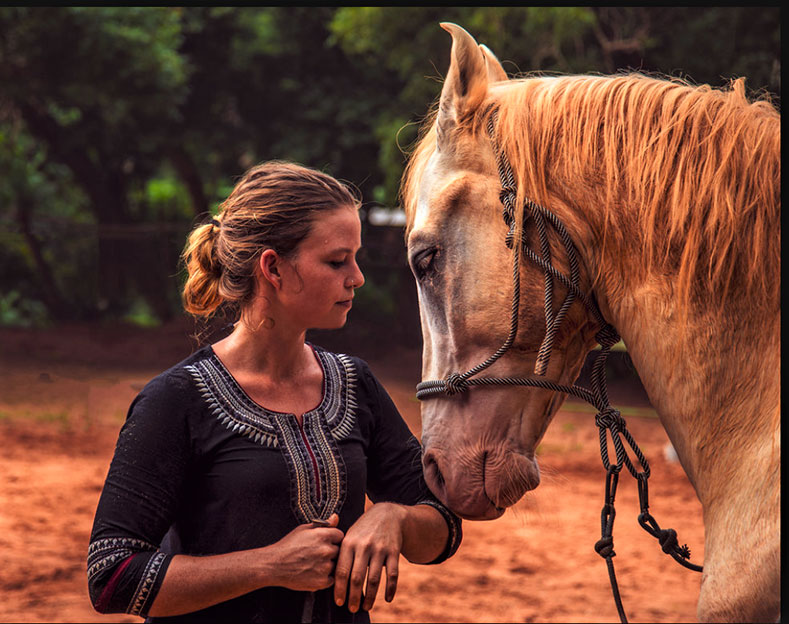 Experience emotional healing, empowerment, and non-verbal communication with horses and ponies! Mirrabelle offers webinar classes on:
"Natural Horsemanship"
"Horse Assisted Therapy"
"Horse care and management"
"Horsemanship as leadership" (Ongoing Individual and group sessions)
Natural Horsemanship
This focuses on the body language of horses and humans, which is universal, by effectively using intention and centred presence to communicate clearly, with purpose, and without violence. This is the key to building a vocabulary with the horse, your partner.
Experience yourself beyond words! Eight horses and ponies of all sizes and temperaments are curious to know you!
Natural horsemanship improves your self confidence, your trust, your skills in nonverbal communication – and it's just a fun time to BE with a sensitive, naturally trained horse!
Horse Assisted Therapy
This special therapeutic approach encourages children and adults to approach horses in a most healing way – overcoming autistic, behavioural and other limiting patterns in a nonverbal way. This might include caring for the horse, noticing the nonverbal clues, relating to a horse as a friend, and receiving feedback in a non-judgemental way. Mirrabelle has been offering Horse Assisted Therapy since 12 years to children with special needs, to adults to improve self confidence, and much more. Having an interest to relate to a horse is a first step, which then leads to deep emotional healing and empowerment.
Mirrabelle has lived with horses since she was 3 years young. In the past 10 years she fulfilled her life`s dream to bring children, adults and horses together in a healing way, in Auroville, Sharnga Guesthouse. Mirrabelle has studied human and horse psychology , and offers consultancy on all aspects of horse care – hoofs, nutrition, psychology, care, riding and therapy!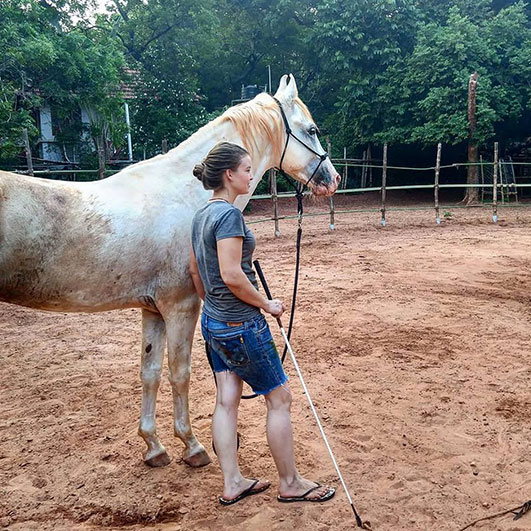 Two Webinars on Natural Horsemanship with Mirrabelle
Mirrabelle has studied horse psychology, horse body work and nutrition, and has undergone intense training in hoof care and barefoot hoofing with an international ferrier. She is fully taking care of her horses, even for some of the veterinary interventions.
What we can learn from horses about leadership (5 lessons)
History of horses and humans, and its significance
Basic needs: similarities and differences
Different kinds of intelligence and what they mean
Non-verbal communication and energy levels, how to find neutral
Setting yourself up for success, value-based teamwork!
Horse Care and Management (5 lessons)
The Horse Care Management Webinar is about
Basic needs
Basic anatomy
Feed needs
Deworming
Basic medical terminology
Contact Mirrabelle directly on WA 00919626565134 or via contact@auroville-jiva.com
@horse2human.auroville Instagram Link
https://horse-to-human-sharnga-horses.business.site/ Mirrabelle`s website