Last updated: 16 Nov, 2020
Auroville Land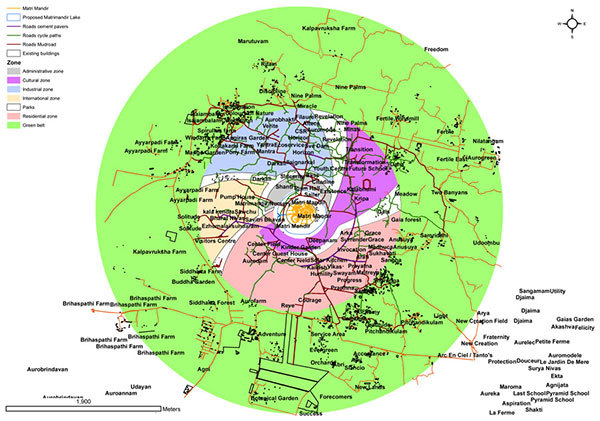 Auroville Universal Township has two main components: the city or urban area, and surrounding it a Green Belt consisting of farms and forests. As of the date of this publication, the Auroville Foundation needed to secure in the urban area of Auroville 17% or roughly 210 acres of land for a unified development. In the Green Belt, the situation is less advanced, with the Auroville Foundation still needing to secure more than half the area for cohesive development. The following sections are engaged in managing, consolidating, and other matters related to the land.

Auroville's land and all assets are legally held by the Auroville Foundation by virtue of the Auroville Foundation Act, 1988 passed by the Parliament of India.
The Master Plan of Auroville has been approved by the Town & Country Planning Organisation, Ministry of Urban Development and Poverty Alleviation, and subsequently published in Part III of the Gazette of India. Hence, the land foreseen for Auroville's master plan area could be acquired under the Land Acquisition Act.
The Secretary of the Auroville Foundation acts as Estate Manager under the Public Premises (Eviction of Unauthorised Occupants) Act.
Land Board
Work includes negotiating and purchasing the remaining land in the planned township area in consultation with the office of the Secretary to the Auroville Foundation, and consolidating and protecting existing Auroville lands.
For more info:
Ph. 0413-2623699 or email: landboard@auroville.org.in

Lands for Auroville Unified (LFAU)
previously Auroville Land Fund, LFAU communicates with donors.
For more info:
Ph. 0413-2622657 or email: LFAU@auroville.org.in
Office is on 1st floor of Town Hall.

Why we fundraise for land