Last updated: 29 Dec, 2022
Waste Management, Auroville Eco-Service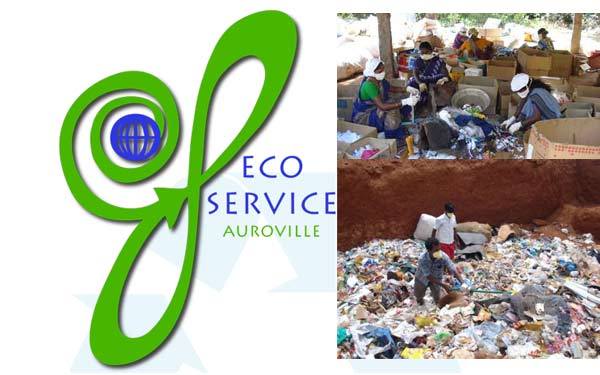 Eco-Service
Auroville's EcoService manages solid waste for the international township of Auroville. An EcoService team collects waste from households, communities, guest houses, restaurants and units, and another team processes it at a sorting shed in Kottakarai. Waste is then either sold to recycling dealers, or landfilled at the Auroville landfill.
Aims and Objectives
Collecting and Processing
To collect all solid waste generated by the community, as well as along main roads and public areas
To process all solid waste generated by the community, recycling as much of the waste as possible
To ensure overall that the community's waste has as little impact as possible on the environment
Network and Outreach
To lead by example in positive solid waste management practices within the bioregion
To network by acting as an umbrella group, connecting all waste-management related activities
Awareness Creation and Education
To generate awareness among Aurovilians about the importance of responsible waste disposal and to work with them to create proper waste disposal systems in households and communities
To work towards a "zero waste" policy
To work with schools to develop and promote curriculum on waste
Research and Development
To become a center of research in waste
To promote 'waste to energy'
To promote the innovation of products made out of waste and help to develop this market
EcoService's primary goal is to minimize as much as possible the impact of Auroville's waste on the environment. It pursues this goal by recycling as much of the community's waste as it can, and landfilling as little as possible.
At present, EcoService collects waste from approximately 2/3 of the Auroville population, while 1/3 of Aurovilians choose other methods for disposing of their waste. But of the waste collected by EcoService, about 72% is recycled and 28% landfilled.
If you feel interested in details about our work and solid waste management in general check out the solid waste management page of our website.
Staff
Initiated in 1992 by Stefano, EcoService is currently managed by four executives, one coordinator, one driver, two collectors, and six waste-sorters.
The four executives are Kali and Palani.
Website: www.ecoservice.auroville.org
E-Mail: ecoservice@auroville.org.in

Mobile number: 9443535172 Palani and 9443090114 Kali