Last updated: 3 Jun, 2020
Auroville 展 An introduction to Auroville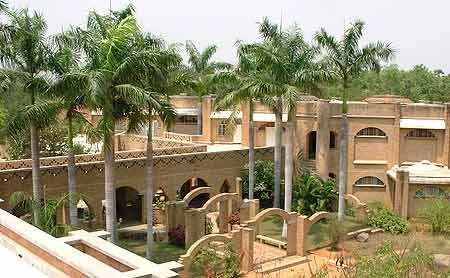 1. Auroville's Charter
1. Auroville belongs to nobody in particular. Auroville belongs to humanity as a whole. But to live in Auroville one must be a willing servitor of the Divine Consciousness.
2. Auroville will be the place of an unending education, of constant progress and a youth that never ages.
3. Auroville wants to be the bridge between the past and the future. Taking advantage of all discoveries from without and from within, Auroville will boldly spring towards future realisations.
4. Auroville will be a site of material and spiritual researches for a living embodiment of an actual human unity.
Mother's Agenda, 28 February, 1968
1
、《
Auroville
约章
》
1、Auroville不属于任何个人。Auroville属于整个人类。但是,生活在这里的人须志愿服役于"神圣意识"。
2、Auroville将是永续教育、不断进步、永葆青春的地方。
3、Auroville想要成为连接过去和未来的桥梁。运用一切内在和外在的发现,积极进行面向未来的实践。
4、Auroville将是物质和精神研究的场所,旨在在生活中体现真正的人类大同。
《母亲的议事录》,1968年2月28日
2.
The Divine Worker

2
、服务于至上神性的工作者
The heavens beyond are great and wonderful, but greater and more wonderful are the heavens within you. It is these Edens that await the divine worker.
Sri Aurobindo, Complete Works of Sri Aurobindo, volume 12, p. 353
远方的天堂固然壮美;然而,你内在的天堂更加伟大美好。内在的伊甸园等待着神圣的园丁来开垦。
室利·阿罗频多,《室利·阿罗频多作品集》第12卷第353页
« Auroville is created to realise the ideal of Sri Aurobindo who taught us the Karma yoga. Auroville is for those who want to do the Yoga of work. To live in Auroville, means to do the Yoga of work. So all Aurovilians must take up a work and do it as Yoga. Blessings ».
The Mother, 27 March 1973
"创建Auroville是为了实现室利·阿罗频多(Sri Aurobindo)的理想。室利·阿罗频多教导我们'业瑜伽'。Auroville适合那些想要在工作中践行瑜伽的人。生活在Auroville意味着修习'业瑜伽'。因此,每一位Auroville居民都必须从事一项工作,将其作为瑜伽修行。
祝福大家!"
母亲于1973年3月27日讲述
*
3. Towards the Truth

3
、迈向真理
Sri Aurobindo considers the message of the Gita to be the basis of the great spiritual movement which has led and will lead humanity more and more to its liberation, that is to say, to its escape from falsehood and ignorance, towards the truth. From the time of its first appearance, the Gita has had an immense spiritual action; but with the new interpretation that Sri Aurobindo has given to it, its influence has increased considerably and has become decisive.
On Thoughts and Aphorisms - Collected Works of the Mother, volume 10, p. 63
室利·阿罗频多认为《博伽梵歌》传递的讯息是伟大灵性运动的基础,它曾指引人类并将越来越多地引领人类走向解放,也就是说,走出谬误与无知,迈向真理。自其首次面世以来,《博伽梵歌》引发了强大的灵性行动;经室利·阿罗频多重新诠释之后,其影响力显著增强,已经变得具有决定性的作用。
《论思想与格言》-《母亲作品集》第10卷第63页
*
4. Karma Yoga

4
、业瑜伽
Thou hast a right to action, but only to action, not to its fruits; let not the fruits of thy works be thy motive neither let there be in thee any attachment to inactivity. Gita II 47
你有行动的权利,但只是行动的权利,其结果如何不取决于你;不要让你行动的结果成为你行动的动机,你也不要有不作为的任何心思。
《博伽梵歌》第二章47
Fixed in Yoga do thy actions, having abandoned attachment, having become equal in failure and success, O Dhananjaya, for it is equality that is meant by Yoga. Gita II 48
哦,丹纳那雅(Dhananjaya ),采取行动吧!专注瑜伽,心无牵挂,以平等心对待成功与失败,因为瑜伽意味着平等心。
《博伽梵歌》第二章48
One whose intelligence has attained to Union, cast away from him even here both good doing and evil doing; therefore strive to be in Yoga; Yoga is skill in works. Gita II 50
Bhagavad Gita
一个人的智慧已经达到合一的境界,甚至没有好事坏事之分别心,因而致力于瑜伽修行。瑜伽是工作的艺术。
《博伽梵歌》第二章50
Limit not sacrifice to the giving up of earthly goods or the denial of some desires and yearnings, but let every thought and every work and every enjoyment be an offering to God within thee. Let thy steps walk in thy Lord, let thy sleep and waking be a sacrifice to Krishna. Sri Aurobindo - On Thoughts and Aphorisms
Collected Works of the Mother, volume 10, p. 315
不要将供奉神明局限于放弃俗世的物品或拒绝某些欲望和渴求,而是要将你的每一个念头、每一项工作、每一次愉悦奉献给你内在的神。让你的脚步成为你的"神"在漫步,将你自身奉献给克里希纳(Krishna)[1],无论是醒着或是在睡眠之中。
室利·阿罗频多 -《论思想与格言》
《母亲作品集》第10卷第315页
*
5. At the Service of the Divine

5
、为"神圣者"服务
By disinterested work is usually meant work done for the sake of the work or for the sake of others without asking for return, reward or personal fruit or recompense; but in Yoga it means desireless work done for the Divine as an offering without condition or claim—only because it is the Divine's Will or out of love for the Divine.
Sri Aurobindo, Complete Works of Sri Aurobindo, volume 29, p. 231
无私的工作通常是指为了工作本身而工作,或者为了他人不求回报、奖励、个人成果或补偿的工作;但是,瑜伽中"无私的工作"意味着为了"神圣者"而无条件、无要求、无私欲地工作——就因为这是"神圣者"的意志,或是出于对"神圣者"的爱。
室利·阿罗频多,《室利·阿罗频多作品全集》第29卷第231页
When we say, "We are at the service of the Divine", it is not just words. It is He who should act through us, not we ourselves. The greatest objection is: How can we know the divine Will? But as a matter of fact, I tell you: if you sincerely renounce your personal will, you will know.
The Mother - 12th Aspiration Talk, 26 May 1970
当我们说:"我们在为'神圣者'服务。"这不是一句空话。不是我们自己在行动,而应该是'神圣者'通过我们在行动。最大的反对声音是:我们如何得知'神圣者'的意志?然而,事实上,我告诉你:如果你真诚地放弃自己的意志,你就会知道"神圣者"的意志。
母亲 - 第12次"祈愿"谈话录,1970年5月26日
*
6.

The Science of Living

6
、生活的科学
To know oneself and to control oneself
An Aimless life is always a miserable life. Every one of you should have an aim. But do not forget that on the quality of your aim will depend the quality of your life.
Your aim should be high and wide, generous and disinterested; this will make your life precious to yourself and to others.
But whatever your ideal, it cannot be perfectly realised unless you have realised perfection in yourself.
Collected Works of the Mother, volume 12, p. 3
自知、自控
漫无目的的生活总是凄惨的。你们每一个人都应当有一个生活目标。可是,不要忘记:你的生活品质如何取决于你的生活目标是什么。
你的生活目标应该是高尚、广阔、慷慨、无私的;这会让你的生活对于你自身和他人变得珍贵。
然而,无论你的理想是什么,只有当你实现了内在的圆满,你才能圆满地实现你的理想。
《母亲作品集》第12卷第3页
*
7.
Unending Education

7
、永续教育
Life on earth is essentially a field for progress; how short life is for all the progress we have to make!
To waste time seeking the gratification of one's petty desires is sheer folly. True happiness can be attained only by finding the Divine.
Mother's Agenda - 1972, February 23
在地球上生活本质上是为了取得进步。生命如此短暂,而我们要取得的进步是如此之多!
浪费时间满足个人的小小私欲纯属愚蠢。真正的幸福只有通过找到"神圣者"获得。
《母亲的议事录》,母亲于 1972年2月23日讲述
Education to be complete must have five principal aspects corresponding to the five principal activities of the human being: the physical, the vital, the mental, the psychic and the spiritual. Usually, these phases of education follow chronologically the growth of the individual; this, however, does not mean that one of them should replace another, but that all must continue, completing one another until the end of his life.
Collected Works of the Mother, volume 12, p. 9
完整的教育必须包含5个主要的方面,对应人的5项主要活动:身体、情命、心思、性灵、精神。通常,教育的这些阶段会随着一个人的成长而渐次展开。然而,这并不意味着其中一个阶段的教育应当取代另一个,而是这5个方面的教育都必须持续开展,相互完善直至一个人的生命终结。
《母亲作品集》第12卷第9页
*
8.
Blossoming in Joy

8
、在欢乐中绽放
True education must reveal what is already present in the developing beings and make it blossom. Just as flowers blossom in the sun, children blossom in joy. It goes without saying that joy does not mean weakness, disorder and confusion. But a luminous kindliness which encourages the good and does not severely insist on the bad. Grace is always much closer to Truth than justice.
Collected Works of the Mother, volume 12, p. 333
真正的教育必须发掘成长中的个体已经存在的潜质,并使其绽放。就如同花朵在阳光下绽放,孩子们在欢乐中绽放。显然,欢乐并不意味着软弱、无序与混乱;而是一种光明的善意,扬善而不严斥恶。恩慈总是比公正更接近真理。
《母亲作品集》第12卷第333页
*
9.
A Youth that Never Ages

9
、青春不老
Auroville has been created for those who want to progress, their own progress.
This is written for each one; each one is concerned with himself first.
The Mother, 1972, December 28th
Auroville是为了那些想要自身取得进步的人而创建的。这是写给所有人的,因为每个人首先关注的是自身的成长。
母亲于1972年12月28日讲述
Progress
Sincerity, humility, perseverance and an insatiable thirst for progress are essential for a happy and efficient life and above all to be convinced that the possibility of progress is without limit. Progress is youth; one can be young at a hundred years.
Mother's Agenda, 12 January 1972
进步
真诚、谦卑、坚持、永不满足地渴求进步,并且,最重要的是,相信进步的可能性永无止境。这些是过上幸福、有效的生活所必需的品质。进步者青春洋溢。一个人可以活到100岁依然年轻。
《母亲的议事录》,1972年1月12日
School is just a preparation to make the students capable of thinking, studying, progressing and becoming intelligent if they can—all that must be done during the entire life and not only in school.
Collected Works of the Mother, volume 12, p. 177
学校只是让学生做准备,锻炼其思维、学习、进步的能力;如果可能,变得有智——这一切都必须是终身教育,而不仅仅局限于学校教育。
《母亲作品集》第12卷第177页
*
10. A Kingdom of God

10
、神之国度
The dynamic side of the spiritual urge has not been absent,— the aspiration to a spiritual mastery and mutation of Nature, to a spiritual perfection of the being, a divinisation of the mind, the heart and the very body: there has even been the dream or a psychic prevision of a fulfilment exceeding the individual transformation, a new earth and heaven, a city of God, a divine descent upon earth, a reign of the spiritually perfect, a kingdom of God not only within us but outside, in a collective human life.
Sri Aurobindo, The Life Divine - Complete Works of Sri Aurobindo, volume 21-22, p. 879
精神的推动力并未丧失其活力——人类渴望驾驭灵性,改变人性,实现精神圆满和身、心、心智的神圣化:甚至梦想或者心灵

预知一种超越个人转化的成就,一个新的地球与天堂,上帝之城,神性降临地球,不仅在我们的内在,而且在外在的人类集体生活中创造出灵性完美的神之国度。
室利·阿罗频多,《神圣人生论》,《室利·阿罗频多作品全集》第21-22卷第879页
*
The Divine we seek is not far away and beyond reach: He lies at the very core of His creation and what He expects from us is to find Him and, through personal transformation, become capable of knowing Him, uniting with Him, and finally manifesting Him consciously.
Mother's Agenda, March 30th 1972
我们在找寻的"神圣者"并非遥不可及:他在他的造物的核心,他期待着我们找到他,通过个人转化能够认识他,与他合一,并最终有意识地彰显他。
《母亲的议事录》,1972年3月30日
*
11. A Bridge Between the Past and the Future

11
、连结过去和未来的桥梁
Auroville is intended to hasten the advent of the supramental reality upon earth. The help of all those who find that the world is not what it ought to be is welcome. Each one must know if he wants to associate himself with an old world on the verge of death, or to work for a new and better world preparing to be born.
Mother's Agenda, February 1st 1972
创建Auroville是为了加速超心思实相降临地球。欢迎感觉世界不应该是这样子的所有人来帮助。每个人都必须知道自己是想要呆在将死的旧世界,还是为即将诞生的更好的新世界而工作。
《母亲的议事录》,1972年2月1日
*
12. The Cradle of a New World

12
、新世界的摇篮
We are now witnessing the birth of a new world; it is very young, very weak—not in its essence but in its outer manifestation—not yet recognized, not even felt, denied by the majority. But it is here. It is here, making an effort to grow, absolutely sure of the result. But the road to it is a completely new road which has never before been traced out—nobody has gone there, nobody has done that. It is a beginning, a universal beginning. So, it is an absolutely unexpected and unpredictable adventure. There are people who love adventure. It is these I call, and I tell them this: I invite you to the great adventure. It is not a question of repeating spiritually what others have done before us, for our adventure begins beyond that. It is a question of a new creation, entirely new, with all the unforeseen events, the risks, the hazards it entails—a real adventure, whose goal is certain victory, but the road to which is unknown and must be traced out step by step in the unexplored. Something that has never been in this present universe and that will never be again in the same way. If that interests you... well, let us embark. What will happen to you tomorrow—I have no idea. One must put aside all that has been foreseen, all that has been devised, all that has been constructed, and then... set off walking into the unknown. And—come what may!
Collected Works of the Mother, volume 9, p. 151
我们现在正在目睹一个新世界的诞生。它非常幼小,非常微弱——不是在其本质上,而是在其外在表现上——大多数人尚未认识它,甚至感知不到它,否定它的存在。但它就在这里。它在这里努力成长,对结果确信无疑。然而,通往它的道路是人类未曾踏足的全新旅程——没有人去过那里,没有人这样做过。这是一个开始,一个普世的开端。因此,这是一场完全意料不到且难以预测的冒险。有的人喜欢冒险。我召唤这些人,告诉他们:我邀请你来参与这一场伟大的冒险。我们不是要在灵性上重复前人做过的,因为我们的冒险始于超越前人的境地。这是全新的创造,其中包括它会带来的所有不可预见的事件、风险和危险——这是一场真正的冒险,其目标是确定的胜利,但通往它的道路是未知的,必须一步步地在未曾探索的境地开拓出道路。这是当前宇宙中从未出现过的,将来也永远不会以同样的方式再次出现。如果你对此感兴趣……那么,让我们开始吧!明天你会发生什么——我不知道。一个人必须抛开所有已经预知、设计、构建的,然后……出发进入未知世界。并且——不管会发生什么!
《母亲作品集》第9卷第151页
*
13. A Centre of Accelerated Evolution

13
、一个加速进化的中心
For thousands of years we have been developing outer means, outer instruments, outer techniques for living — and in the end those means and techniques are crushing us. The sign of the new humanity is a reversal of perspective and the understanding that the inner means, inner knowledge and inner techniques can change the world and master it without crushing it. Auroville is the place where the new way of life is being worked out, it is a centre of accelerated evolution where man must begin to change his world by means of the power of the inner spirit.
Mother's Agenda, 3 August 1968
数千年来,人类一直在发展生活的外在手段、仪器和技术——到最后这些手段和技术正在摧毁着我们。新人类的标志是逆转视角,认知到内在的方式、真知、技术可以改变世界、主掌世界而不摧毁它。Auroville正在探索形成新的生活方式。它是一个加速进化的中心。在这里,人必须通过内在灵性的力量开始改变他的世界。
《母亲的议事录》,1968年8月3日
14. Peace and Harmony

14
、和平与和谐
The aims of Auroville
Auroville的宗旨
Auroville wants to be a universal town where men and women of all countries are able to live in peace and progressive harmony, above all creeds, all politics and all nationalities. The purpose of Auroville is to realize human unity.
Mother's Agenda, 23 June, 1965
Auroville的愿景是成为一座普世之城。在这里,所有国家的人们都能够生活在和平与渐进的和谐之中,超越一切信条、政治和国别。创建Auroville的目的是为了实现人类大同。
《母亲的议事录》,1965年6月23日
Auroville wants to be the first realization of human unity based on the teaching of Sri Aurobindo.
The Mother, 1972
Auroville想要成为以室利·阿罗频多教导为基础的人类大同的第一个现实版。
母亲讲于1972年
*
15. An Effective Human Unity

15
、有效的人类团结
The progress of Life involves the development and interlocking of an immense number of things that are in conflict with each other and seem often to be absolute oppositions and contraries. To find amid these oppositions some principle or standing-ground of unity, some workable lever of reconciliation which will make possible a larger and better development on a basis of harmony and not of conflict and struggle, must be increasingly the common aim of humanity in its active life-evolution, if it at all means to rise out of life's more confused, painful and obscure movement, out of the compromises made by Nature with the ignorance of the Life-mind and the nescience of Matter. This can only be truly and satisfactorily done when the soul discovers itself in its highest and completest spiritual reality and effects a progressive upward transformation of its life-values into those of the spirit...
Sri Aurobindo - The Human Cycle - Collected Works, vol. 25, p. 213/214
生命的成长涉及到相互交错的大量事物的发展。这些事物相互冲突,似乎往往是绝对矛盾对立的。我们要在这些对立面当中找到实现统一的原则或立足点,某种可行的和解杠杆,以便有可能拓展得更好。这种发展的基础是和谐而非冲突斗争。这必须越来越成为人类积极的生命进化过程中的共同目标——如果人类确实想要提升,摆脱更加痛苦、混乱不清的生活,摆脱大自然在生命思维与物质的无意识之间做出的种种妥协。只有当心灵在其最高、最完整的灵性实相中发现自我,并逐渐将其生命价值提升转化为精神价值时,我们才能真正圆满地实现这种生命的成长。
室利·阿罗频多,《社会进化论》,《室利·阿罗频多作品集》第25卷第213/214页
*
16. The Two Tendencies

16
、两种倾向
In this effort to improve human conditions, there have always been two tendencies, which seem to be contrary but which ought to complement each other so that progress may be achieved. The first advocates a collective reorganization, something which could lead to the effective unity of mankind. The other declares that all progress is made first by the individual and insists that the individual should be given the conditions in which he can progress freely. Both are equally true and necessary, and our effort should be directed along both these lines at once. For collective progress and individual progress are interdependent. Before the individual can take a leap forward, at least a little of the preceding progress must have been realized in the collectivity. A way must therefore be found so that these two types of progress may proceed side by side.
Collected Works of the Mother, volume 12, p. 39
在改善人类状况的努力中,始终存在着两种倾向,它们看似相反,实则应当相互补充,以便可以取得进展。第一种倾向倡导集体重组,这可能推动人类的有效统一。另一种倾向则表示所有进步都是首先由个人取得,并坚称应该创造条件让个人自由地成长。这两者都同样真实和必要。我们应该同时致力于在这两个方面做出努力,因为集体进步和个人进步是相互依存的。在个人能够实现跨越之前,至少先要在集体中实现一点进展。因此,我们必须找到一种方法,让这两种进步可以并行不悖。
《母亲作品集》第12卷第39页
*
17. The True Spirit of Auroville

17
、真正的
Aur
oville
精神
The true spirit of Auroville is collaboration and must be more and more so.
True collaboration paves the way to divinity.
The Mother, 24.10.1972
真正的Auroville精神是协作,并且必须是越来越加强协作。
真正的协作铺就通往神性之路。
母亲于1972年10月24日讲述
I see all kinds of very amusing things pass by; just now, this reflection: "Ah, it's a Tower of Babel in reverse." (Mother laughs) That's interesting! They united and divided in the construction, so now, they come together to unite in the construction. That's it: a Tower of Babel ... in reverse!
Mother's Agenda, 21 September 1966
我看到各种非常有趣的事情发生。比如刚才我意识到:"哦!这是倒立的巴别塔。"(母亲笑了)真有趣!他们曾经团结一致建塔,之后出现分歧,建塔工程半途而废。而如今,他们又聚集在一起建造。是的:建造巴别塔……倒着的!
《母亲的议事录》,1966年9月21日
Q.: What is the right way of achieving lasting world unity?
To realise the consciousness of the ONE.
The Mother, 1965, October 13th
问:实现持久的大同世界的正确方式是什么?
达到万物一体的意识状态。
母亲于1965年10月13日讲述
*
18. The Auroville Symbol

18
、
Auroville
标识
The dot at the centre represents the Unity, the Supreme.
The inner circle represents the creation, the conception of the city.
The petals represent the power of expression, the realisation.
The Mother- 24 August, 1971
中间的圆点代表合一和至高无上的真理;
内圈代表创新,即这座城市的核心理念;
花瓣象征表达和实现这一理念的力量。
母亲-1971年8月24日
Auroville Will be
You say Auroville is a dream. Yes, it is a "dream" of the Lord and generally these "dreams" turn out to be true, much more true than the human so-called realities!
Note in English to Huta - May 20, 1966
Auroville将会实现
你说Auroville是一个梦想。是的,它是"神圣者"的一个"梦想"。通常这些"梦想"会成真,比人类所谓的现实更加真实得多!
母亲写给Huta的英文便签, 1966年5月20日
*
19.
A Dream

19
、
一个愿景
There should be somewhere on earth a place which no nation could claim as its own, where all human beings of goodwill who have a sincere aspiration could live freely as citizens of the world and obey one single authority, that of the supreme truth; a place of peace, concord and harmony where all the fighting instincts of man would be used exclusively to conquer the causes of his sufferings and miseries, to surmount his weaknesses and ignorance, to triumph over his limitations and incapacities; a place where the needs of the spirit and the concern for progress would take precedence over the satisfaction of desires and passions, the search for pleasure and material enjoyment.
In this place, children would be able to grow and develop integrally without losing contact with their souls; education would be given not for passing examinations or obtaining certificates and posts but to enrich existing faculties and bring forth new ones.
In this place, titles and positions would be replaced by opportunities to serve and organize; the bodily needs of each one would be equally provided for, and intellectual, moral and spiritual superiority would be expressed in the general organization not by an increase in the pleasures and powers of life but by increased duties and responsibilities. Beauty in all its artistic forms, painting, sculpture, music, literature, would be equally accessible to all; the ability to share in the joy it brings would be limited only by the capacities of each one and not by social and financial position.
For in this ideal place money would no longer be the sovereign lord; individual worth would have a far greater importance than that of material wealth and social standing.
There, work would not be a way to earn one's living but a way to express oneself and to develop one's capacities and possibilities while being of service to the community as a whole, which, for its own part, would provide for each individual's subsistence and sphere of action. In short, it would be a place where human relationships, which are normally based almost exclusively on competition and strife, would be replaced by relationships of emulation in doing well, of collaboration and real brotherhood.
The Mother, August 1954 - Mother's Agenda, 18 January 1964
在这个世界上应该有一个地方,没有哪个国家可以将她据为己有,所有善良、渴望真诚的人们都可以像世界公民一样自由地在这里生活,他们只须服从唯一的权威,那就是至高真理;一个和平、和谐、和睦的地方;在这里,人类好战的本能都用来战胜苦难和不幸的根源,克服自身的弱点和无知,超越自身的局限和无能;在这里,对精神需求的重视和对进步的关注远远超出对欲望和激情的满足,对快乐和物质享受的追求。
在这里,孩子能够全面地成长和发展而不会失去与自身灵魂的连结。教育之宗旨,不是以通过考试、获得文凭、谋求职位为目的,而是充实已有开发未有之才智。在这里,头衔和职位不复存在,取而代之的是献身至高真理和服务社区的机会。物质需要会按照个人的情况公平地供给。在总的组织架构中,才智、道德、精神上的优越并不体现在生活中快乐和权利的增加上,而是意味着要承担更多的义务与责任。
各种形式的艺术之美,如绘画、雕刻、音乐、文学等,为所有人公平享有;能从中分享多少乐趣,仅取决于自身的艺术修养,与其社会地位或财富无关。
在这个理想的地方,金钱不再是至高无上的主人。个人的优良品行远比物质财富与社会地位更重要。在这里,工作不再是谋生手段,而是籍以展示自我、提升能力与发掘潜力的途径。个人工作的同时也在服务于整个集体,反之集体也为每一个人提供其生活必需和工作场所。
简而言之,在这里,从前那种人与人之间相互竞争与冲突的关系不复存在,取而代之的是追求卓越、相互协作和建立真正的手足情谊。
母亲于 1954年8月讲述-《母亲的议事录》,1964年1月18日
*
20. Auroville Brief History
20
、

Auroville

历史简介

At the inauguration ceremony of Auroville on 28th February 1968, representatives of 124 countries and 23 Indian States placed a handful of earth from their homelands in a lotus-shaped urn at the centre of the future township, in a symbolic gesture of human unity.

Once a barren plateau of largely red earth, thanks to the untiring tree-planting efforts of the first pioneers Auroville has been transformed into a lush green landscape in which a city is progressively beginning to take shape, radiating out from its centre, the Matrimandir, into four zones — the International, Cultural, Residential and Industrial — each focusing on an important aspect of community life. A Green Belt will surround the entire city area.

Auroville is an expanding community of about 2,800 permanent residents from India and some 55 other countries, as well as a moving population of volunteers and interns, spread over a hundred scattered settlements and a fast growing residential zone.

The residents are engaged in a wide range of activities, including research into a cashless economy, environmental regeneration, organic farming, renewable energy, appropriate building technology, village development, handicrafts and small-scale industries, health care, education, cross-cultural communication and many other fields.

A major source of employment for the 60,000 inhabitants of the local villages, Auroville works closely with them to improve their infrastructure and provide education and health care.

In 1988, the Government of India passed the Auroville Foundation Act "with a view to making long-term arrangements for the better management and further development of Auroville in accordance with its Charter".

Since then, Auroville has continued to experiment and carry out research in different fields so that it may, one day, become "the city the earth needs".

在1968年2月28日Auroville创建仪式上,来自124个国家和印度23个邦的代表们手捧着来自家乡的泥土,放入这座未来之城中心区的莲花形瓮中,以此象征人类团结。

这里曾经是一片红土为主的贫瘠之地。由于早期开拓者们不懈地努力植树,如今Auroville到处是郁郁葱葱的绿色景观,成为一座逐渐成型的城镇,从城中心的Matrimandir[2]辐射开来,形成四个区域——国际区、文化区、住宅区、工业区——每个区域专注社区生活的一个重要方面。未来将有一个绿化带环绕整个城区。

Auroville是一个不断扩大的社区,现有来自印度和其他55个国家的约2,800名永久居民[3],以及非常驻的志愿者和实习生。他们遍布100多个分散的定居点和快速发展的住宅区。

Auroville居民从事广泛的活动,包括无现金经济研究、环境再生、有机农业、可再生能源、适用建筑技术、村庄发展、手工艺和小规模工业、医疗保健、教育、跨文化交流和许多其他领域。

作为当地村庄6万居民的主要就业来源,Auroville与村民们密切协作,帮助他们改善基础设施并为他们提供教育和医疗保健服务。

1988年,印度政府通过了《Auroville基金会法案》,"以便根据《Auroville约章》作出长期安排,更好地管理 Auroville,并促进其发展"。

从那以后,Auroville继续在不同领域进行试验和研究,以便有朝一日能够成为"地球需要的城市"。

*
21. Programme
21
、

Auroville

项目

Greetings from Auroville to all men of goodwill.

Are invited to Auroville all those who thirst for progress

and aspire to a higher and truer life.

Mother's Agenda - 28 February 1968

Auroville问候所有心怀善愿的人们。

欢迎所有渴求进步,渴望过一种更加高尚真实生活的人们加入。

《母亲的议事录》,1968年2月28日

PROGRAMME

Research through experience of the

Supreme Truth

A life divine

but NO RELIGIONS

Mother's Agenda - 2 May 1970

Auroville项目

经由体验至高真理做研究

活出神圣的人生

但是 没有宗教

《母亲的议事录》,1970年5月2日

Auroville

the City at the service of Truth

Auroville

服务真理之城

*
22. Organisation
22
、组织
What political organisation do you want for Auroville?
An amusing definition occurs to me: a divine anarchy. But the world will not understand. Men must become conscious of their psychic being and organise themselves spontaneously, without fixed rules and laws – that is the ideal.
For this, one must be in contact with one's psychic being, one must be guided by it and the ego's authority and influence must disappear.
The Mother, 28 December 1972
问:你想要在Auroville建立什么样的政治组织?
我想到一个有趣的定义:神圣的自治。但世人不会理解。人们必须觉知其心灵体(psychic being)[4],自发地组织自己的生活,而不受固定规则和法律的约束——就是这个理想。
为此,一个人必须与自己的心灵体建立连结,受其引导;并且,小我的权威和影响必须消失。
母亲于1972年12月28日讲述
In Auroville, nothing belongs to anyone in particular. All is a collective property.
Mother's Agenda - 13 May 1970
在Auroville,没有什么是属于任何个人的。一切都是集体财产。
《母亲的议事录》,1970年5月13日
"Auroville is meant for those who want to know the joy of losing the sense of personal property."
"Auroville适合那些想要体尝去除私有财产观念的喜悦的人们。"
*
23. To Be a True Aurovilian

23

、

做一个真正的

Auroville

居民

1. The first necessity is the inner discovery in order to know what one truly is behind social, moral, cultural, racial and hereditary appearances.

At the centre there is a being free, vast and knowing, who awaits our discovery and who ought to become the active centre of our being and our life in Auroville.

2. One lives in Auroville in order to be free from moral and social conventions; but this freedom must not be a new slavery to the ego, to its desires and ambitions. The fulfilment of one's desires bars the way to the inner discovery which can only be achieved in the peace and transparency of perfect disinterestedness.

3. The Aurovilian should lose the sense of personal possession. For our passage in the material world, what is indispensable to our life and to our action is put at our disposal according to the place we must occupy. The more we are consciously in contact with our inner being, the more are the exact means given to us.

4. Work, even manual work, is something indispensable for the inner discovery. If one does not work, if one does not put his consciousness into matter, the latter will never develop.

To let the consciousness organise a bit of matter by means of one's body is very good. To establish order around oneself helps to bring order within oneself.

One should organise one's life not according to outer and artificial rules, but according to an organised inner consciousness, for if one lets life go on without subjecting it to the control of the higher consciousness, it becomes fickle and inexpressive. It is to waste one's time in the sense that matter remains without any conscious utilisation.

5. The whole earth must prepare itself for the advent of the new species, and Auroville wants to work consciously to hasten this advent.

6. Little by little it will be revealed to us what this new species must be, and meanwhile the best course is to consecrate oneself entirely to the Divine.

Mother's Agenda - 3 June 1970

1、首要的条件是内求,籍此认识到那个隐藏在社会、道德、文化、种族和身份头衔表象背后的真实自我。

在我们内心深处有一个存在,自由、广阔、智慧,正等待着我们去探索。它应该成为我们存在的核心,指引我们在Auroville的生活。

2、生活在Auroville,就是为了把自己从道德和社会习俗的限制中解放出来。但是这种自由绝对不应该被小我的欲望和野心束缚。追求欲望的满足会成为我们探索内在力量的障碍。只有在平和、完全无我的通透中才能发现我们的内在。

3、在Auroville,个人应该抛弃私有财产的观念。生活在这个物质世界中,我们的生命成长和采取行动所不可或缺的,会依据我们应有的状态而赋予我们。我们与内在的连结越自觉,就越能精准地获得生命成长之所需。

4、工作,即便是体力劳动,亦是我们内在探索不可或缺的。如果一个人不工作,不将其意识注入到物质中去,物质世界将永无发展。通过身体有意识地做一些物质层面的工作是非常好的。在自身周围建立秩序有助于将秩序带入自己的内在。我们不应按照人为的外在规则来规范自己的生活,而是应该遵从一种有序的内在意识。因为如果一个人任由自己就这样生活下去而不臣服于更高意识,人生就会变得漫无目的,无法彰显生命的价值。从某种程度上说,这是在浪费自己的时间——物质依旧故我,未加以有意识的使用。

5、整个地球须为新人类的到来做好准备,Auroville希望为加速这个进程而有意识地努力。

6、新人类会一点点地向我们显现她的真面目。此时我们最该做的就是把自己完全奉献给"神"。

《母亲的议事录》,母亲于 1970年6月3日讲述

We must "be" in all sincerity. What the Divine wants – let it be. That's all. If we can be that, then we are as we ought to be, and THAT is what we must become. For the rest... for all the rest, we do the best we can. I know it's not easy, but we are not here to do easy things; the whole world is there for those who like an easy life. I would like people to feel that coming to Auroville does not mean coming to an easy life – it means coming to a gigantic effort for progress. As it is now, all those who want an easy life and to do what they please as they please, say, "Let's go to Auroville!" It should be just the opposite. People should know that coming to Auroville means an almost superhuman effort for progress.

Mother's Agenda - 4 April 1972

我们必须"是"完全真诚的。"神圣者"想要什么,那就彰显什么。仅此而已。如果我们能够达到那样的状态,那么我们就活出了应有的状态,那就是我们必须成为的。至于其他的……其他的一切,我们尽力而为。我知道这并不容易,但我们在这里不是为了做容易的事情。整个世界都有那些喜欢过轻松生活的人们的一席之地。我希望人们觉得来到Auroville并不意味着来过一种轻松的生活——它意味着来付出巨大的努力以取得进步。而现在,所有那些想要过轻松生活、随心所欲的人们都说:"我们去Auroville吧!"应该是恰恰相反。人们应当知道,来Auroville意味着为了进步付出近乎超人的努力。

《母亲的议事录》,母亲于 1972年4月4日讲述

Now is the time to be heroic. Heroism is not what people say, it is to be completely united—and the divine help will always be with those who have, in all sincerity, resolved to be heroic. You are here now, I mean on earth, because you once chose to be—you don't remember it, but I know; that's why you are here. Well, you must stand up to the task. You must make an effort, you must conquer pettiness and limitations, and above all tell the ego: your time is over. We want a race without ego, with the divine consciousness in place of the ego. That's what we want: the divine consciousness, which will enable the race to develop and the supramental being to be born.

Mother's Agenda, 2 April 1972

现在是时候彰显英雄气概了。英雄主义不是人们所说的那样,而是完全合一——"神圣者"会始终帮助那些完全真诚地决心成为英雄的人们。你现在在这里,我的意思是在地球上,是因为你曾经选择来到这里——你不记得了,但我知道;这就是你为何会在这里的原因。那么,你必须站出来完成任务。你必须努力,你必须克服斤斤计较和种种局限,最重要的是告诉小我:你的时代已经终结了。我们想要一个没有小我的族群,以神圣的意识取代小我。这就是我们想要的:神圣的意识,这将使新的族群得以发展,诞生出超心思的生命。

《母亲的议事录》,母亲于 1972年4月2日讲述

Auroville Flower

代表Auroville的花卉

But I DELIBERATELY chose it as the Auroville flower because of that (it's colour which is gold with pink). And I have the impression that that's the supramental colour: when I see beings of the supramental, they are... not exactly this colour... It's not like a flower, it's like flesh.

The Mother - 11 July 1970

可我特意选择它作为代表Auroville的花卉,是因为那个(它的颜色是金色和粉红色)。并且,我的印象是这是超心思的颜色:当我看到超心思生命体时,他们......不完全是这种颜色......不像是花,像是肌肉。

母亲于1970年7月11日讲述



---