Aurocard
The Smart, Safe Way to Financial Transactions for AV Guests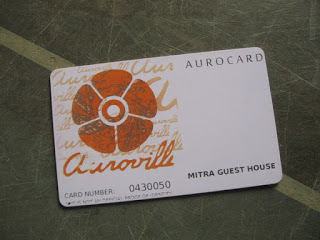 Participate in Auroville's unique cashless economy!
For a fuller enjoyment of and access to Auroville's services, long-term guests in Auroville have the privilege of obtaining the Aurocard -- the smart, safe way to financial transactions. Whether you want to eat out at a restaurant or shop for AV products, the Aurocard offers you greater ease of access and the chance to participate in Auroville's unique "cashless economy".
Suitable For Long-term Guests
Registered guests who plan to stay in Auroville for at least a month or two, can obtain these highly convenient smart cards which also act as an ID proof when necessary. All major guest houses, restaurants and shopping places have an Aurocard reader, and all financial transfers can be done via the card and reader. The cards are available at the Financial Service offices at Aspiration and the Town Hall.
They are also issued at major guest houses, against a cash deposit for adding credit to the card. You can request your guesthouse for an Aurocard on arrival.
For more information on the Aurocard, contact the Financial Service office at the Town Hall on these numbers below or send an email.