AuroOrchard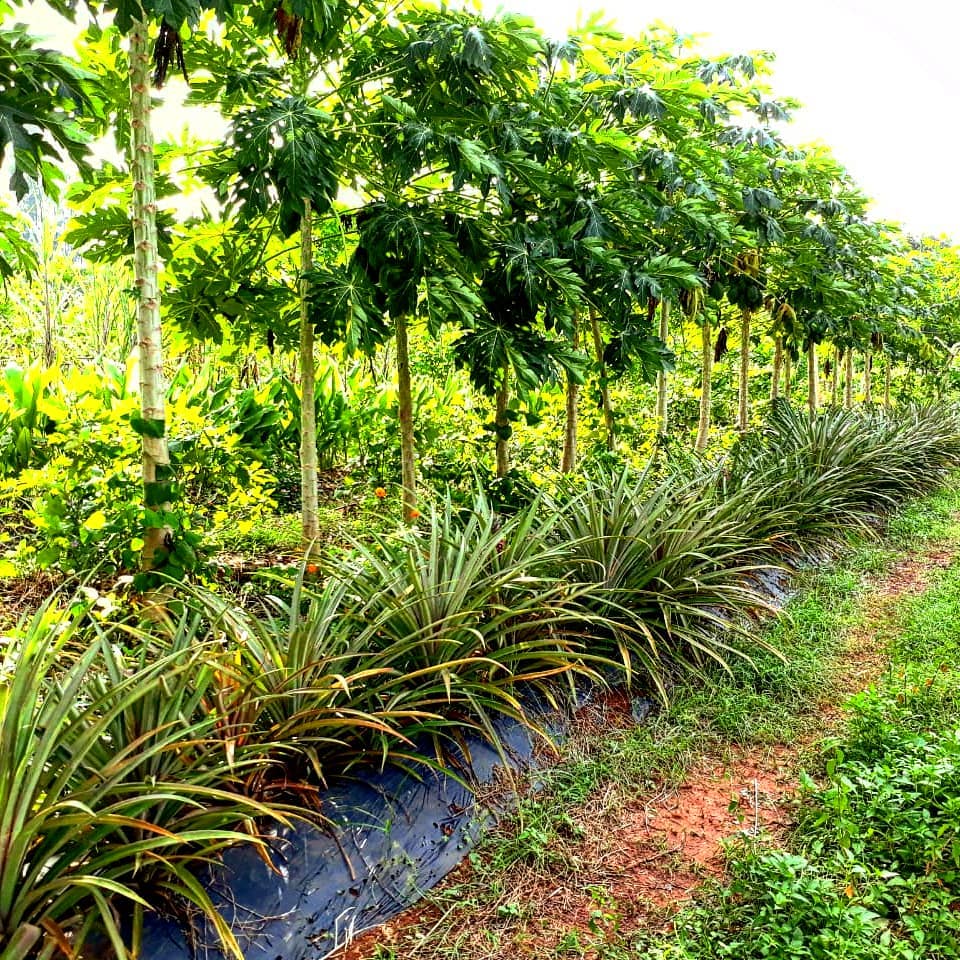 AuroOrchard is the oldest and the second largest farm of Auroville, growing a significant part of the fruits and vegetables produced in the community. It also serves as the main poultry farm of Auroville. The Mother defined Auro-Orchard's purpose - to provide nourishment for the Auroville community.
For many years, to meet the immediate needs of the Auroville community in food, conventional farming practices were used, but since 2012, AuroOrchard has been converted into an organic farm.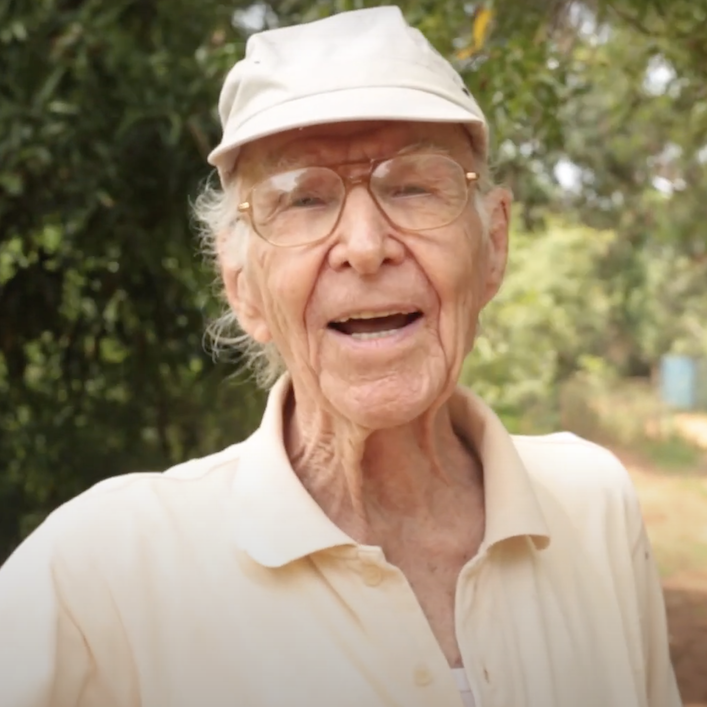 Half a century has passed since that beginning, and always my heart remains filled with gratitude for this 'exceptional experience' that She had offered me and guided me through.
What is AuroOrchard offering?
As Auroville's second-largest farm, AuroOrchard supplies a very wide variety of food for Auroville's essential daily needs:
fruit (papaya, lime, avocado, jackfruit, pomelo, lemons, pineapple, passion fruit, guava, ramphal, sitaphal (custard apple); coconuts and groundnuts, with large fully organic mango and cashew orchards.
vegetables (long beans, bottle gourd, brinjal, cucumbers, varieties of spinach, ladies' fingers, pumpkins, sweet potatoes, sweet corn, drumstick, taro, tapioca, yam, elephant foot, jicama, salads, rucola, radish);
Medicinal herbs and teas (lemongrass, tulsi, rosella); loofah sponges; grass for making brooms
Eggs and milk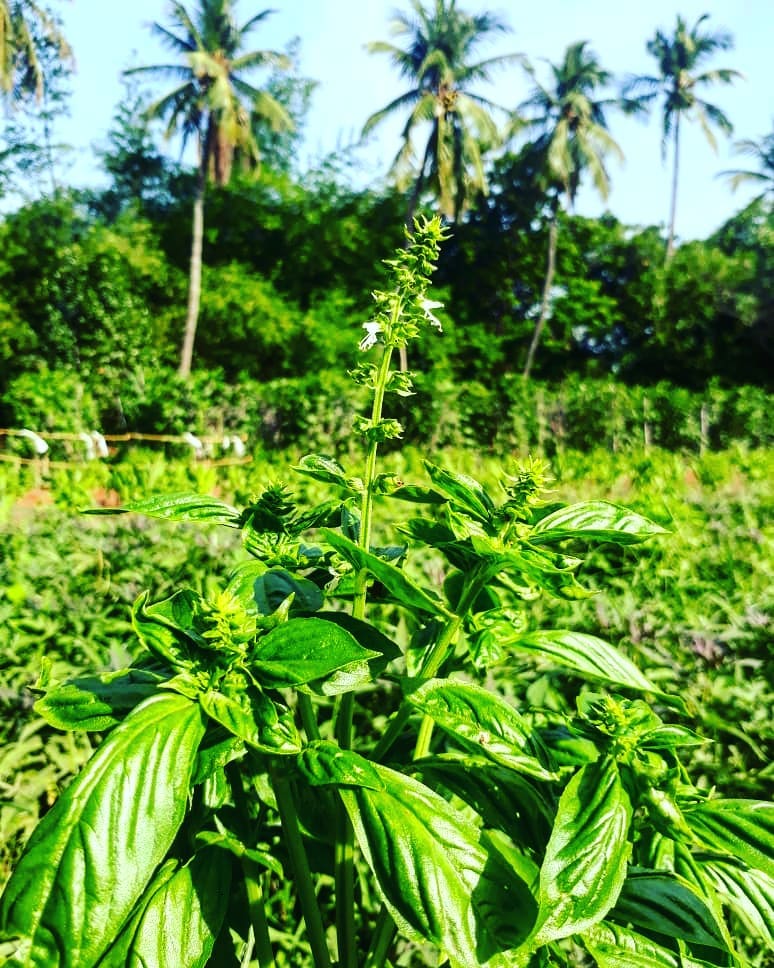 Vision
Regenerative organic farming (agro-ecology) is now the motto of the farm, drawing from different practices and the experiences of our varied team. We continue to serve The Mother's instruction to 'feed Auroville'.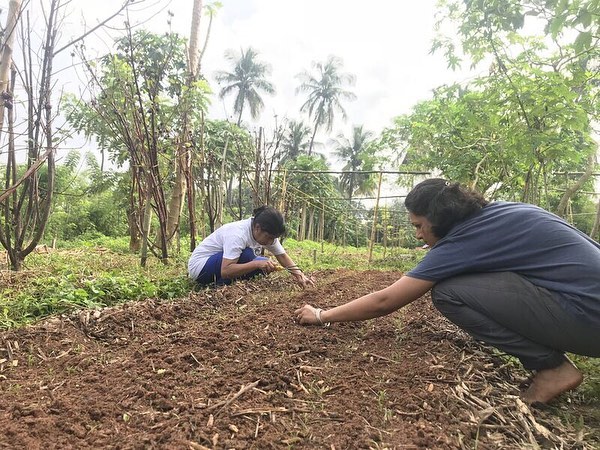 Gérard with the help of his assistant Bithi has managed the farm since 1969. Christian joined in 2012 and together with Eric, Erik, Ramanan and others took the farm towards almost fully organic. The farm is now managed collectively by a group of Aurovillians and Newcomers.
AuroOrchard grows about 6 tons of fruits, such as avocado, lemon, coconut, cashew, mango, watermelon etc. every year. Approximately, 10 tons of vegetables such as cucumber, different kinds of beans, brinjal, lady's finger, bottle gourd, tomato, basil, spinaches, capsicum are also produced every year. Vegetables and fruits are grown without any chemical input, following organic and sustainable methods like mulching and BRF ("Bois Raméal Fragmenté", a thick mulch technique coming from Quebec, and adapted to tropical climate), compost, rotations and associations, green manures, etc. Some land is also reserved for regenerative forests.
The poultry comprises of 2-3 batches of 400 white leghorn hens that produce about 200,000 eggs a year. Eggs are produced according to the "Auroville poultry" standard, which complies with the European free-range standard, which includes a space of 6 sq m per bird and minimal allopathic interventions in terms of vaccination and treatment. The farm is keen to explore more resilient practices for the poultry in the future.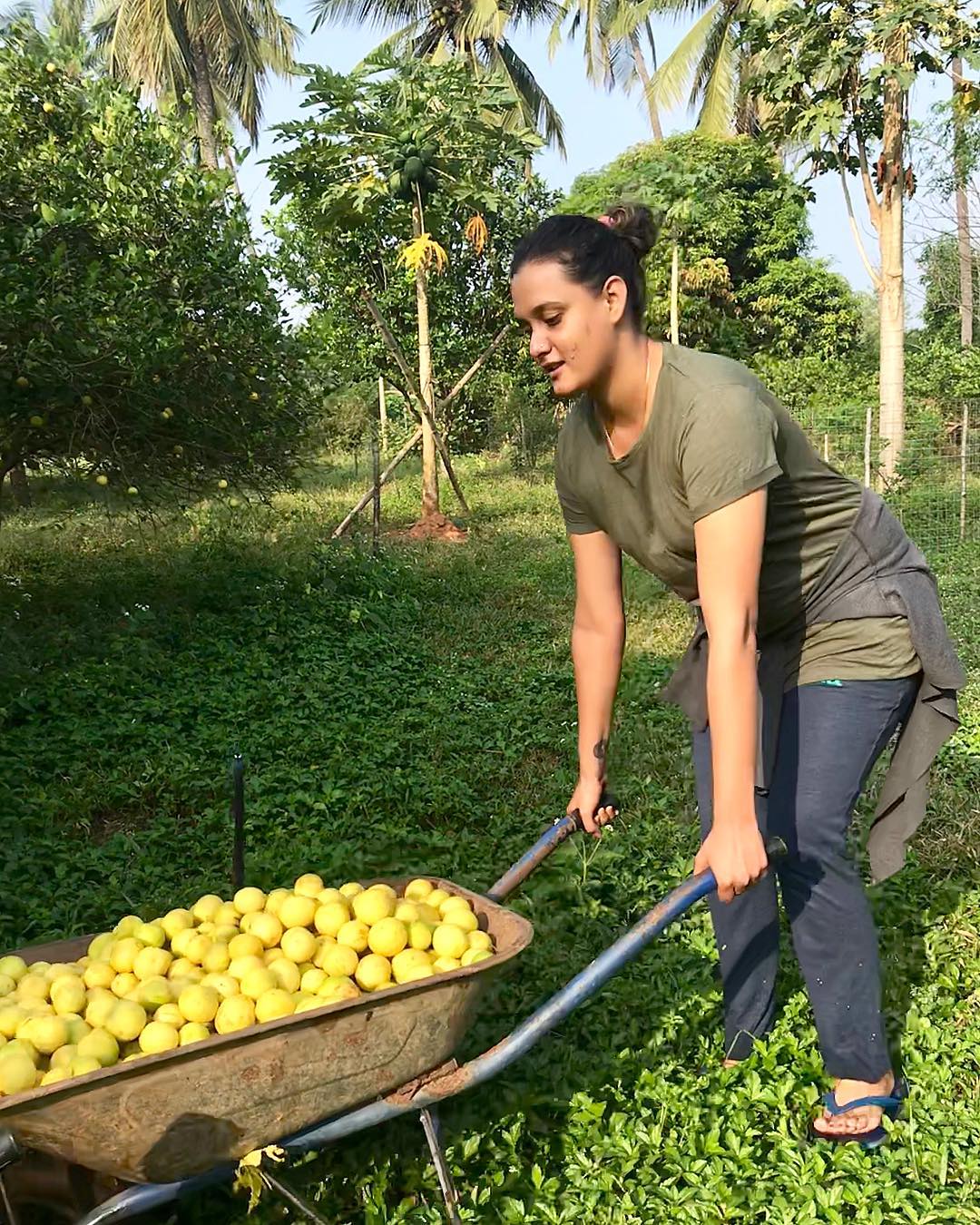 History - An Extraordinary Experience
Gérard, born in Geneva (Switzerland), came to the Sri Aurobindo Ashram in 1955, at the young age of 23. "My first work was at the Bakery (where work starts at 4 am daily)", he recalls, "and as a coach and maintenance man at the New Swimming Pool. From 1959, The Mother gave me the opportunity to live and work in Mountain Paradise in the Himalayas near Nainital – Almora (Uttarakhand)", where the Ashram has an 'Orchard-Farm' growing apples and peaches.
He fondly remembers sending a lot of crates of apples to Pondicherry, which were greatly appreciated by the Mother, and the fruits were distributed to the Ashramites.
"It looks like it was my apprenticeship in horticulture!" he muses.
Asked about his most special memories of his 60 years at the Ashram and Auroville, where he has been looking after AuroOrchard since its very beginning, Gérard shares:
"At the time, I had been coming to the Ashram from mid-December to the end of February for the last few years. Mother suggested that I could 'help' Roger Anger to rebuild, to improve Promesse – to make it 'livable'. One day in 1967, She called me and said: 'Do you know, I have a piece of land near Promesse, and it would be good if you could go to see how it could be developed.' So I went to see it and gave Her a short report.
When I saw Mother the next time, She asked me: 'Would you be ready to take care of this piece of land and try to grow vegetables and fruit for Auroville?' I was quite surprised, but told her, 'Why not – if you say so, I am ready.' It was not to be immediately, and I had to go back to Mountain Paradise; this was shortly after Auroville's inauguration. In fact, farming at Mountain Paradise was my preparation for AuroOrchard.
But the following year Mother said to me with a smile: 'I have a surprise for you. If you are ready to take charge of AuroOrchard, It will be very nice.' I asked Her: 'But Mother, what will happen to Mountain Paradise?' 'Don't worry', She told me, 'I have already found someone to look after it.' 'Mother, 'it is fine – if it is Your will, I am willing.' . . . She smiled and said: 'It will be a very interesting experience for you.' And so, towards the end of 1968, I came back from the Himalayas and started to take care of AuroOrchard, keeping it going and gradually developing it."
Ganesh temple has always been part of AuroOrchard. The Mother had accepted to buy the farm under the condition that the temple would be maintained and a puja would be held every day in Ganapati's honour.
The pujas at Ganesh Temple have continued uninterrupted and still go on today. Bithi is currently in charge of the temple, which is looked after daily by Diwakar, a long-term French Aurovilian who performs the puja there every morning. Once a year, on Ganesh Puja in September, all of Auroville is invited for the special puja in honour of Ganapathi with many children coming and kirtans are sung.
Way Forward
The farm team has built momentum over the last two years, since the departure of Christian who managed the farm from 2012 to 2019. Detailed financial planning, data & internal practices have all been improved, setting the groundwork for regenerating our orchards, expanding the intensive cultivation areas and finding new ways to provide food for Auroville, as sustainably as possible. We are grateful for all support given, in volunteer time, partnerships or donations which can sustain & develop our service to the community & the wider bio-region.
https://www.youtube.com/watch?v=5mJtLal3OHk
Enter the video url
https://www.youtube.com/watch?v=Ba4NKb-_EnA
Enter the video url