Last updated: 10 Jul, 2015
The Scholarship and Educational Fund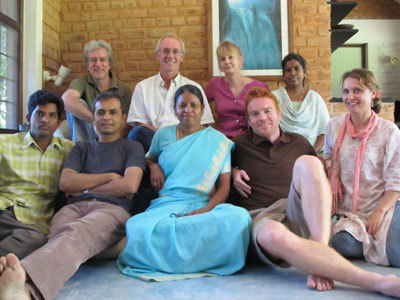 The Scholarship Fund team
This is a general fund available for Auroville students in financial need aged 17 to 24 who have studied in Auroville schools for at least 5 years, and who wish to study beyond the Secondary School level on courses not available in Auroville. There are two sub-funds, one a revolving loan fund and the other a fund for grants.
Recognizing that Auroville at its present size does not offer sufficient options for vocational learning and higher studies, and that there are many young Aurovilians who feel the need to pursue such studies but cannot afford the implied costs and fees, a few Aurovilians have come together to create this scholarship fund, called the Scholarship and Educational Fund (SEF). It is in existence as a sub-unit under SAIIER since January 2009. The members of SEF regard the support given to Auroville youth for formal education outside Auroville as a valid contribution to Auroville's growth and future.
Within the context of Mother's vision of Auroville as a place for unending education and of an integral education towards the psychic and spiritual development of men and women, there is a challenge to support and to create formal and informal options of education.
SEF has set itself the following aims:
To help in creating educational and training opportunities inside and outside of Auroville.

To fundraise and operate as a fund for education of Auroville youth inside and outside of Auroville.

To help in creating equality of opportunities for Auroville youth.

To work towards finding optimal educational options in consideration of the needs and potential of the individual.

Financial help, in accordance with available funds, is extended after assessing the following criteria:
The financial needs of the student and the student's family; and

The applicant's motivation to take up particular studies or training or to undergo exams.

Academic merits are no criterion for funding support, but they may be taken into consideration for the assessment of intellectual aptitude and motivation of a student.

Students are interviewed and cases are assessed in group meetings of the SEF executives and support group members (in April 2011 there were ten Aurovilians). Meetings are being held approximately monthly. The SEF is being run without any administrative expenses or charges; executives and support group members contribute in time and material as per their capacity.
Funds are released as interest-free loans expected to be repaid five years after the student has completed her/his studies and if and when receiving salary or remuneration. In case of full integration into and contribution to Auroville's communal life, this contribution may be regarded as repayment in kind.
Thanks to contributions from within and from outside of Auroville, in its two first years of operation SEF has supported 22 students, either for their "British" exams which are equivalent to a baccalaureate, or for studies in colleges and universities, mainly in India.
The group
The fund is run by members of the community who come from various areas of work and backgrounds.
E-mail: scholarshipfund@auroville.org.in