Swayam
A Mixed-Use Residential Community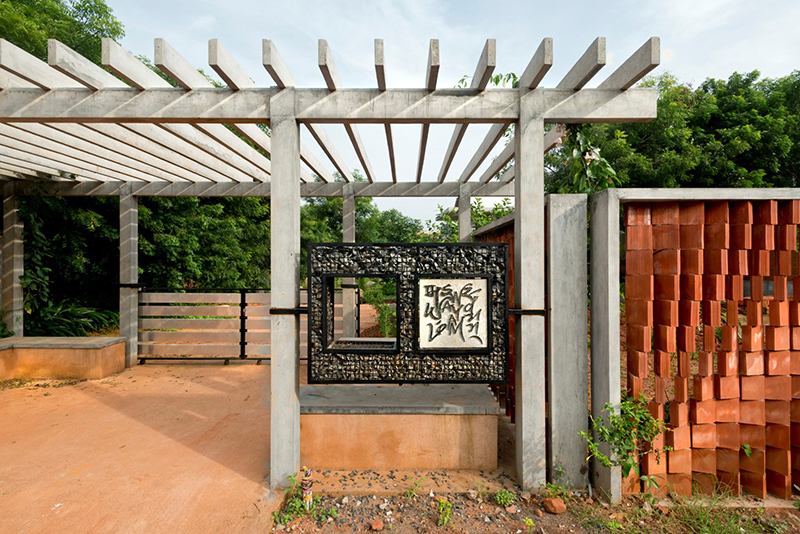 Swayam was started early in 2003 with the aim of creating a small mixed-use residential community for a diverse group of Aurovilians happy to live and work in a humble environment that is sustainable & ecologically sound. Final go-ahead was received in 2009.
Architect: Dharmesh Jadeja
From the outset, the plan was to build with certain principles and materials, and to demonstrate that a low-rise high-density development on a small scale suits Auroville well at this stage.
The project consists of varying types of houses that include ground floor working studios and living areas with sleeping space above, plus small flats for singles, couples or a small family. Complementing the living space is community infrastructure such as a meeting pavilion designed in the Japanese style, a rock garden, and some art installations in public spaces, donated by visiting and Auroville artists. There are also motifs on earth walls, waste water treatment with landscaping of all common areas, and spaces around existing trees, with the layout of houses adjusted to enjoy and not damage any existing planted areas, making the whole project very special for everyone who has been involved or is now living there.
Not surprisingly, it has attracted an excellent mix of residents, including Aurovilians, Newcomers and volunteers, with design studios and/or work spaces for individuals in the houses according to individual needs.
Materials used in construction and finishing reflect a quest for beauty with simplicity that has a feel of abundance & generosity Incorporated in the project have been stabilized earth blocks, terracotta tube vas brick vaults, terracotta hollow block jack arches, simple oxide floors, natural stone and jalis designed from waste materials.
Swayam is one of those rare projects where the design philosophy has been based on belief in clients as the main decision-makers with the architects and builders simply facilitating the process of creating the sort of humble but practical and pleasant-to-live and-work-in dwellings that people dream of in Auroville.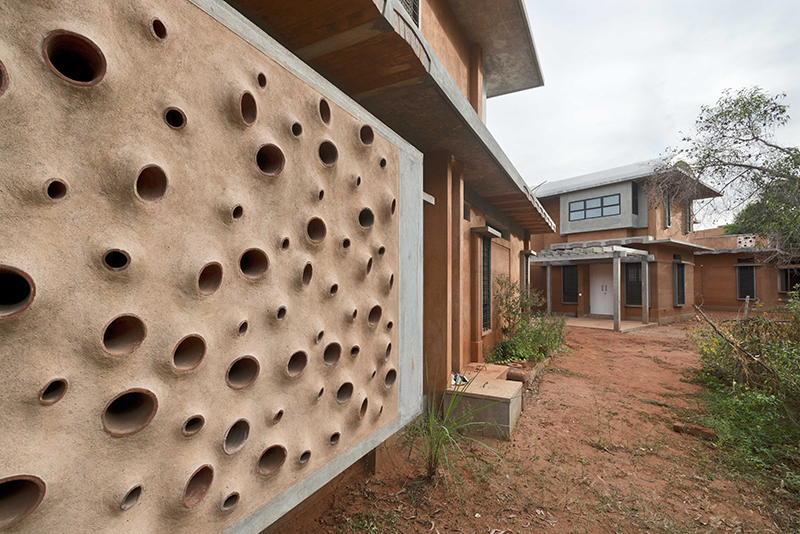 DuStudio at Swayam - A Fine Blending Of Opposites
As Indian architecture emerges through its challenges of identity & contemporary relevance, we see our practice at ∫ (formerly Buildaur) in Auroville as ever evolving in the international context of Community life while respecting & learning from traditions that keep you rooted in your context. Dustudio is a collaborative practice that takes its inspiration from ancient Indian wisdom & art of building where form is the creation of the spirit and draws all its meaning and value from the infinite spirit. An attempt to achieve a synthess between traditional ways of designing and building while responding to the contemporary context that is climatically appropriate, energy efficient & creates a conscious space for artisans to participate in this process of creation.
Our practice strives to work joyfully together with a team of professionals, dedicated to the ideal of unending education by various ways of learning, acquiring and sharing knowledge through research, interactions & enquiry. We consciously work with like-minded organisations to create aesthetic, holistic living environment through a rigorous participatory design process with our clients and collaborators, learning from each other's expertise and widening the base of our knowledge.
Architect: Dharmesh Jadeja